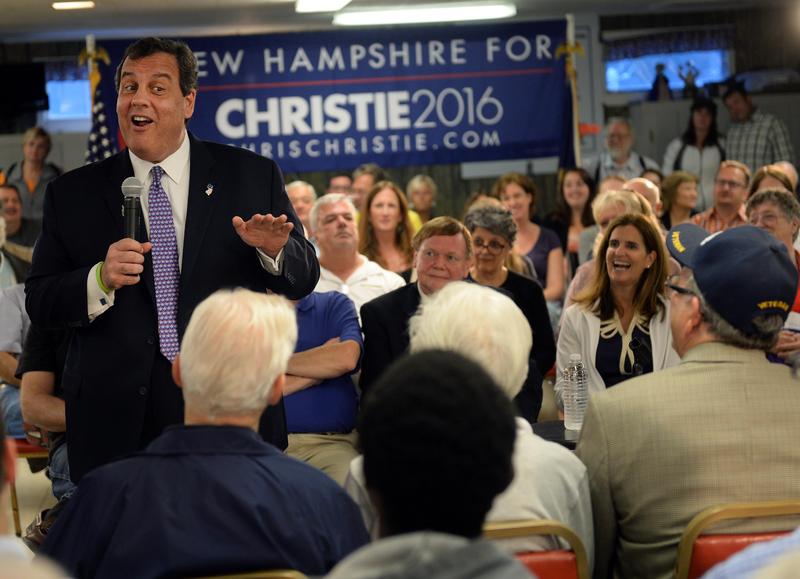 "I like Governor Christie."
"He tells it like it is and he seems like a regular person... he just appeals to me."
"I'm so fascinated with Chris Christie and everything he's doing... he speaks from the heart – everything he says is just 100% genuine."
"He seems... like he would actually protect our country – I would feel safe with him being a president. What I'm looking for in a president is to feel safe."
The voices of New Hampshire residents at Christie town hall events seem to fly in the face of his dismal polling results – stark numbers that tell a very different story. And a new Monmouth University poll says Donald Trump is taking more potential voters away from Christie than the other candidates.
Still, WNYC's Matt Katz says without attending a town hall it's impossible "to appreciate the positive and emotional reaction people have to him" in New Hampshire.
Matt was with the governor on his latest trip to The Granite State and joins host David Furst to report on Christie's reception.
Also this week: Thanks to overhead wire issues and power problems, NJ Transit and Amtrak riders dealt with days of delays getting to and from Manhattan. WNYC's Andrea Bernstein joins us to explain how Sandy, Bridgegate and a scrapped tunnel project all come together to contribute to the region's latest transit woes.
Check out the WNYC Data News App: The Christie Tracker.