SchoolBook
Youth Reporters Use Multimedia Chops to Grab Next Mayor's Attention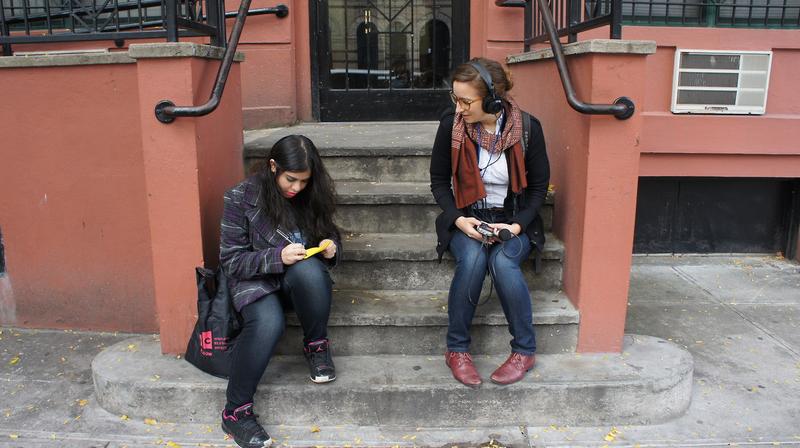 Using video, audio and photos, about 40 teens and college-age students competed over the weekend in a reporting and media-making showdown with an eye toward grabbing the attention of policy-makers.
Teen pregnancy, affordable housing, special education and youth employment were some of the topics explored at the Digital Waves Youth Media Festival, called NewsHive, where students had just 24 hours to research and report on an issue that directly affects young people and the world around them. The event was organized by WNYC's Radio Rookies and the NYC High School Journalism Collaborative at Baruch College, along with help from the non-profit group the Red Hook Initiative.
The festival culminated in a media slam Saturday night at St. Joseph's College in Brooklyn. 
Some students already had reporting chops, having worked on their school newspapers, others already knew the ins and outs of video or audio editing. 
William Herasme, 18 and a recent graduate of Long Island City High School, has learned how to produce videos through the Urban Arts Partnership and said, these days, video was key for young people to get their message out. 
"The simple fact is that people share video all the time. I mean, there isn't a day that goes by where somebody is not watching something off of YouTube, Vimeo or a Vine, even," he said.
He said that he believes young people can have an impact, citing the organized response to the police tactic of stop and frisk. But Kiana Bey, 17 and a senior at Benjamin N. Cardozo High School in Queens, said teenagers aren't usually heard by policy-makers.
"I feel like they don't really listen to us unless we make an uproar," she said. "Otherwise, it's like, 'Who are they? They're a bunch of kids.'"
Students worked in teams with a mentor and spent Friday night narrowing down a topic to report. They received inspiration and reporting tips from former Radio Rookies participants and from Zachary Maxwell, who as a fourth-grade student made a documentary about his school's cafeteria food. Maxwell, now a sixth-grader, gave the keynote address Friday night.
The teams spent Saturday in the field conducting interviews on the street and getting photos and video footage. They then worked against the clock to script and edit their stories. Fifteen boxes of pizza later, the groups assembled for the first round of the competition. A panel of four judges scored the pieces, eliminating two teams from each round until a winning report was left standing: a video on the issue of teen pregnancy and teen parenting.
The winning team and runner-ups received cash prizes.
While the festival focused on helping young people come up with a compelling way to make their voices heard, Luckny Jacques, 17, said public officials could do more to listen.
"A lot of people don't know what we're going through," said Jacques, who is a student at Gotham Professional Arts Academy. "A lot of us feel like we can't do nothing in life, cause we're so used to the streets."
He said the next mayor should create more programs that cater to young people's interests -- especially young men -- such as sports and music. And he had some words of advice for the next mayor: "Sit down with us, have a talk with us, and just know what we're going through."