SchoolBook
Teachers Union Showcases Community Schools Model in Manhattan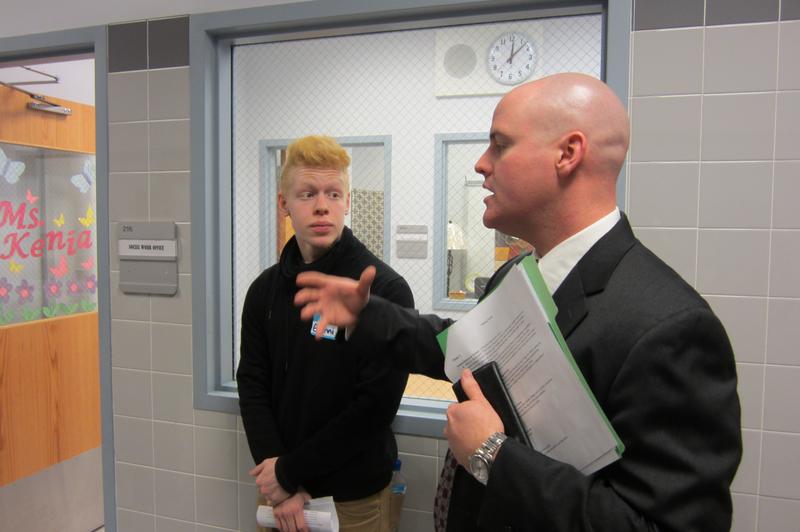 Imagine a school with lots of space for the arts and gym and a health clinic downstairs. Don't forget after-school tutoring, zumba and English classes for parents and free mental health services for any child who needs it. This exists in New York City, at the Community Health Academy of the Heights, a combined middle and high school of 600 students in Upper Manhattan.
Leaders of the United Federation of Teachers led a tour on Thursday to highlight what they considered the strengths of the community schools model as demonstrated at the school, under the leadership of Principal Mark House.
House described how he worked with several outside partners, including a health clinic run by Community Healthcare Network in the same building. And he broadened mental health services by adding six interns from Columbia University and Hunter College after a 13 year-old student committed suicide last year.
"We are not going to sit back and wait for things to pop up," he said. 
The school has been able to provide so many service to adults and students because of its partnership with the Community League of the Heights. It also has a coordinator from the teachers union.

"I take advantage of all these opportunities, it's helped me figure out who I want to be as a person," said Gianni Arroyo, a 17-year-old senior.
During a panel discussion with other community school representatives, Charlene Corbett, resource coordinator for P.S. 335 and M.S. 584 in Brooklyn, said schools also need to figure out the unique needs of their communities instead of just copying each other. "Sometimes you need to ask questions," she said, in addition to looking up data.

There's been intense debate lately about whether struggling schools benefit more from additional services or by studying their data. Mayor Michael Bloomberg's administration closed down low-performing schools to get rid of ineffective teachers and supervisors. But Mayor de Blasio and Chancellor Carmen Fariña have embraced more professional development and the community schools model, while reserving their right to close schools as a last resort. This has been widely criticized by supporters of Bloomberg's policies, and featured in a New York Times editorial.
With Mayor Bill de Blasio planning to give 94 struggling schools more wraparound services, the teachers union showcased the potential of this community schools model Thursday at an Upper Manhattan school where supporters said the results are promising even if test scores have yet to rise dramatically.
The Community Health Academy of the Heights became a community school three years ago. Though its four-year graduation rate is just 62 percent, below the citywide average of 70 percent, House said the six-year rate is 80 percent and that many students are English Language Learners. He also said he is seeing more progress among his middle school students.

"It depends on what statistics you're looking at," he said. "You can have a one-year bounce in a school or you can have a sustained, slow climb."

American Federation of Teachers President Randi Weingarten, who joined the tour, agreed. She criticized closing schools and deflected criticism from those who claim the mayor's school renewal plan allows ineffective teachers to stay in the system. If the 94 schools improve and "there's a teacher or two that should have been evaluated differently" she said that won't be what people talk about.

"What people are going to say is, how can we do that strategy everywhere else in the country?"