SchoolBook
Teachers Union Claims Overcrowding Is at 14-Year High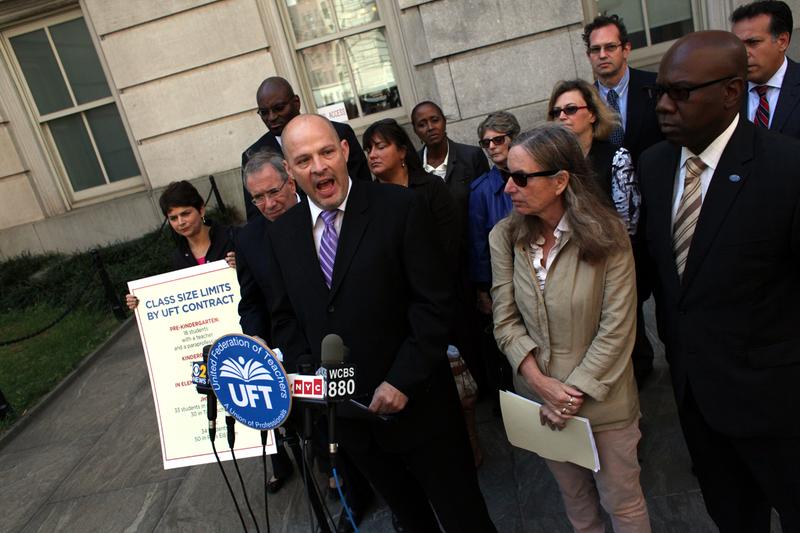 Over-crowding in New York City public school classrooms for first, second and third graders is at a 14-year high according to The United Federation of Teachers. The union also claims 6,313 classrooms are over capacity for all grades city-wide, which is 200 more than last year.
"This is completely unacceptable, there is no reason for this," said U.F.T. president Michael Mulgrew. "The mayor does not understand or he refuses to understand that children need to be in smaller class sizes, teachers need to have individual time with each student."
The union's annual survey is based on grievances filed by teachers during the first three weeks of the school year. Although the citywide average for grades 1-3 remains below contractual limits, the union claimed overall average class sizes in the early grades have now reached more than 24 in grades 1 and 2 and more than 25 in grade 3, the highest point since fiscal 1999.
The union claims a total of more than 230,000 students were in classes larger than the contractual limit during some point this month. More than 1,000 of those oversize classes were found in Queens high schools. It singled out Benjamin Cardozo High School with 385 oversize classes, and Hillcrest High School, also in Queens, with 400 oversize classes.
As usual, the Department of Education disagreed with the union's annual survey. In an email, the agency said the U.F.T. had drawn "erroneous conclusions" based on "wrong numbers."
"Our formula – new construction coupled with co-locations – has worked," the agency stated. "In the last three years, as we've added state-of-the-art new buildings, we've added over 13,000 seats in Queens alone."
It added that the union had based its numbers on September's school registers, which the D.O.E. said are incomplete. A full report from the department will be released in November.
The union has sued the city, claiming it did not properly use state funds to shrink class sizes.
Decreasing class size is also the issue parents in public school surveys are most likely to rate as something they'd like to improve.