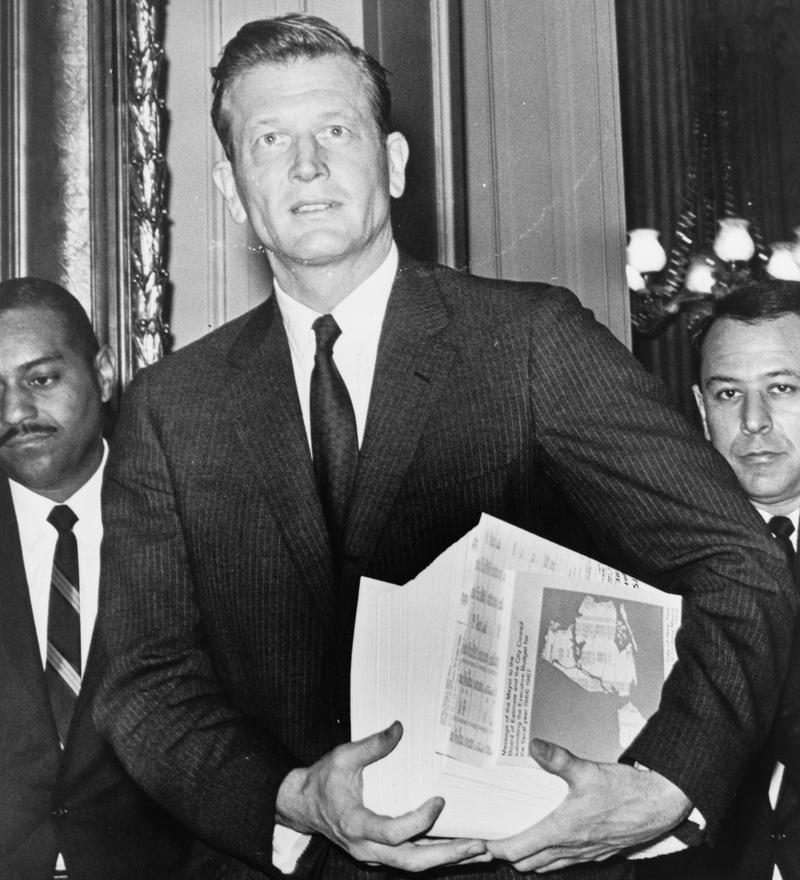 Summary
This episode is from the WNYC archives. It may contain language which is no longer politically or socially appropriate.
Update on the education crisis. Mayor Lindsay describes the state of events and gives some background: the Board of Education has ordered schools to open, however the teachers union has told teachers to not report to schools. Dispute stems from the Ocean Hill-Brownsville School District in Brooklyn. The local board transferred ten teachers out of the district last May. The board argued that they should be able to decide they did not want these particular teachers in their schools, the United Federation of Teachers' argued that the board did not have the right to make such a decision. Eventually, with the approval of Lindsay the teachers were returned to their positions with police escorts. He states that any decentralization plan must protect the rights of teachers and parents. Lindsay references the United Federation of Teachers' plan to strike the following day at City Hall. It was stated that it may be the longest strike in history. Lindsay calls for both sides to seek a compromise.

Lindsay then introduce Rudolph Bing, general manager of the Metropolitan Opera.
They discuss how Bing decides on the season's performances.
Audio courtesy of the NYC Municipal Archives WNYC Collection
WNYC archives id: 8325
Municipal archives id: T4138
Transcript
This is a machine-generated transcript. Text is unformatted and may contain errors.
At this time your city station in cooperation with W N E W T V P five brings you a rebroadcast of with Mayor Lindsay here now is the mayor. Good evening thank you for coming tonight studio audience and thank you for listening. I want to start right off by talking about the school crisis school crisis in our great city of New York continues the Board of Education is willing to open the schools tomorrow morning Monday. The teachers' union president says that the teachers however are not to report to the classrooms tomorrow thus the schools will be closed tomorrow I deeply regret to say. Now this crisis began in the opening of school last week and it concerns and area in Brooklyn known as the ocean Hill Brownsville school district and central Brooklyn. As a local school board that last spring a long around and may transferred ten teachers out of the district to another school district. It did it did this this locavore did without legal authority. Well the question last May then was the return of these teachers to that school district a local option health Brownsville school district governing board and the parents of that community argued very strenuously that if they were going to have reasonable supervision over their own affairs that they did not want these particular teachers in the school system. United Federation of Teachers the union argued the local board had no right to make that decision. And after negotiations with the Board of Education it was decided to send those teachers back to those schools I supported that. Decision and those teachers were returned to those schools by use of police power I say police power because the feelings in that community among parents and some members of the ocean till school governing board all of them in fact ran so high that there was no way to do it except by battalions of police who were there to enforce it. Well during the course of the summer the Central School Board of Education carried on what negotiations it could trying to resolve this matter without clear resolution and one reason there was not clear resolution is because the New York State legislature last year refused to adopt decentralization plans for the school system that had been offered by the regions of education of the state of New York and by the commission of education James Allen and by me and by many others educational groups around the whole city that had supported this plan which plan contained a very detailed outline of the rights of all safeguarded the basic rights of teachers rights of tenure rights of due process. Very important things that we all support I support however that decentralization plan was not adopted and it was dumped back in effect to the New York City Central Board of Education to come up with an interim plan to be followed in December of this year with a long range plan well they have been hammering out that interim plan but meanwhile along came the school season. This past week when schools were due to open again there was the question. Of the ten teachers at the ocean Hill Brownsville community had asked not to return to that district and instead the ocean home Brownsville community said that they were prepared and did in fact hire other teaches that were to their liking. The United Federation of Teachers again argued that those teachers had to be returned and the Board of Education ultimately last week supported that and so did up and the result of that was is that we again had a police collation ten teachers went back to the schools the local governing board of the ocean Hill Brownsville school district had said that although they did not agree with it they would not seek to resist the return of those teachers however there were many parents who were outraged there were some militants and there indeed was some harassment of those teachers which is most unfortunate there were ranks and battalions of police there and they forced open the doors of the school and forced inside the teachers that were there with my support I say this because it has been charged by some city of New York and that I specifically have not supported this and I want it clearly understood that even though it has required ultimately police power which is a hard way to do anything and we've tried to avoid it these past three summers in New York when we've had a stable city that I have supported the return of those teachers difficult as that has been and is outraged as that community has been over it in other words I have kept in the city has kept its share of any agreement that has been made and we have sought to see to it that all of the law is upheld Well understanding's it's not just it's understandable I would suppose that feelings on both sides run very high indeed. The teachers feel and they're absolutely right that they have basic rights that always have to be supported as I said rights of due process never to be reassigned in some particular capacity without due process without careful hearing and both sides of the big studied set to rights and tenure any decentralization plan that I have ever supported of course must safeguard those rights and that has to be written into any document that establishes a structure under which parents in neighborhoods of City of New York have a reasonable say in the conduct of the affairs in that community including the schools. Well feelings ever on passionately high so passionately high that I as the mayor have been fearful indeed of the kind of collation racial coalition and police collision that we simply don't need in the urban crisis of the day particularly in our city of New York which is one of the rare big cities in the country that has gone through the last three summers without civil disorder there's been over two hundred other cities that have had it and we don't want it here well. Feelings running high. It obviously became apparent that the Board of Education which is an independent body could not resolve the issue to everyone's liking. The you the United Federation of Teachers. Demanded that the local school board be fired and that the local superintendent of schools in that area Mr McCoy be fired Also while the Central Board of Education was not prepared to do that. They were prepared to force back the return of the teachers in question which was another demand as I've said that the teachers union made and that was done last week with a good deal of collision between parents and police and the community so much so as we know what happened there were nasty charges of police brutality an excessive use of force and whatnot that landed right back at my desk and we had to cope with it. Finally they sent a Board of Education decided to call in the top educator of the state all of the schools of the state including of New York City are under the lawful jurisdiction of the commissioner of education of the state of New York who was Commissioner James Allen a distinguished educator and a distinguished New Yorker and he in turn reports to the regions of the state of New York so the Central Board of Education decided to call in Mr Allen and ask him to examine this and to come up with recommendations Stalinists the commissioner has certain legal powers which he is free to exercise over any school board area in the entire state of New York Mashonaland came into the ark and he examined this he talked to the interested groups and parties and had lengthy discussions and more than twenty four hours ago yet the day Commissioner Allan released a series of instructions directives and recommendations that he made those directives which have the force of law behind them instructed the New York City Central Board of Education to transfer the ten teachers in question out of that district and at the same time to suspend the ocean held Brownsville governing board Well that was tough. Obviously the ocean health Brownsville community takes pride in their local governing body and they did not want to see them fired but that with but this was the directive towards a solution which was demanded by the U.S. team of Commissioner Alex and by the same token I'm sure that United Federation of Teachers did not want to see a directive from Commissioner Allen that the ten teachers in question be transferred outside of that district to another school district but in any event this was the solution that was proposed and obviously it was somewheres in the middle it struck fair center it struck a bargain in effect and it was a directive and Commissioner Allan I'm sure did it after enormous difficulty and great strain on himself to arrive at a conclusion of this kind Well since then the following is happened I supported the decision made a statement yesterday that I thought it was sound that under all of the circumstances knowing it's difficult it was reasonable and it provided a structure for the immediate resolution of the problem and the opening of the schools tomorrow on Monday because that after all is what really counts is to get the one million children of the city of New York back into school so they sent a Board of Education convened today and considered it throughout most of the afternoon and finally came out with a resolution endorsing and accepting the directives and the recommendations of the commissioner of education and acted accordingly passed the necessary resolutions to suspend temporarily the ocean Hill Brownsville community board not easy for the central board to do is they had refused to do that only a few days earlier so deep with the divisions within the central board on that question and also the necessary resolutions to transfer the ten teachers involved to another district in the city of New York and then it said said Commissioner Allen and his directives. And I also directed that there be a small committee appointed to have thirty days to work out even further details on the relationship between the ocean Hill Brownsville community the central part of education and the United Federation of Teachers to work out those details and more precise form as to the rights of each to make sure that everyone is guarded and that the rights are safeguarded of each group or party when I think this is eminently reasonable provides it provides a middle ground for the immediate resolution of what seems to be an impossible tension risen coalition it provides the possibility of getting the schools open immediately and it provides the framework to resolve the immediate tensions in the ocean help Brownsville area the relationships between the local parent groups the unions and the Central Board of Education over a thirty day period well so we have the highest educated a State Commissioner of Education backed by the regions coming up with a plan you've got the Central Board of Education after long consideration today accepting it and I'm sure there was difficulty in doing that you've got the mayor of the city of New York and Doris sing at their portions of it that I may not necessarily agree with and yet the president of the United Federation of Teachers as of this afternoon has not accepted it but says that the schools will remain struck tomorrow that there will be a mass demonstration of City Hall at five o'clock tomorrow afternoon which will not help any settlement because of the reaction that can trigger off all over the city of New York and that indeed this may be the longest strike in history that that comes a time when a New Yorkers have just had enough and there comes a time when all parties have to back off of extreme positions that have been taken. And enough of the angry voices and the shouting and the marching in the yelling and the screaming and think about the one million children of our city and about their parents and I as mayor called upon both parties to this dispute the ocean Hill Brownsville governing board which is in the state of suspension now and I'm sure bitter over it the parents of that community I'm sure many of them are highly better I call upon them and I call upon the United Federation of Teachers and its leadership to be reasonable and to accept the Allen proposals there is no other choice at this moment but to do that neither interest that any group has the union leadership of the ocean hell Brownsville community no matter how intense and passionate that may be at the moment is as important as the education of one million schoolchildren New Yorkers are impatient and they have a right to be this is a time for conscientious action and I ask all to show that they are public interested New Yorkers who care about the children of this city and that's get on with the business of educating the youngsters of our town. We move to another subject each fall an important event happens in our great city of New York which is the opening of the Metropolitan Opera I believe and I think all New Yorkers agree is the finest opera in the entire world the general manager of that opera is Rudolph big no no I think affectionately and with great pride by New Yorkers everywhere Rudolph was born in Vienna many years British subject. He was general manager of the glider's burn opera in England and he starred in the Edinburgh festival in Scotland and then one thousand years ago he was attracted to New York to become the general manager of the Metropolitan Opera of New York the most important job in the music world once you meet Rudolph think of the the. Little. I'm glad the curtain goes up on the big stage tomorrow and you must be looking forward to it because mixed feelings but nevertheless. I hope Mr being that it will be an exciting season and that it will be everything that you hope for it and expect of it when we always taught in Fortunately not too unsuccessful is our efforts it's food at least. We've had it we had another minor crisis and the New York City Opera Company which is part of the New York City Center there was a labor dispute with the musicians and the New York City Center Opera Company and I'm pleased to say that largely because of the of the reasonableness shown and the care and the and the concern shown by the leadership of the Musician's Union it was resolved successfully yesterday when we followed of course was great comes on and simplicity and I delighted that it's been settled. Fortunately we have. Some difficulties which you may recall it's a very happy relationship we saw unions now we will have negotiations towards the end of this season but I hope we'd be able to manage it equally weighted be something to Clive Do you still get as excited over metropolitan opening now as you did one thousand years ago yes in a way yes it's always an exciting moment and it's just. I know that all the trouble starts again for another so if you want weeks each time I've seen you there always noted with great admiration the wonderful display of humor you put on even though it can be one of the most tense evenings of all the only way