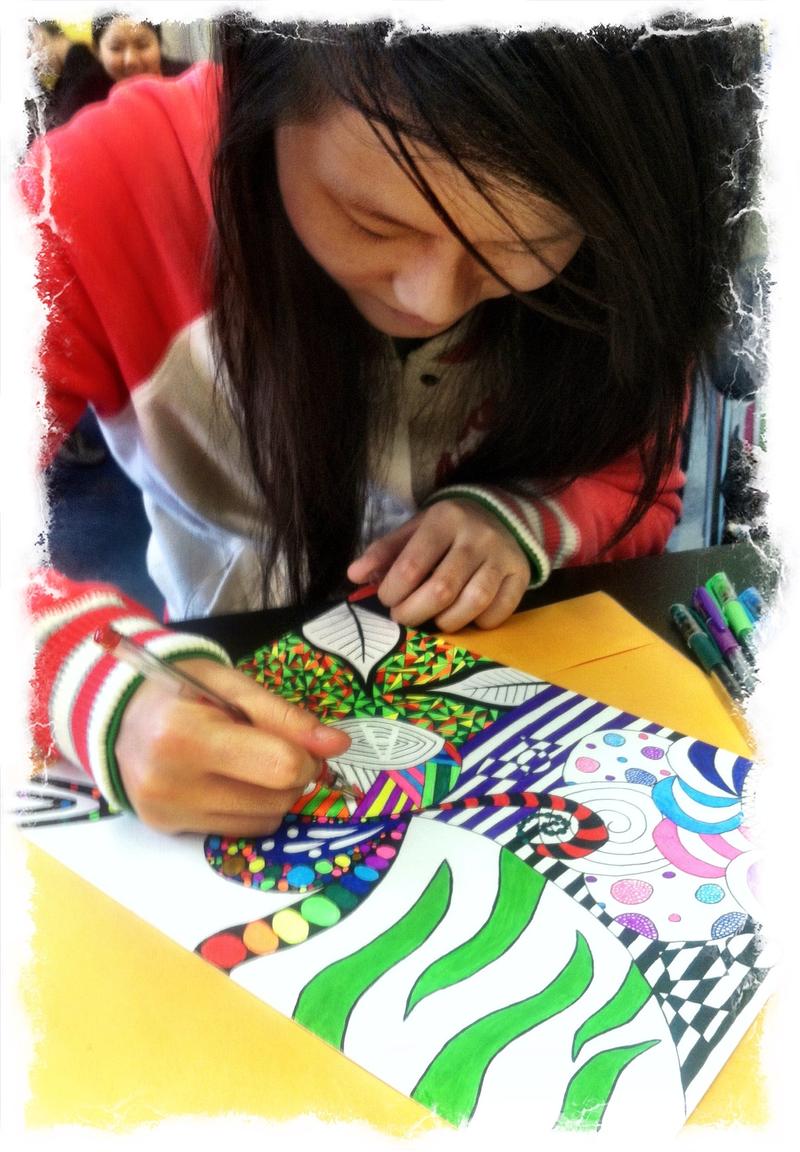 At the Collegiate Institute For Math and Science, we have an oasis for our students: the art room. With colorful art literally hanging from the ceiling and sunlight flooding the space, many students do not want to leave, and ask if they can stay an extra period or after school.
This is no accident. School leaders made the decision to put art at the center of the school and it's paying off.
The school principal, Shadia Alvarez,
created a visual art program at CIMS
last school year. She hired a licensed art teacher -- me -- which in this era was an act of courage, especially for a smaller school within a large campus setting.  Alvarez said she realized her students needed a way to express themselves and to decompress during the school day. She secured a studio which students could call their own. And she made it possible for the school to offer Advanced Placement Art, a double period where interested students can develop a portfolio within the Studio Arts line, concentrating in two-dimensional artwork.
Art has become the "class to take," or so the students tell me. The students have rigorous classes ranging from trigonometry to chemistry and physics to calculus.  Entering the art studio unwinds them. 
"It's a release, a stimulating environment that's magnetizing", said Mia Rodman, a sophomore who is enrolled in the Advanced Placement Art class. Mia has mentioned on several occasions that she is interested in pursuing a degree in the arts and possibly becoming an art teacher.  
Isaiah Crews, a football player at the school, unwinds and lets his artistic license flow when he enters the studio.
"Other kids see me as a football player, but I have so much more to offer," he said. "They don't even know how this art class helps me get through the day."
I expect the Advanced Placement Art class will offer a direct benefit to students applying to college.  There are several seniors enrolled this year who will be constructing their own portfolios to include in college applications.
New York City is a mecca for the arts. There are great high schools offering performing and visual arts training but too often low-income or struggling communities are overlooked when it comes to arts funding, as if there are more important topics to cover first. But the arts should be one of the first things funded in needy schools. Students need a variety of entry points into learning and self expression. They need quiet places to take a break.
Everyone needs beauty in their lives.