Studio 360
Taylor Mac's History of American Pop Music in 24 Hours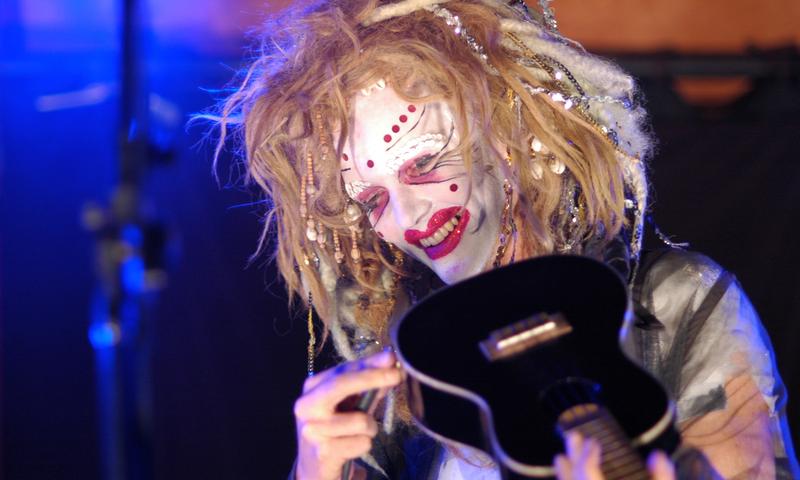 When you think of drag, you probably imagine, big wigs, high heels, fake Lizas and Judys, and a kind of one-note campiness.
But a lot of performers are demonstrating that drag is much more than the narrow stereotype. One of the most inventive of those artists is Taylor Mac. From his five-hour-long masterpiece, The Lily's Revenge, to his critically acclaimed turn in Bertolt Brecht's Good Person of Szechwan at the Public Theater in New York, Mac has proven himself one of today's great theatrical artists, period.
For Mac, drag isn't about hiding his identity — it's about exposing what he looks like on the inside. "When I'm wearing my jeans and my t-shirt, that's when I'm hiding because I'm trying to blend in with everybody else."
A 24-Decade History of Popular Music is a decade-by-decade revue of American pop music — from the 1770s to the present — in which each of the country's 24 decades gets its own hour. Over the next year or so, he'll put all those decades together into one vast 24-hour musical extravaganza.
So how historically accurate will this 24-hour history be? "Oh, there's liberties!" Mac laughs. "The 1770s is about how America was founded on booze, man-boy love, and dandy revenge." Funny as that sounds, it's not so far off. " 'Yankee Doodle Dandy' was originally sung by the British to make fun of Americans, saying that they were dandies," Mac explains. "The British lost a battle and the Americans forced them to dance to 'Yankee Doodle Dandy' over and over and over again. And that's how it became an American song."
Taylor Mac performs live in Studio 360 accompanied by Matt Ray on piano and backing vocals.
Bonus Track: "I Want To Go Back To Michigan" live in Studio 360
Music Playlist
If Your Kisses Won't Hold the Man You Love

Artist: Taylor Mac

Snakeskin Cowboy

Artist: Taylor Mac

Life is Just a Bowl of Cherreis

Artist: Jack Hylton

Album: Music of the Lost Generation

Label: Vintage Masters