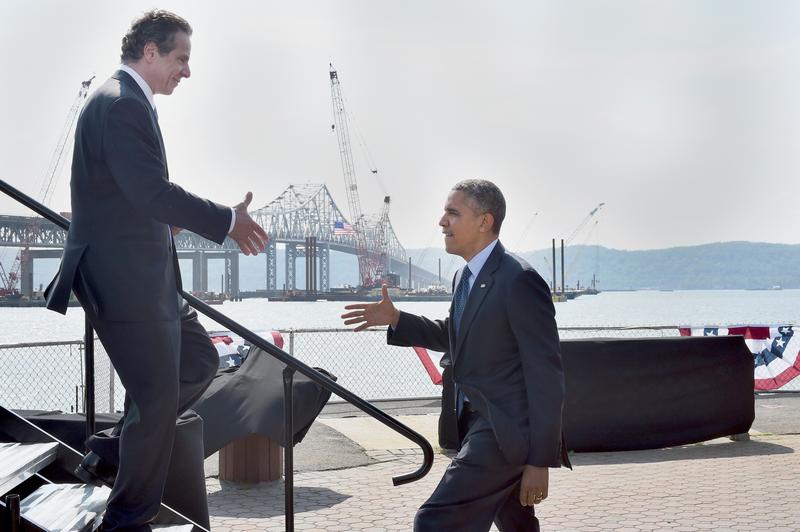 About 30 miles north of New York City, the aging Tappan Zee bridge arcs across the Hudson River at one of its widest points. Nine years after its projected life was over, cars still swarm over the bridge, and drivers can sometimes feel it shake.  
Construction for a new bridge began last year, just upriver from the old one. Look out from the water's edge and you can see pilings for the new bridge all the way across the breadth of the Hudson.
President Obama visited this site with Gov. Andrew Cuomo back in May to urge Congress to pass a new transportation bill. Cuomo seized the opportunity to rhapsodize about a signature achievement. "This is a bridge that symbolizes what was and what can be," he said, his voice soaring. "This is a bridge from gridlock to bipartisanship. This is a bridge from paralysis to progress. And this is a bridge from yesterday to tomorrow."
That other bridge, the old one, and the long-stalled process to replace it? "It was a metaphor for what had happened to our state," the governor said. "Political gridlock, government paralysis, fear and indecision had taken control."
Give the man credit, he gets things to move. He sped up the state's environmental review, obtained a massive $1.6 billion federal loan, and got construction started at a time when elected officials across the country are at a standstill about how to pay for infrastructure.
But the bridge can also be seen as a metaphor in a different way. Because at every turn of the Tappan Zee project, Cuomo has been willing to use surprise, lack of transparency and a willingness to sacrifice grand vision for political utility. It's a metaphor for the way Cuomo governs.
Cuomo says — and he's right — that the project was discussed for 15 years before he came along. But the old vision was much grander: "An entire corridor overhaul," said Veronica Vanterpool, of the Tri-State Transportation Campaign, a little wistfully. "Thirty miles of highway efficiencies, a new bridge, and a new transit system."
The old vision was supposed to make it way easier for people get around the whole region by train, or fast bus. Anything but vast lines of cars with only their drivers, waiting to get through the tolls, burning up carbon-emitted fossil fuels.
But with a simple press release, to save billions, Cuomo compressed the vision to just the bridge. A state web site announcing the transit plans was suddenly taken down. Officials at Metro-North, which had worked on the project for a decade, privately expressed shock and outrage. Westchester County Executive Rob Astorino, a Republican who is now running against Cuomo, said at the time that Cuomo was building "an 8-track bridge in an iPod world."
Cuomo said then that the transit option was too expensive, would drive tolls too high. But he's never said how high they would be, with or without the train. Reporters have been trying to get this information from the governor for years, perhaps no outlet more assiduously than the Journal News, which covers Westchester and Rockland, the two counties joined by the bridge. In order to get the loan, New York's Thruway Authority had to explain to the federal government how it would pay it back.
So Journal News reporter Theresa Juva-Brown filed a Freedom of Information request for that explanation with the U.S Department of Transportation.
In a two-page letter, the feds denied Juva-Brown's request, saying the Thruway Authority had advised them to do so. The U.S. Department of Transportation said Cuomo's financial plan — the basis for a $1.6 billion loan request — was "hypothetical," "misleading" and "inaccurate."  DOT spokeswoman Nancy Singer didn't quite answer how that could be. "New York met the requirements" for the loan, she said.
Cuomo's next big move on the bridge financing — he called it a big innovation — was to announce just last month that he would borrow $511 million for the bridge from the state Environmental Facilities Corporation. The EFC is an obscure authority whose most recent projects include cleaning up drinking water in the upstate Village of Deferiet, population 290.
Cuomo announced the plan in a June 16 press release, three days before the corporation's board was even briefed. Environmentalists and planners fired off a letter protesting the proposed loan. They called it a money grab from a fund meant to protect drinking water.
"We're concerned not only on the substance of what they're doing in New York State," Peter Iwanowicz, a former state official and head of Environmental Advocates, said in an interview. "But we question the legality of them re-purposing funds that are meant for sewage clean-up to pay for bridge construction.
Cuomo officials protest that this is an entirely legitimate use of the funds. But Judith Enck, head of the federal Environmental Protection Agency for this region, isn't convinced that the loan meets the requirements of the Clean Water Act, which partially funds the EFC. "We didn't have much advance notice on this," she said. "This was being advanced as a minor amendment. I'm not really sure that $511 million dollars reaches the definition of a minor amendment" to the EFC's financial plan.
The obvious conclusion to draw from all of this is that Cuomo is keeping the inevitable toll hikes a secret so voters won't be in an uproar before going to the polls in November.
But he may be overestimating that outrage. I spent a recent morning in Tarrytown, speaking to residents of both Westchester and Rockland County about the new bridge. Sure, there were  people who were angry about the possibility of tolls going up from a maximum of $5 now. But overwhelmingly, voters expressed a sighing reservation.
"I don't feel too good about it but what are you going to do? It's relatively cheaper than some of the other bridges," said June Chun, who works in real estate development.
"You  know, nothing's free in the world. Who's going to pay for it otherwise?" added CPA Chris Cotter.
Mostly, there was a lament for the missing transit system. Actor Nathan Scherich called a toll hike "a reasonable outlay." But he expressed a sense of loss that he'd never take a train across the bridge.
"It's basically the same footprint but with a new structure.  I don't know if that was the best concept. I certainly think I'd rather have it stand than to fall when I'm driving across it."
Despite all this, Cuomo advisor Brian Coneybeare defended the project vigorously. "To suggest that the project has been anything less than inclusive and transparent is simply inaccurate," he said in a statement.
And Cuomo certainly has bragging rights. He will keep us from falling into the river.