The Takeaway
Taliban Targeted Female Activists, Leaders in Afghan Attack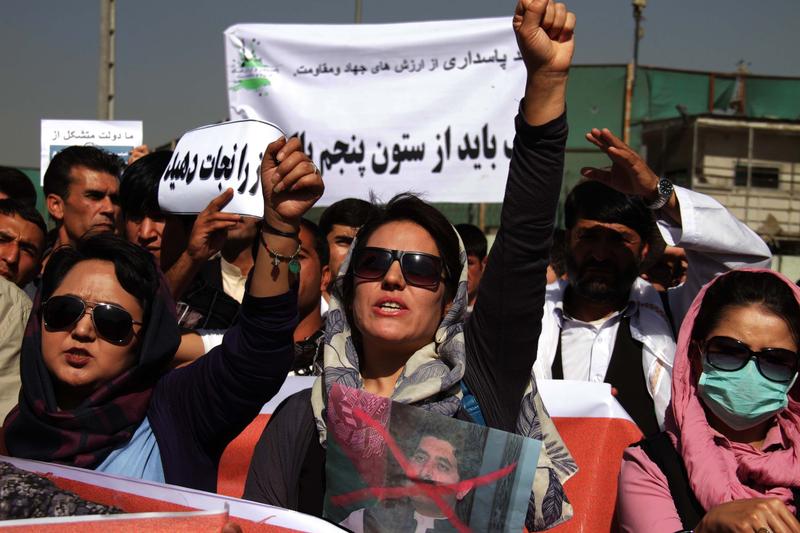 The Taliban attack on the city of Kunduz last month underscores the weakness of the Afghan Army. Even though the Taliban has withdrawn from the city, their brief sortie has left lasting damage.
There is a new absence in the city: The professional, educated women, who were teachers, engineers, and community leaders are gone, and it is not certain when they will return.
One of them, Hassina Sarwari, ran a shelter for women who were victims of violence. Our partner the New York Times quotes the local Taliban leader saying, "If we had captured her, she would be hanged in the main circle in Kunduz city."
"Hassina Sarwari is one of so many Afghan heroes," says Sunita Viswanath, the co-founder of Women for Afghan Women. "I have asked her so many times, 'Why do you stay? Why do you do this job?' Each time, [she says] she'll do this because it's her duty as a Muslim and as a woman—to protect the lives of the women and men of her country."
Women for Afghan Women is headquartered in New York City. The group provides legal services and runs shelters for women and children in 13 Afghan provinces. When the Taliban took Kunduz, their staff and clients fled, and though almost all of them made it to safety, the husband of the one of their staff members was killed.
Despite the danger, Women for Afghan Women plans to keep fighting.
"I think of a young 11-year-old girl who was raped by a mullah—her teacher; her Quran instructor," says Viswanath. "This young girl, her case was fought by our lawyers, and in an unprecedented turn of events, the rapist was put away for 20 years even though he invoked Sharia law and said he would marry the girl and take lashings."
Viswanath continues: "The judge, who may have benefited from some of the human rights training going on, said, 'No. This was a rape and you're being put away.' This 11-year-old in the courtroom—and no one asked her to do this—removed her veil and looked the mullah in the eye and said, 'God will not forgive you.' That young girl represents the spirit and resilience of the people of Afghanistan at age 11."
It's stories like this that have driven Women for Afghan Women to keep working in the region.
"We have had many threats over the 14 years we've existed as an organization," says Viswanath. "We react quickly to threats. The reason we get news of the tensions on the ground and dangers is we're very much a grassroots organization."
Many of the people working in-country for Women for Afghan Women are locals themselves. Having individuals connected to the community, Viswanath says, is a vital asset in the information distribution network.
"The strange thing about what's happening right now is that in Kunduz, we didn't have any signs or any warnings," she says. "It's a new and terrible day in Afghanistan."
Viswanath says that while the organization has been a target of Taliban before, it hasn't stopped them from working in the region.
"Given security and the opportunity to build and rebuild, the Afghan have proven time and time again that they will face adversity and stand for progress, and Kunduz was no exception," she says. "It was one of our most dangerous offices from the time we opened in 2010 in Kunduz. We have known that we've been on the Taliban hit list."
The group's offices in Kunduz have been evacuated at least three times in the past few years, and workers with the organization have worried about the dangers in the area.
"And yet, our province manager and the other women and men who staff the organization's offices are Muslim Afghans who go to work every single day to fight for women's rights," says Viswanath.
Though the group is still figuring out what to do next, Viswanath says that there's no way that the organization—or the men and women of Afghanistan on the whole—will let the nation move backwards.
"Not after 14 years, not after all of the billions of dollars that have been spent and the blood that's been spilled in rebuilding Afghanistan," she says.
On Thursday, President Obama announced that he is reversing his long standing pledge to withdraw all American troops from Afghanistan by the end of his second term. About 9,800 American troops will remain in place through most of 2016, before dropping to about 5,500 at the end of next year or in early 2017. But Viswanath says it's not enough.
"We need more," she says. "We need, at the very least, an urgent statement—a statement directed to at these extremists that the U.S. and the international community is not going to abandon Afghanistan, its women, its men, and its children."