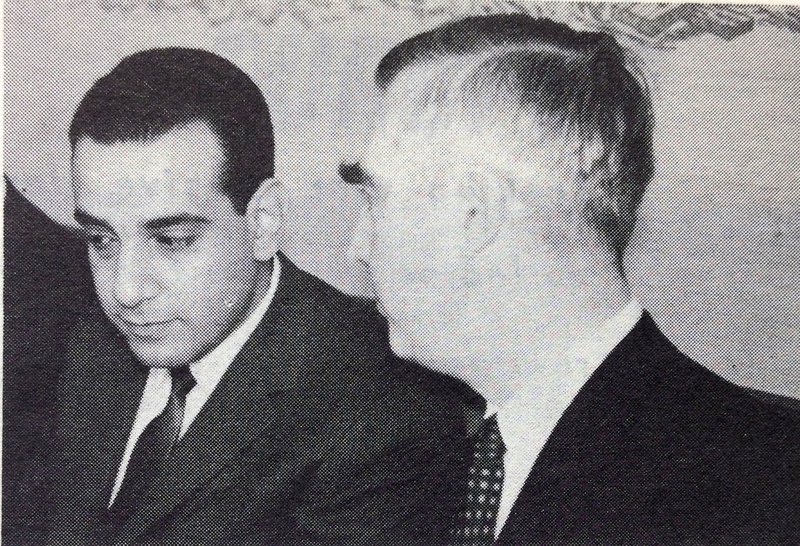 Summary
This episode is from the WNYC archives. It may contain language which is no longer politically or socially appropriate.
Talib Shabib, Foreign Minister of Iraq, discusses the struggles currently going on within the country. He describes the many invaders over the centuries and the current problems facing Iraq. He mentions the agrarian culture and the "backwards" farming methods. He says the country is ridding itself of the feudal system in which one man owns thousands of acres, instead the land will be divided up among peasant farmers, and they will be instructed in modern farming methods.
Shabib also talks about national identity and the desire to unify the Arab nations.

Question and answer session follows. Asked about Massoud Barzani, Shabib states that he hopes the rebel is tried in court, however he says that he usually escapes.
Audio courtesy of the NYC Municipal Archives WNYC Collection
WNYC archives id: 70418
Municipal archives id: T227
Transcript
This is a machine-generated transcript. Text is unformatted and may contain errors.
The foreign minister of Iraq here with us today to discuss. The critical problems. Of his nation at one of the major crossroads of the Middle East Mr Shelby needs no introduction all of us have read during the past year the story of the dramatic developments in Iraq in which he had a A for most part it's a great honor to present to this audience. Thank you Mr Chairman I'm very grateful and. They are not for. The very kind of attention given to me and I'm also very grateful for that interest. Them to us who have shown in the Feds my country by your presence and here I know that we have a very limited time and that. And therefore I would like to be very brief and making a statement and would leave a. Great amount of time for any questions and I'm sure you would like to ask. As you are well aware that Iraq is one of the countries which has for generations suffered think coachmen a foreign occupation we had waves upon waves of what invaders starting with the Mongols then we had the tax until the pensions now and again and finally the British with. With the First World War Iraq which was a one time one of the most progressive in a flourishing countries and that he had become as a result of this continuous and. Continuous exploitation. A company where the PEP capita income is one of the lowest in the world where illiteracy is in the eighty's and sometimes was ninety's and whether that is one of the companies. The most completely and and developed we have course the oil which was a blessing as well as a Caps. And therefore by this. Belief understanding of all of Iraq history will see that that we share with the majority of the developing countries that struggle to establish. A life what I want citizens which would be called decent and reasonable human life we have to overcome the great poverty which exists among seventy percent of the population which I. Would have the present to me we have to find work for the lot of the numbers of the unemployed we have to establish and dusty whereby the. Capital of the country it will not be the end in importing everything and exporting nothing we have also to establish a stable and democratic government whereby the rulers of the country that are chosen by the conscious and the free will of the people and this it is and gentlemen. The major spect of the present situation in Iraq and these are the sources of the continuous struggle which has been going on within the country and the development of Iraq in the past forty years has been flown off into the magic. Changes and dramatic events and the federal city off some of these events out of the flexion and. An indication of the great task which lies ahead for any government which seeks out article change in the life of the country and this was modesty I say as is the task which we are setting ourselves to do course we have a number of problems which we have to encounter for to sle Iraq is mainly. An agricultural country what by the majority of the people by seventy percent of them live on the land and going to cultural as it is is and the method of. Farming out of still backward and modernized and very much similar to what they be in to what they be in. One thousand or two thousand years ago. With the result that the income of the president is merely one which keeps him on the various subsistence level this is something which the government is attempting to do for us lead by. The abolish and off the system of who through the lism by tens of thousands of acres has been owned by one family or by one man and distributing the land on instead instead in small plots to that individual presence by providing them with technical advice and technical know how and more than ways of marketing a father's and thus have developed into the company we do not hope to establish. Heavy industrial but there are a number of industrial committees which can comically be produced within and. The government is embarking upon upon development program which will in the next five years manage to save Iraq a great deal of it is fun and exchange and it produces commodities cheap enough and good enough to be used in the local market and Iraq's course is one off their out of countries and as such I want people with the rest of the out of the people I don't was so far the feeling that their national identity is not fulfilled not yet complete as long as the Arabs are the man devout divided into a small countries in the smallest heads and therefore there is always a continuous yattering to see that the Arab nation will become into one single state and such out of unity is and with a man one of the about objects of my government and we hope that the present circumstances out of more favorable to taking steps in that direction and. In this respect we feel at one with any out of government that shared with us the object of establishing out of unity between any willing and desirous of instead by the free choice of the people of that state and what Alicia in with on the international field is an attempt when I want to part to secure our interest and to see that world peace does exist by a friend establishing a friendly relations and mutual cooperation between us and between any company willing to. Take our hand and willing to respect our independence as a friend from interests. And kind of being in our internal affairs. And thus Fortunately we have good relations with with most countries of the world we follow a policy of not alignment we belong to neither bloc we have no. Political or military alliances with any of the great powers and with no country other than the Arab countries with whom we have special relations I threw out membership of that oblique as far as I want to nation with the United States is concerned there is always a desire on our part to see that. Not only the problems of Iraq but the problem of the whole Arab world are fully understood by the United States and the desperation of the people for the independence for unity and for social progress will be understood and appreciated by the government of the United States and by the people of the United States and in this light. We would like to see that the through picture of what goes on in the Arab world is given to the American people and understood by American Statesman we are. Continuously trying to set out to lay sions with us on bases beneficial to both our countries on the basis for mutual understanding and cooperation where a lot of what is peace is and what about the interest of it up and the American people are going to teach and I feel that we have not failed in that effect and that with every day that is great I hope that this and the standing and this friend little asian will develop and will continue I'm sure that I cannot cover all of the points in which one wish to raise and therefore I leave it to a question. We want to take questions one of. Our I don't plan to repeat that was along with that player and this lady had a question because of a pressure quite generous whether the government ever having a rough plans to nationalize the banks. This is rather a difficult question unfair. And I'm not an economist and therefore it is very difficult for me to answer the following but I would normally like to say that in Syria banks has been nationalized because they were previously nationalized by the government off they way odd when City and Egypt where they joined together as one country and they were the nationalist after the city had a broken away from the union with with Egypt it was found necessary to nationalize banks once more because the bankers understood immediately that the banks are going to be nationalized that there was an economy creeping economy and the government had to intervene and take hold of the of the of the banks and Iraq we have a different problem. We are the banks whatever nationalized and that has never been the atmosphere. And on the economy field which was created in Syria I mean after the revolution of the end of March city and therefore we have not yet found it necessary to take any such measures. When the question asked a question understandably party in Iraq is socialist and she want to know what measures it will take to propel this sort of progress. One fell asleep as I said Madam the population of Iraq a seventy percent presence and socialism in Iraq essentially means. That those people would on their means of production and they would no longer be exploited this can only be achieved by whatever Nies in farming by. Establishing a cooperative society by saying that the standard of living of those people is a graduate is and that what they produce goes to them and not to a few of the exploited. As far as indices concerned we have very little industry in fact what we have is. In the private sector the private sector invested only accept a million Iraqi dinars which is something like. Seventy six million dollars in industry and it is shared off industry is only forty percent while the sixty other sixty percent is owned by the government and this execute a set of us as such as railways electricity water supplies etc which are all government transport which are for government on a government plan and therefore nationalization would not make any appreciable effect in the scheme for the socialization socialism with essentially mean to us in the field of and establishing industry doesn't arise in the countries and saying that the workers are allowed to freely like organize themselves and trade unions and that they will be given the wages which corresponds to the amount of work they are doing and with the amount of production which is achieved. Yes. Your. Whole life for. Me. And I. Was Really. Sad. About that. My. Question is what steps will Iraq take toward achieving a single Arab state and is there a possibility that these depths might bring a rock and a collision with some of the other states in Africa. When suddenly the Arab states which we aim to see is to happen single out of state is not going to be an expansion of Iraq and Iraq as such would mentally be one part of the secret. State which we envisage the steps to we are taking as but cooperating with any out of government willing to consider other plans for union and such we have established economic and military union with Syria we hope these will be the basis on which future political unit can be established between these two countries and between any country willing to consider participating I cannot see any conflict between out of union and between African Unity I'm not I can foresee in the very near future a single African state and even if this state established I don't think it could need to come into conflict with a single United States I think it would open a great deal of venues for cooperation between these two states and I think that they complement each other instead of conflict with each other. We have another question based on the back. Question is whether the minister feels that Jordan is moving closer toward Cairo at the present. Well course we have all seen recent. Reports of. That approach mall between Egypt and Jordan. As things exist now that is not dramatically between the two countries and as far as Iraq is concerned we would welcome any. Development and that in the positive direction between any two out of countries and we find nothing consul nothing contrary to our interest and that approach more between Jordan and Egypt yes please. Does the hand of friendship toward any country and occlude Israel Well no it does not because we don't recognize Israel with a stolen set forth with Israel and what we don't believe that. Israel should be that because the thought of you know people of Palestine a lot of out of it a few days from their own country and they are but I feel citizens of that area and those are the people with whom we would. We would put our hand in friendship. Well we want this injustice to be eliminated to the for the United Nations resolutions allowing that I'm giving the Vatican is that I don't attend their own home to their own homes should be applied and should be fulfilled by is that it was refusing to do so. Let's question. Here. Minister have any comments on day dispute between now Gerry I am Morocco when of course and Iraq takes the idealist and the. But I think a position that we believe that no border problem should exist between out of countries because we believe that out of countries are one and therefore any differences over where the Algerian border should be or one of them at all can border food be temporally defenses which the future would be with with Seoul and therefore we. Resent seeing force used to settle any such problems and in this spirit and Iraq today Iraq had called the Arab League for a meeting to discuss this question and that of the should set in the solutions calling. For the tide to be stopped immediately and that each party should withdraw to the position where they were before the start of the hostilities we had also sent in Iraq then a Geisha and headed by. Two of the cabinet ministers to both smoke and and Algeria to see that the fighting is stopped and that negotiation and would be started to solve this problem and I am hopeful that no for that object would be allowed and the problem can be settled peacefully through negotiation. But we have a quest for a comment on the Kurds or a vote and northern Iraq well I did notice this problem because I knew that had been asked about. How about. The cats as part of the UK population suffer the better same problems which the rest of the population suffered they suffered from poverty disease and employment and the rest of the levels that exist in any of that and other developed countries of developing countries. We have however a national cut of this question which we have acknowledged we have only one million Kurds in our country and that there are. About other seven million living in other countries we are the only company what kind of live we should recognize the existence of an ethnic national group called the curves and accepted the fulfilment of the reasonable national aspiration of this. Minority national minority the Kurds in Iraq about a number about one million they have never been persecuted in the past not so the only through this regime but through every regime they have been treated fully as equal citizens there is absolutely no trace of. Any racial discrimination any of you have but visited Iraq would know this but it clearly and in fact that a presentation in government is far greater than their actual percentage of the population that only fifteen percent of the population they could buy a twenty two percent off post in the government and at times that had been cut of the prime minister and all his ministers and high officials and boss of the system that is however the conditions but interesting to