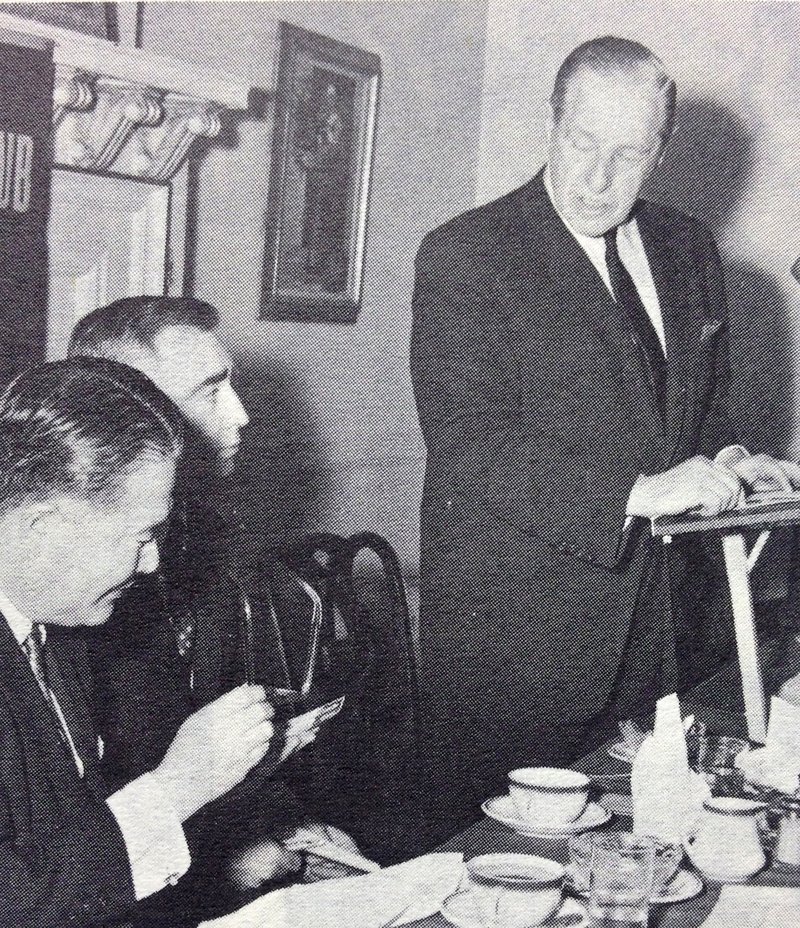 Summary
This episode is from the WNYC archives. It may contain language which is no longer politically or socially appropriate.
Host introduces Maruo, Executive Director of the Japan Trade Center in New York. Maruo discusses trade between Japan and the US, economic life in Japan. Japanese economic growth, leading producer of many shipbuilding supplies, machine tools, glass, cameras, lenses, etc. Importance of upcoming Olympic Games in Tokyo. Japan's presence at New York's World's Fair.

Robert W. Dowling, city Cultural Affairs Director, speaks briefly about the people in the audience, specifically Commissioner O'Brien, the "Hinge." Continues on to the cultural relationship between the US and Japan. Promoting the art of friendship in Tokyo-New York Exchanges. The display of a Japanese screen in a gallery in New York.

Question and answer hosted by Joe Newman. Future of economic and trade development between the US and Japan, with regard to China. Separation of trade and politics?
Audio courtesy of the NYC Municipal Archives WNYC Collection
WNYC archives id: 70368
Municipal archives id: T408
Transcript
This is a machine-generated transcript. Text is unformatted and may contain errors.
This is the week of New York paying tribute to Tokyo the two great cities of two great cut men facing one another and in friendship across the Pacific Ocean and across our own continent and it is a very great pleasure on this occasion to have with us. Who is the executive director of the Japan Trade Center here in New York who will bring us a greeting tells me that I asked him whether he thought the New York could be a little cleaner and and perhaps even a little friendlier and he tells me that. Perhaps very large cities have very much in common and that if this is the fault of New York he thinks it's a fault of Tokyo too he says what he does find is that he feels very very much at home in our city and certainly it is our pleasure to welcome him to our club to. Thank. Thank you. He's appeared here to address this interested and informed group. Which is a sister city of Tokyo especially in view of the fact that my ear us as a major activity center of the world has become tremendous We enhanced I find an interesting parallel between comic atmosphere as well as international activities existing in. Contributing so much to the development of a feeding of friendship mutual trust and copulation between our two nations. To say that Japan and the United States are partners in progress is more than a few years of speech the United States is Japan's best trade customer wired to pan second only to Canada is America's best trade customer rolled during the past ten years that is from nine hundred fifty to one thousand nine hundred sixty two the overall picture of the US Japan trade has a steady increase over this decade U.S. imports from Japan have increased from two hundred sixty two million dollars to. Three hundred fifty seven million the United States exports to Japan on the AS A hand having created from six hundred sixty eight million dollars to one billion four hundred eight million over the same period of time that's the balance of commodity U.S. Japan trade since nineteen fifty is nearly three billion dollars in favor of the United States. Japan is the first fastest growing market for American exports since nineteen fifty eight U.S. exports to Japan have grown at a much faster lates than the U.S. exports to the Common Market the United Kingdom and the rest of the western europe canada or Latin America is expansion of U.S. exports of the Japan is a direct result of Japan's. Economy rolls Japan's gross national product has more than tripled between nineteen fifty and nine hundred sixty in fact Japan's economy grows has been far more lucky than that of the common market countries and told the Japanese economy miracle by world economies more than Japan is a highly developed industrial nation in shipbuilding Japan is a workers largest produce in bold bearings cameras radios and television sets. Even machine tools pharmaceuticals and in and steal its lungs force just today while America is defending best customer for low silk glass jars steel sewing machines cameras and lenses Japan provides the United States the best market for Harcourt I am and a steel scrap soybeans Laysan instant coffee and known fact Dr in addition to how surprising America one of the best markets for America's call machinery thank you cause we budget here tobacco. And highs and skin. New York and our great centers are national activities in the post war era Japan has won. As a fascinating host country many international gathering. Of all of the international gatherings scheduled for Tokyo and New York this year the greatest future are needless to say Olympic Games in told while it is a work in New York that eighteen Olympic Game is expected to be the biggest and best since of first leg of the Olympics wife held at the foot of Mount Olympus in the seven hundred seventy six B.C. more than twenty seven centuries ago the games will mark the first time the sacred Olympic frame has burned in Asia after a sixteen thousand mile airline Lund boy half the world from its kindred prays at Mount Olympus the Tokyo Organizing Committee estimated that games will cost Japan almost two point five billion dollars. Making them the costliest in history as for the New York whereas here Japan has decided to participate actively with hopes that by introducing Japan's present state of technological and industrial development conveys a true picture of Japan today too busy toes from all over the world just contributing to the basic purpose of the fair. Understanding. That Japan is ninety percent completed with a joint Japan U.S. work crew confident of total completion by opening day of the fair. Eighty. Seven thousand square foot Japan section is a second largest international area that total exit will consist of three separate pub Indians one operated by the Japan Eckstein no Trade Organisation with there as US Open ended by the Japan exhibitors Association finally I should like to say with a deep sense of the gratification which I know you would share with me that's a relation between Japan and the United States have never been as good and as close as they are today and it is indeed present to consider that our two sister cities and New York have had and will continue to have a major part in helping bring about that balances excellent relations between our nations Thank you. Mr morrow I will be happy to answer any questions we have for him but first it is my great pleasure to present Robert W. Dowling who is the city cultural affairs director and a person that that we are especially pleased to welcome today to the Overseas Press Club we all know the story of how Mr Delling was first heard of around Manhattan he. Dived into the water and swam the whole distance around Manhattan Island thirty five miles winning the the long distance swimming championship of the United States it's a great pleasure to welcome him Mr Downing. Mr President. Mr my room. And ladies and gentlemen and particularly. I see in among us today a row singer who wouldn't be any Tokyo New York sister city where the poor are not the rose so and long so either said to Mr Ross Platt who also makes it possible for these two ladies were greatly indebted to just enormously. Hundred. Right alongside his commission or Brian and these other he's not only speaks eight languages which includes a naturally Japanese but. He is but I'm glad because of the hinge because of the cardinal. Cardinal Law Brian but I call him the hinge because. The hinge or the cardinal is the person or the reason on which matters of the city of New York turn and they turn on hinges and Commissioner Brian as are perfectly wonderful person for all of us and on the twenty fifth anniversary and which I congratulate you Mr President and the members of this club and. Get him on your side and you'll get that postage stamp. Gracious speech just delivered by our Japanese guest puts me in mind of the great privilege it is to speak about Japanese American and Tokyo New York cultural exchanges and advantages. I'm will not talk about trade. Because I don't know anything about it but. I'd like to mention that we exotic people in the West I've been too long oriented in my judgment to not say European aunt or European. Based of European and gender dots I'm with the exception of music which we have written a good deal of for ourselves we know jazz and our spirituals in the blues but outside of that we borrowed mostly from the Titans and the French and the Dutch and other European peoples were not yet sophisticated sufficiently in this country to appreciate fully the great subtle poetic and beautiful world of the arts of Japan we're learning and we are eagerly learning I have such respect and such affection for Japan that if there's anybody here and I don't suppose it is anybody here doesn't go there every summer but. If there is anybody who hasn't gone and better start right away because you'll enjoy it and have a most wonderful time the most gracious and polite and wonderful kind of people for instance the tea ceremony. And if you have been to a tea ceremony how many people here have been Rose has flown by but there has probably been to a tea ceremony well I advise you to enjoy it it's a great philosophical experience that's. Not really religious I don't believe but at some. It's a kind of ceremony that only lasts a day or two and. The tears impossible to drink I Vy should not to taste it. But as I'm not saying this in a derogatory way as we Irish would say we're not derogatory about it that's they really are. A great people perform and it's marvelous I met a. The N. family send a bay parents and family who have been seven times to master seven generations the most exquisite people that I've met anywhere in the world tire world now what I wanted to say to you about these cultural might as well this. We now with jets can go anywhere we want in a few hours when God Tokyo is there is the afternoon and come back you by Sunday so it isn't very long trip and you will not slow in so much and not a short time but if you go off to another that's better than going and staying a month I think because you keep thinking about the limit when not Tokyo which is the largest city in the world and the dear Japanese friend of mine said to me Tokyo and New York and sister cities Tokyo is the largest city in the world and New York also is the largest city in the world so you see how how gracious late. That was expressed. In. Practice borrowing and I say this with humility I don't say it and then and any sense of them. Of let's say. Being amused I said if you're truly humility practice bowing because everybody expects you to bow and Japan and you by now you know from the waist up and hence fair in a very nice custom indeed you are on the pole whiteness everyone is simply was a lot part of culture too. There are many arts you know in the art of writing the art of music and the arts of painting and sculpture but I think the art of friendship is perhaps the most important and that's what we're trying to do in the talk here in New York. Exchanges and you read in the newspapers you've seen it on radio you've seen it on television and you know that this little tiny part of the world in New York which I think is about. All I say we're about. Half of one percent of the world and our whole country is about six percent of the world. We have so much to learn on this great wonderful ancient and revered world of Asia so that we we just must be either but more. Let's say more attention I got in the mail this morning. A thrilling beauty a man's finest artistic achievements no yours to enjoy a full size in your home will grow a hill I don't belong to the Broyhill and I'm not advertising them but the whole thing is devoted to talian French and Dutch are no mention whatever that Asia. For the most beautiful and explicit things literally thousands of years before any of these countries put anything down on the canvas what carved anything and you might say here that some people in the United States believe that the Puritans came here rather early and sixteen twenty and third son who came to New York and the times and then and there for fifteen hundred in little or after fifteen twenty five I believe well Japanese were here our North American continent six thousand years ago and that's quite a little bit ahead of the of the Puritan invasion and I think we ought to go there much more often than we do I'd like to caution here though. Mr Barnes our traffic commissioner at the invitation of Tokyo went there to see if he could give any advice about untangling some of the difficulties of traffic conditions in Tokyo and with the Olympic Games coming and all these new hotels being built and so many visitors. Well unfortunately bonds had a heart attack almost immediately so you can see it's it's not an easy problem that's. He's getting over it but do not be surprised at the. It takes a little while to get around Tokyo may I just say to you. And talking about getting round and I feel there are three words of First I'd like to show you a screen before I can tell you about three words this particular screen I brought here because it is a national treasure of Japan we were permitted. To have it in our care in. Uncertain gallery in New York and we were extremely careful about it and because there were many many other screens and many other beautiful things. Exquisite enamel boxes and great sword some great other things so we were permitted to enjoy this screen now it was executed about seventeen hundred and fifty of between thirty and sixty and. It's explicit in its purity and the painter. Oh cool OK you. Men of great renown well known for all this time in the last two hundred years and I just like you'd enjoy seeing the color of it and the action and the purity of it and these two fine. Portraits of the geese and there is another such green. Perhaps I shouldn't inject this but to give you an idea of awe lack of sophistication in Japan. The. Screen of this character is West two hundred two hundred fifty thousand dollars and United States we have very few such grains and I museums and we simply haven't become well enough identified with Japanese cultures to realize what we're missing I thought you did Joy looking out for a while and I wanted to say just one more thing I'm sorry if it's been a little long and that is that there are only three ways you need to go around the world and the three words in Japanese I'm going to give you now you must always of course a please everywhere it's instant been just to pass and then. To get my pronunciation but those old as I believe the right way to say please isn't that all right those old Please. Thank you that is so important I got to. Thank you and I thank you all and then there's just one more word and that goes at the Overseas Press Club or goes out an art exhibit or goes on scene the imperial powers or goes anywhere really. And. So. And it means what I want to. Thank you. I. Think. It's a great pleasure Mr Delhi for all of us to say got go and so brother. And also thank you for letting us have this to gaze upon during these moments together I will now ask one of our veterans of the Tokyo coverage author of a book on Japan to take over the question period he's our own Joe Newman who is director of all the programs of the club. Thank you very much for the plug of the book bear but it's out of print now I can't get a copy myself. Someone want to put a question to either of the two speakers. Will you tell us a little bit as to what Tokyo is going to look like when we get around to they lympics you want to step over to the mike. A question every week in the cabinet meeting in Tokyo they are discussing the matter very seriously and very positive Mr Colin Ellard minister of construction all the ways that you see putting. A strong emphasis on the completion because that opening date