More Jobs Will Keep Kids From Selling Drugs, Councilmember Says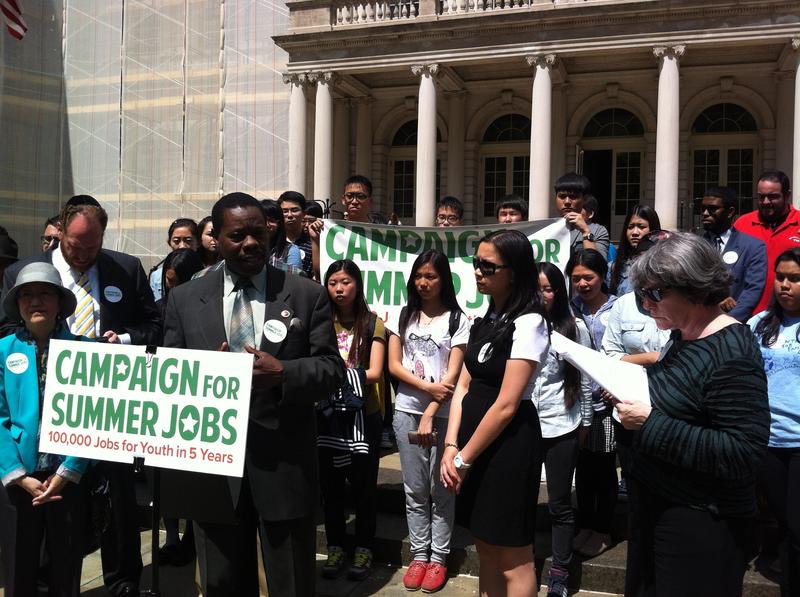 Youth advocates and some New York City Council members are calling for more funding for the city's Summer Youth Employment Program — just one of the programs vying for more money as the mayor and City Council seek to hammer out a budget.
United Neighborhood Houses and the Neighborhood Family Services Coalition are spearheading an effort they're calling the Campaign for Summer Jobs. The advocates say every year 100,000 youth are turned away from the program because of a lack of funding. They want to add that many jobs over the next five years.
In his executive budget, Mayor Bill de Blasio proposed providing about $29.2 million for the program, which is up from last year. But a minimum wage increase and a loss of some other funding would keep the program's funding at about the same size — providing about 36,000 jobs this summer for city youth ages 14-24.
The advocates are calling for an additional $14.2 million in the budget to add 10,000 jobs this summer. They held a small rally outside City Hall on Tuesday to press their case.
City Councilman Jumaane Williams said many youth in the city have to decide between getting a legitimate job or turning to drug dealing to make money. "It is unfair to ask young people to make the correct choice when we give them no choice," Williams said.
A spokesman for the Department of Youth and Community Development, Mark Zustovich, wrote in a statement that the mayor's proposed funding is "the highest it's been since the FY 2009 level of $30.9 million."
The Department "appreciates the ongoing support of City Council, as well as any additional state funding and private support, to provide as many summer jobs as possible," Zustovich wrote.
The deadline to apply for the 2014 program has passed. Additional funding would provide jobs for youth who have already applied.