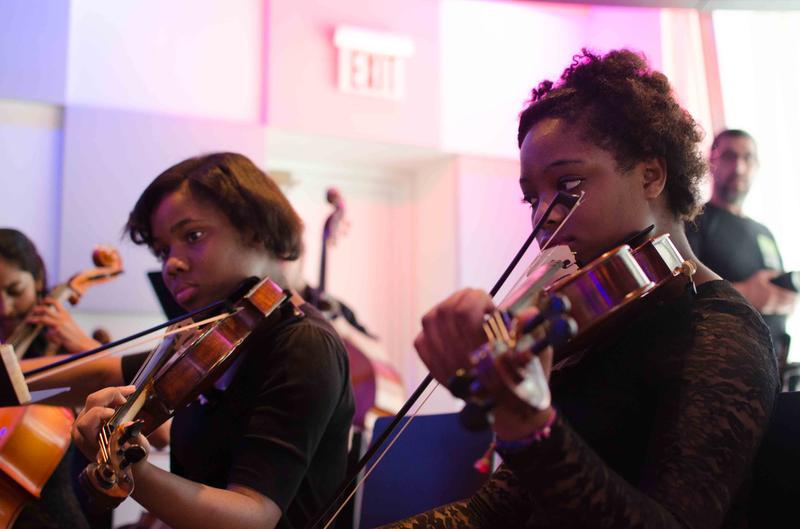 Public high school students hit a high note at the Greene Space Thursday as they played instruments donated through this spring's WQXR instrument drive.
The students in the all-string orchestra were from the Summer Arts Institute, an arts camp run by the Department of Education. This was the art camp's first-ever string orchestra, made possible by the 30 violins, basses, cellos and violas from the instrument drive that were spiffed up early. Most of the 2,000 or so instruments collected are being repaired this summer by Sam Ash before making their way to schools in the fall. 
The students played two pieces, one by Benjamin Britten and the other by Gustav Holst. The all-string orchestra was joined in the event by an all-saxophone ensemble, a vocal ensemble and a voice soloist. Most of those in the audience had donated instruments.
Student Aparna Nair-Kanneganti, 15, spoke warmly about the cello donated by The New York Times music critic Zachary Woolfe, who had written in April about giving away his beloved instrument. 
"It has a very bright sound, it's really easy to play, the action is low," said Nair-Kanneganti, who will be a junior at Stuyvesant High School this fall. "It has some very nice qualities."
Summer Arts Institute conductor Barry Stern said he thought the new orchestra is a step in the right direction.
"Orchestra, to me, in New York City, in the public school system is undervalued," he said. "The fact that we now have it in the Summer Arts Institute means that it's not so undervalued anymore."