On The Media
The Supreme Court Considers Accountability at the Border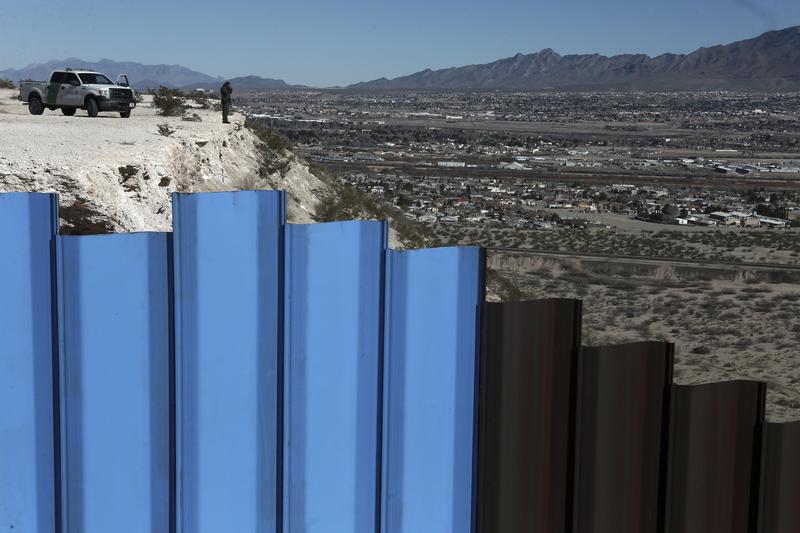 Summary
In 2014, On the Media devoted a special hour to the US border, exposing how a lack of transparency and accountability allows border agents to operate outside of constitutional bounds. As part of that episode, we learned about the alarming frequency of cross-border shootings carried out by agents with virtual impunity.
Now, one of those fatal incidents has made its way to the Supreme Court. This week, the eight justices heard arguments in Hernandez v. Mesa, in which a border agent standing in the U.S. shot a Mexican teenager standing in Mexico. The agent involved claimed self-defense, but cell phone video contradicts his account. The Hernandez family is looking to sue him in U.S. court. Deepak Gupta, one of the family's attorneys, explains the constitutional questions underlying the case and discusses why the stakes, amidst Trump administration policies and controversial headlines, are so high.
Song:
The Glass House - End Title by David Bergeaud
Transcript
BOB GARFIELD: In 2014, On the Media devoted an entire episode to the murky legal territory of the US border, a place where there's almost no transparency or accountability and where constitutional rights seem to be suspended. At the time, we heard from reporter Bob Ortega of the Arizona Republic who had found that on-duty Border Patrol and Customs and Border Protection agents had killed at least 42 people between 2005 and 2013, with virtual impunity and in secrecy.
BOB ORTEGA: The Border Patrol and Customs and Border Protection have a policy that they do not release the names of agents, they do not release any details whatsoever about any actions that they may or may not take internally. And, by the way, even their own policies on use of force are secret. They will not release those to the public. Most law enforcement bodies do.
BOB GARFIELD: One of those actions was the 2010 death of Sergio Hernandez a Mexican 15-year-old who was on Mexican soil when he was shot by a US Border agent named Jesus Mesa who fired from the United States. The case has reached the US Supreme Court and the eight justices heard arguments in Hernandez v. Mesa this week. The Court must decide whether non-US citizens are protected by the Fourth Amendment, but it also sheds light on concerns about accountability at the border. Deepak Gupta is a lawyer for the Hernandez family. Deepak, welcome to OTM.
DEEPAK GUPTA: Thanks for having me.
BOB GARFIELD: Let's begin, please, with how the Border Patrol reported what happened on that day at the Juarez-El Paso border?
DEEPAK GUPTA: So a day after the shooting, the federal authorities claimed that this Border Patrol agent had shot Sergio in self-defense and they put out a press release claiming that there was a group of suspected aliens being smuggled into the United States from Mexico and that they were throwing rocks at the agent, that the agent gave verbal commands for them to stop and retreat and that, instead, these boys surrounded the agent and continued to throw rocks at him. The problem with the federal government's account is that two days later several cell phone videos surfaced and they showed a completely different story. The video showed that Mesa, this agent, was not surrounded by the boys when he fired his weapon. Sergio is hiding behind a pillar under this bridge and is peeping out, sticks his head out and the agent fires at him in the head.
[SOUND OF GUNSHOT/VOICES, SPANISH LANGUAGE]
He falls to the ground and dies, and the agents do not come to assist him and they allow him to die.
BOB GARFIELD: Now, if this episode had been about 20 yards north of where it took place, a lot of things might well have happened. The agent would have faced, certainly, administrative investigations. He may have been prosecuted for manslaughter, or worse, and he would have been subject to a wrongful death suit by the child's parents. What did happen to Mesa?
DEEPAK GUPTA: Well, he wasn't disciplined at all. And this is part of a pattern that we see, as your listeners know from previous reporting you've done with the Border Patrol, which is that agents who engage in the use of unjustified deadly force and violate the Border Patrol's own protocols are not disciplined, nothing happens and, in fact, the incidents are secret and even the policies and outcomes are secret. And so, this is not, unfortunately, an isolated incident.
BOB GARFIELD: The family did want to sue but was stymied. And this is precisely what is at issue with the Supreme Court, no?
DEEPAK GUPTA: Yes, that's right. The first question is, does the Constitution apply at all here in this border zone? The second is, is this officer immune, meaning even if he violated the Constitution, is the officer immune from a damages lawsuit? And the third question is, do we allow an implied claim, a damages action under the Constitution, even when Congress hasn't created a remedy?
The position taken by the Border agent's lawyers and by the Trump administration's lawyers is that Sergio and his family have no constitutional protections, even for unjustified deadly force because he was a Mexican citizen standing just a few inches into Mexican soil.
BOB GARFIELD: We do a whole mess of things on the other side of our borders, including drone strikes and routine intelligence activities that, as the justices observed in hearing arguments in this case, might be affected if everything we do across our borders is subject to litigation.
DEEPAK GUPTA: So we know that the Constitution does extend beyond the border. We also know that there can't be a kind of global constitution that constitutionalizes every military engagement. And so, the question in this case is, where do you draw the line? And our pitch to the Court is, at least if the officer is standing on US soil and the victim is standing in this liminal border zone, this area where the border line is invisible and there's at least some degree of joint responsibility for the area, that it's not too much to ask to say that there should be constitutional protection there. And the alternative to that is to say that there's no judicial review at all.
BOB GARFIELD: Now, here is where politics rears its head. The position that the Trump administration is taking is fundamentally the same as the position the Obama administration took, but the swing vote on the Court may well be, as it often is, Justice Anthony Kennedy, who suggested this is a matter too sensitive to be resolved by the courts and should be really a call from the Executive Branch. That does not bode well for you, does it?
DEEPAK GUPTA: Well, I think it's always a hazard to read too much into the questioning at oral argument. What we do know about Justice Kennedy is that he believes very strongly that the Constitution does not stop at the border. The case in which the Supreme Court held that even terrorists held at Guantánamo had constitutional rights was written by Justice Kennedy.
The other thing I'd say just about the shifting administration is that, you know, of course, the Supreme Court decides these cases on the law in their best understanding of the Constitution, but they're also not blind to the reality of what's going on in the world.
BOB GARFIELD: They get to read the papers.
DEEPAK GUPTA: Exactly. And they, like all of us, have seen the incredible chaos that's been unleashed by the Trump administration with this reckless Muslim ban. I have to think that at least some of them are quite alarmed, and they understand that when the Trump administration comes to them and says, look, trust the Executive, when there are implications for national security, immigration and foreign policy, the Judiciary has no role to play here, that argument sounds a lot different now than it did a few months ago.
BOB GARFIELD: Maybe the most mind-boggling thing about this case was not what happened to Hernandez but that we have a police agency in the United States of America that is so insulated from the norms of process, transparency, and so forth. What is the explanation for this entity having the unchecked power that it seems to have?
DEEPAK GUPTA: It's true that it happened in the Obama administration, as well, and many of us may have looked the other way. And now we're taking a closer look, and what we're seeing is an organization that allows officers to abuse people's rights with impunity. And, you know, I think it maybe has something to do with the way in which immigration policies become a kind of third rail, and the Obama administration itself deported very many people and I think didn't feel that it had the political capital to crack down. But now, we should all be alarmed by this because we have an administration that has shown it is really willing to push the envelope.
And I think a lot of us wrongly assumed that talk about a Muslim ban and a deportation force, that that was just talk, and we've now seen that the administration is actually serious about both things. To allow those policies to be implemented by this completely secretive and unaccountable law enforcement agency, I think, is just unacceptable in a country that considers itself bound by the rule of law.
[MUSIC UP & UNDER]
BOB GARFIELD: Deepak, thank you very much.
DEEPAK GUPTA: Thanks for having me.
BOB GARFIELD: Deepak Gupta is an attorney for the parents of the late Sergio Hernandez.
Coming up, what if they held a Federal Elections Commission and nobody – commished? This is On the Media.