Supreme Court Case Could Lead to Longer Detentions for NY Immigrants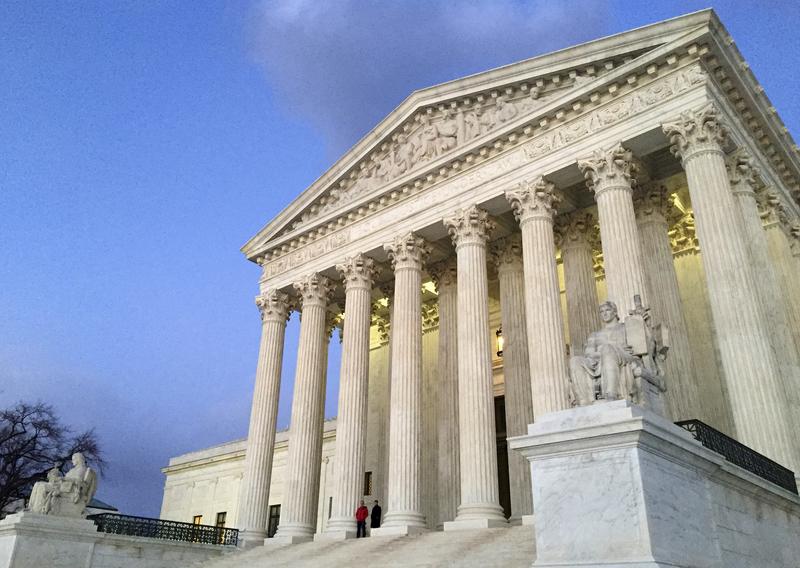 The U.S. Supreme Court heard arguments Wednesday on whether immigrants who are detained for more than six months while waiting for the conclusion of deportation proceedings have a right to a bond hearing. The case stems from a California ruling, and it's especially timely now that President-elect Donald Trump is vowing to deport more immigrants with criminal convictions.
If the court rules against the hearings, it could have a big impact on immigrants in the New York City area. That's because immigrants in local detention centers are already guaranteed the right to bond hearings within six months, following a 2015 ruling brought by a Dominican immigrant, Alexander Lora.
WNYC's Jami Floyd interviewed Lora's attorney, Alina Das, a law professor and co-director of the Immigrant Rights Clinic at New York University's School of Law. 
Das said Lora, who came to the States as a child, is a green card holder who was convicted in 2010 for offenses relating to cocaine possession. He was sentenced to five years probation. But in 2013, Immigration and Customs Enforcement agents started a deportation case against him.
"They detained him, locked him up in a jail and said that under the law he wouldn't even get the right to a bond hearing," Das explained. This meant he could have sat behind bars indefinitely, with no chance to post bail while waiting for a judge to hear his case. 
But Lora was lucky, because New York City now guarantees free attorneys to indigent defendants in detention centers through the New York Immigrant Family Unity Project. His attorney petitioned the federal court for a hearing and Lora was able to get out of jail after about five months by posting a $5000 bond.
But the government appealed, which is when attorney Das took the case to the Second Circuit Court in Manhattan. She successfully argued that every immigrant subject to mandatory detention should get a bond hearing within six months. "It's just the ability to ask," she explained. "To ask an immigration judge to be let out during the case to show evidence that you're not a flight risk or a danger, and that you can continue to defend yourself in immigration proceedings from your home instead of from a jail cell."
She noted that many immigrants in detention centers are legal residents like Lora, who were arrested by immigration agents because of minor criminal convictions. More than 150 have been given bond hearings since the 2015 Lora case, she said.
Das attended oral arguments before the Supreme Court on Wednesday. The government has argued that Congress already required the indefinite detention of immigrants, and it's not the place of courts to change that. But Das said it is.
"We think it's important for our courts to stand up for minimum due process, basic rights, that includes immigrants," she said. "We don't think immigration detention centers are Constitution-free zones.