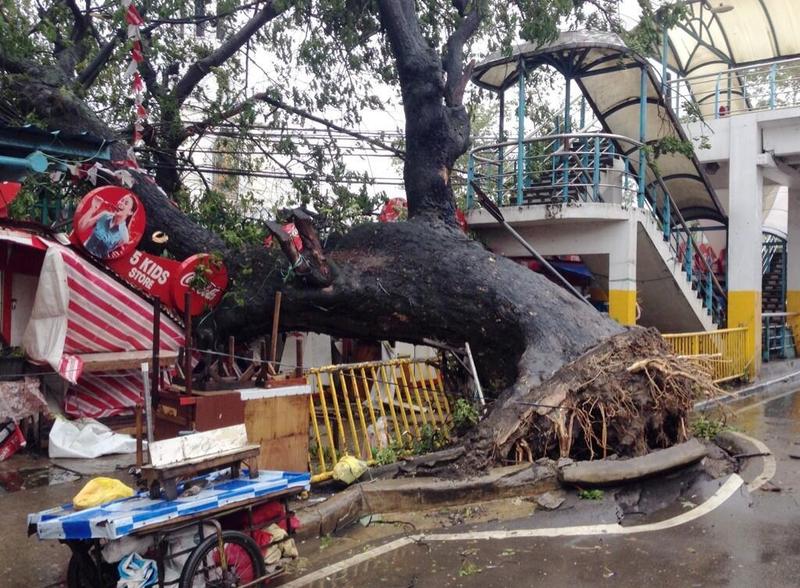 One of the strongest storms every recorded on the planet, Super Typhoon Haiyan (known locally as Yolanda), smashed into the Philippines early Friday morning, bringing winds of 195 mph and gusts of 235 mph—some of the highest speeds ever recorded in human history.
An estimated 25 million people are in the path of the Super Typhoon as the storm crosses the Philippines, which is made up of more than 7,100 islands.
"Haiyan will be accompanied by torrential rainfall, damaging winds and life-threatening storm surge, particularly in low-lying areas of onshore flow. The heavy rainfall will likely cause flooding and raise the risk of mudslides," according to The Weather Channel. "Some 10 million people who live on the central Philippine islands are most at risk of a direct strike from Haiyan."
Joining The Takeaway to discuss the storm is Aaron Aspi, Emergency Communications Officer for World Vision, a relief and development organization that works in countries around the world, including the Philippines. Aspi is on the ground in the Filipino city of Bohl.
Here are some tweets from around the web:
Super Typhoon #haiyan #yolanda strongest storm hit my city #Ormoc. My family are safe but city are full of damages pic.twitter.com/W8es4U4ce5

— zee2000 (@zhayns2000) November 8, 2013
Typhoon Haiyan approaching the Philippines. Image captured by the geostationary satellites of the #JMA and EUMETSAT: http://t.co/lt6q3bTpuQ

— EUMETSAT (@eumetsat) November 7, 2013
INCREDIBLE up-close hi res satellite image of Super Typhoon #Haiyan. Sustained winds: 175 mph, Gusts 200+MPH pic.twitter.com/xvxMT9gqC5

— MarkVoganWeather.com (@MarkVogan) November 7, 2013
A better geographical perspective of Super Typhoon #Haiyan (#YolandaPH) with gusts to 205mph nearing Philippines. pic.twitter.com/g6KHIO0jYt

— John Morales (@JohnMoralesNBC6) November 7, 2013
Typhoon #Haiyan rolls into Philippines – in pictures | World news | http://t.co/NzbHChn0go http://t.co/b9ZTGGGulq pic.twitter.com/Biws61IGbo

— Michelle (@Michelle9647) November 8, 2013