SchoolBook
SUNY Probes Discipline Practices at Success Schools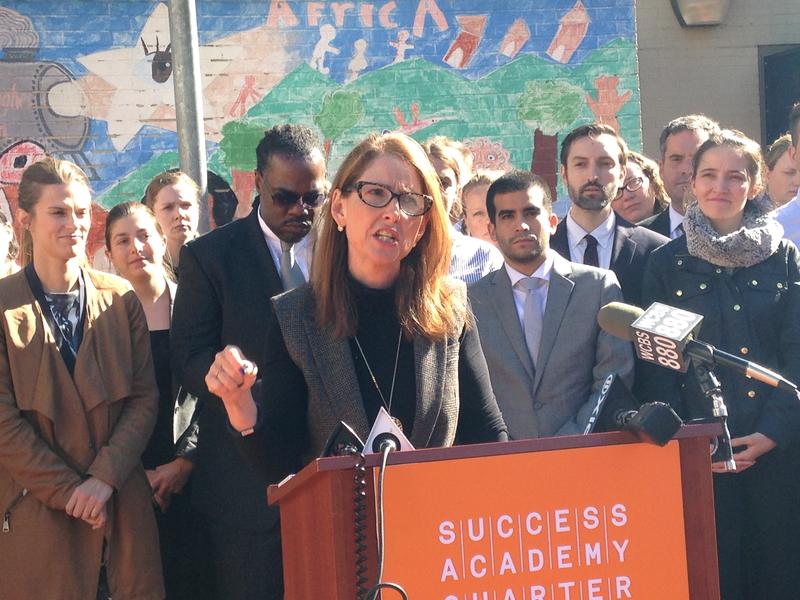 The Success Academy charter network has come under intense scrutiny by its authorizer, following a New York Times investigation last fall that found some children were encouraged to leave through strict disciplinary practices. The report singled out a "got to go" list of students used by the principal of the network's school in Fort Greene, Brooklyn.
In a Jan. 15 letter to the board chairman of Success Academy, the SUNY Charter Schools Institute noted allegations of improper use of student discipline practices to encourage students to dis-enroll, especially at the Fort Greene school.
Although the letter was signed by Susan Miller Barker, executive director of the SUNY Charter Schools Institute, the push for more transparency on discipline has come from Joseph Belluck, a SUNY trustee and chairman of the charter committee.
Belluck told WNYC on Wednesday that the issue of discipline and suspensions was something he wanted to take a closer look at anyway, even before the Times report on Success. He said he prompted the Charter Schools Institute six months ago to request more data about discipline and suspensions from several charter schools (not just Success) coming up for renewal.
But when the charters shared their data, Belluck said, it wasn't always comparable to the state suspensions data. Discipline data gathered and reported by the New York State Education Department is always a year or more behind by the time it's uploaded to the state website. This is why Belluck said he's now asking more questions about how and why students were suspended from charter schools.
While schools should be have the right to suspend students who violate their codes of conduct, he cautioned, "at same time we want to make sure it's not being used to get low performing students out of the school so the test scores look better. It's something people on both sides of the charter movement are concerned with."
The charter committee will use recent discipline data when reviewing three Success schools that are up for renewal this spring: Success Harlem 1, Bed Stuy 1, and Upper West. The general counsel for the institute will also investigate the Fort Greene school whose principal took a leave of absence.
Success Founder Eva Moskowitz replied to SUNY in a Jan. 20 letter in which she said her schools used "an appropriate disciplinary and restorative approach to reinforce our behavioral expectations" and that suspensions are used for unsafe conduct and conduct that severely disrupts the ability for others to learn.
She told SUNY the vast majority of suspensions, 83 percent, are one-day suspensions. Among all suspended students last year Moskowitz said the average number of days out of school was 2.8, but pointed out that her students also have a longer school year than traditional public schools. She noted that 69 percent of suspensions were for dangerous conduct such as hitting, kicking, biting, punching and other unsafe behaviors but also noted that it's the network's responsibility to use suspensions properly.
"Accordingly, we are constantly reviewing our disciplinary practices and implementation to ensure that we are serving the best interests of all scholars," she wrote.