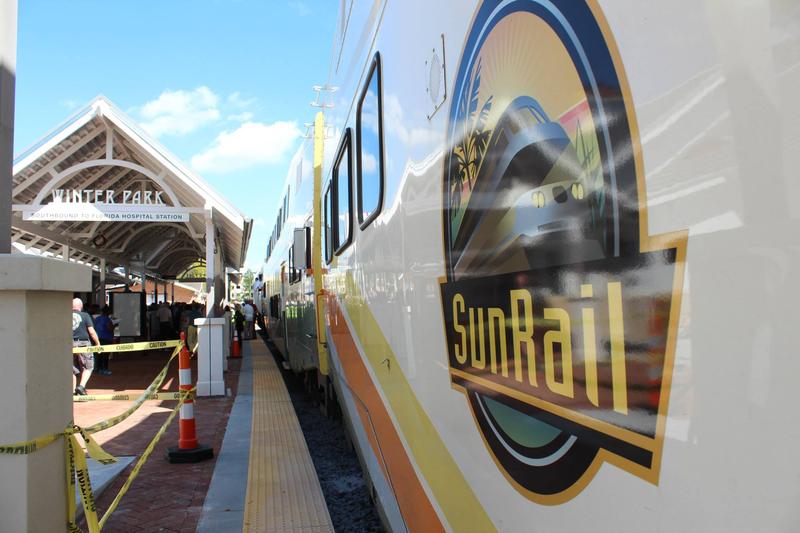 After over two decades and $1 billion, Florida's newest commuter rail system is launching this week.
For the last few months the Florida Department of Transportation has been rolling SunRail trains to events in the Orlando area so people can see it up close — and hopefully get interested in riding it.
FDOT will run the commuter train for the first seven years.
Department spokesman Steve Olson says locals are excited. "There's just so much, it appears, pent-up interest in these trains. Wherever it comes it's a magnet. A lot of people just want to know more about commuting on SunRail," says Olson.
The future is now. @RideSunRail #SunRail #SanfordConnect Services begin May 1st! pic.twitter.com/ugruTi6TM6

— Sanford Connect (@SanfordConnect) April 16, 2014
Getting a population used to an unfamiliar mode of public transportation seems like a daunting task. So to get people on board, SunRail is offering two weeks of free service starting May 1st.
When revenue service does start on May 19th, Olson says riding the train will be fairly simple.
Riders can buy single-use tickets and reloadable 'SunCards' at kiosks at the station platforms and through authorized retailers. A SunCard gives the rider unlimited trips for either 7 days, 30 days, or a year.
"You would get to the station and use your SunRail card. If it has value on it you use the validators and you tap onto the train," says Olson.
When you arrive, remember to tap your ticket to the validator at the station to let the system know you are done riding. Otherwise, you will be charged for the entire line.
Conductors will check your ticket, but what about riders who don't pay up? Olson explains they can't be thrown off the train. "No, we can't do that. We're working on what to do if someone doesn't pay. There could be some consequences."
Train hoppers aside, Olson says that many other issues riders may have for those first few months are covered.
Like...what do you do if your final destination isn't close to one of the 12 stops?
FDOT has been working with public transit authorities Lynx and VoTran to help SunRail passengers travel the so-called last mile, and routes have been changed to cater to SunRail.
"Prior to our April 13th service change, you only had one route that went to the Sanford station. Now you have four. Lake Mary you have one. Longwood you have two and so forth. Routes were augmented to make sure there will be connection at every stop," says Lynx spokesman Matt Friedman.
Navigating these bus routes can be tricky, but Lynx provides route information on each of the train platforms.
Riders can also use their smartphone to plan out a route. "With every service change that we do, we provide our information to Google and Google Maps, and it's been very beneficial to us and our riders," explains Friedman.
And for riders who still have questions, Steve Olsen says there will be ambassadors — people stationed on the platforms and in the trains to help "answer those questions and try and make that first experience during those weeks seamless."
With a new system as big and complex as SunRail there are bound to be hiccups — but transportation officials are hoping for a seamless rollout for a train that could transform mass transit in Central Florida.