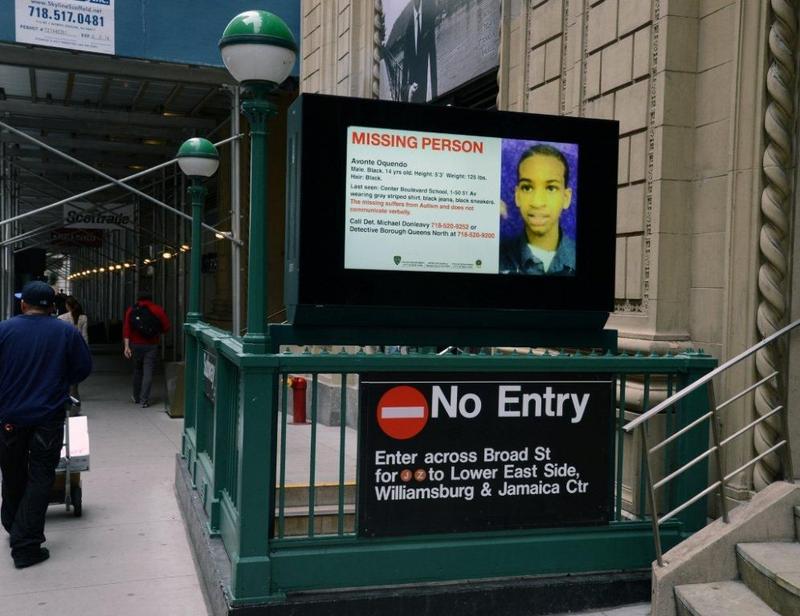 New York's MTA became involved Thursday afternoon in the search for an autistic boy who disappeared a week ago. According to MTA spokesman Kevin Ortiz, this is the first time in memory that the MTA has joined the search for a missing child.
Ortiz said subway announcers "have been making announcements since yesterday afternoon on both trains and stations systemwide," approximately 15 minutes apart. In addition, there are also posters and photos in the MTA's digital displays.
The conductors are making this announcement: "Police are seeking a missing child, Avonte Oquendo,14.  He suffers from autism and cannot communicate verbally.  He was last seen wearing a gray striped shirt, black jeans and black sneakers.  If you have any information, please call NYPD at 718.520.9200."The
Ortiz said the NYPD flyer was distributed to subway personnel throughout the system "several days ago as well."
In addition, police stopped and searched some trains Thursday morning on the 6 line, according to Ortiz.  A witness also said the 3 train at Chambers Street was stopped at about 9 pm Thursday, and that police went through each car looking for the boy.
Ortiz said LIRR and Metro North are not involved in the search. 
A vigil for Oquendo is planned for 5 p.m. Friday outside his school, the Riverview School in Long Island City, Queens.