SchoolBook
How to Talk About the Election with Students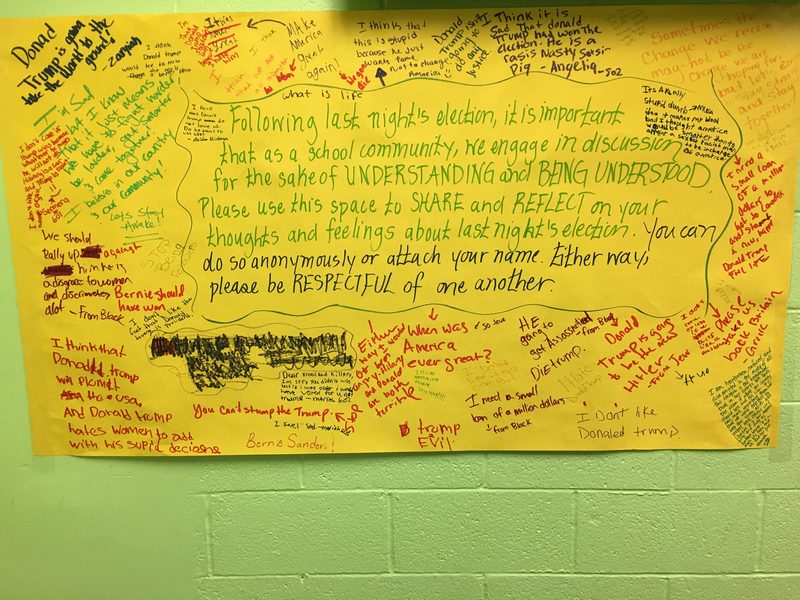 Donald Trump's victory over Hillary Clinton sparked an outpouring of emotion at New York City schools on Wednesday, teachers and principals told WNYC. 
In classrooms and hallways, kids struggled to understand the surprising upset of Clinton, who overwhelmingly carried New York in Tuesday's presidential election. Teachers said they heard feelings of betrayal and fear, especially among children of immigrants. At the Urban Assembly Bronx Academy of Letters, seventh-grade social studies teacher Eric Kossoff said his students were frightened by Trump's pledge to deport illegal immigrants and to build a wall on the Mexican border.
"They are immigrants, their parents are immigrants, some of their parents are illegal immigrants," he said. "They are basically living the things that Donald Trump is putting out there."
Instead of focusing on fear, however, Kossoff said he had his students examine their own biases. They talked about how some kids make fun of special education students, so they could see how bigotry can become normalized.
Kossoff's school created a mural for kids to express their feelings. His colleague, Sarah Camiscoli, who runs a group for the school's older students called IntegrateNYC4Me, said she asked them "to write letters of love and hope to people they think may have lost it," or who may feel scared or angry.
Amera Attalah, 16, who is Muslim, wrote to Muslims who worry they're not American enough. "If you don't discourage yourself, it is impossible for the negativity of others to infiltrate your consciousness," she said.
Other kids addressed their letters to immigrants, women and the LGBTQ community.
At the private Manhattan Country School, students and faculty held an assembly at which they sang "We Shall Overcome" and replaced the word "someday" with "today," to give the kids a feeling of empowerment.
At the High School of Fashion Industries in Manhattan, English teacher Kevin Kearns said the vast majority of his students were girls of color who needed to talk about their feelings. He scrapped his lesson and let them write in their journals, followed by class discussions. In Washington Heights, middle school math teacher and blogger Jose Vilson said he spent Wednesday focused on being a good listener for his students. 
"I tried to give some of my students enough space to feel what they were going to feel," he said. "There were definitely some folks who were enraged, others who are hurt, others who are crying."
He said some felt rejected because of the color of their skin or their religion, while others worried their families would face deportation.
That topic came up again and again at P.S. 161 in Harlem, where principal Pamela Price said more than 80 percent of her students are children of immigrants. She said teachers kept telling her about conversations with kids who worried they or their families would be deported. She said she planned to tell her staff to let them express their fears, and to remind them nothing would change immediately.
"We think that there are enough people here that could help to still make this world a better place and that America has always been a great country and will continue to be a great country," she said. "So, there will be people fighting to make sure [deportation] doesn't happen."
On Wednesday morning Schools Chancellor Carmen Fariña sent a note to all public school leaders, encouraging them to project a sense of calmness and confidence for their students.