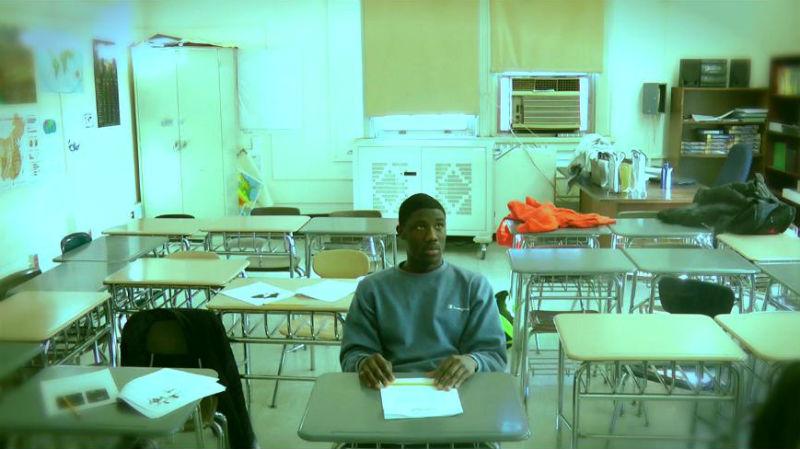 Three high school students sit down to take a test but within minutes two of them disappear into thin air, leaving the last one looking around in surprise and confusion.
The scene is from "Children of the Common Core,"  a mock horror movie made by New York City students. Its premiere is Friday afternoon, one of 27 student films showing at the Tribeca Film Festival.
"Children of the Common Core" was created by Treyvon Blake and classmates at Harlem Renaissance High School, with help from teaching artists in the program Tribeca Teaches.
Blake, a 19-year-old senior, said they liked the idea of a satirical horror movie – and they played off the title of the classic "Children of the Corn." Despite the fact that we see kids disappearing to creepy music, Blake said it's not an anti-testing message; it's about perseverance.
"Some people don't want to keep pushing to take the tests," he explained. "That's why in the video, I didn't disappear because, like, I'm pushing to pass the test."
Blake said he learned from teaching artist Philip Swift how to edit and use background music in iMovie. He was a little worried about the filmbecause he thought he looked "silly" but, he said, "it really comes out great."
Swift said 90 percent of the work was done by students and Blake in particular made his job easy.
"He did the majority of the editing after some guidance and direction," he said. "After editing one short sequence with the class to set the tone, and after working on several smaller projects in that first trimester, I stepped in only for a final polish consisting of some color correction and title design. Almost everything else was done by Treyvon, a student who consistently impressed me with his skill."
Principal Nadav Zeimer said he was amazed by the students' creations.
 "To my surprise the timing of the film and the details like sound quality, audio effects were much more sophisticated than when adults make the production choices," he said, adding that the students are making more short films, including one called "Justice" in which students pull hoodies over their heads.
All of the Tribeca Teaches films will be shown from 11:15 a.m. to 2 p.m. on Friday at the Tribeca Performing Arts Center. Zeimer said plenty of Harlem Renaissance students will be on hand to cheer for their production.