Staten Island Grand Jury Does Not Indict in Garner Case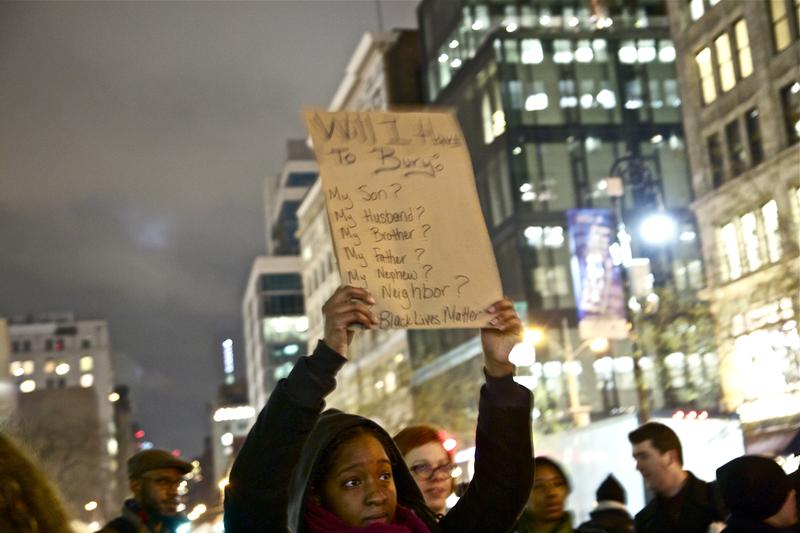 A grand jury in New York City has declined to indict a white police officer on criminal charges in the chokehold death of an unarmed black man in July.
The decision in Staten Island that Officer Daniel Pantaleo will not face criminal charges threatened to add to the tensions that have simmered in the city since the July 17 death of Eric Garner — a case that sparked outrage and drew comparisons to the fatal police shooting of 18-year-old Michael Brown in Ferguson, Missouri.
The Justice Department on Wednesday said federal authorities will conduct a civil rights investigation into Eric Garner's death. Attorney General Eric Holder, in a national broadcast, said the probe would be "independent, thorough and fair" and that this was "not a New York issue or a Ferguson issue alone."
Jonathan Moore, an attorney for the victim's family, said the grand jury's decision was shocking.
"I am actually astonished based on the evidence of the video tape, and the medical examiner, that this grand jury at this time wouldn't indict for anything, is really just astonishing," Moore said.
The grand jury could have considered a range of charges, from a murder charge to a lesser offense like reckless endangerment. There were no immediate details about what evidence jurors considered or even the racial or gender makeup of the jury. That's because under New York state law, grand jury proceedings are completely confidential.
The Richmond County District Attorney, which oversees Staten Island, said in a statement that "New York law does not permit a district attorney" to disclosed specific details of grand jury proceedings. D.A. Daniel M. Donovan Jr. added, "After the grand jury reached its decision this afternoon, I applied for a court order . . . to publicly release specific information."
Pantaleo responded to the grand jury decision in a statement, saying: "I became a police officer to help people and to protect those who can't protect themselves.  It is never my intention to harm anyone and I feel very bad about the death of Mr. Garner. My family and I include him and his family in our prayers and I hope that they will accept my personal condolences for their loss."
In an emotional, televised statement on Staten Island on Wednesday evening, Mayor Bill de Blasio said the death of Garner made him think of his son Dante, and that he had spent time with Garner's father who was "in unspeakable pain." 
"It's a very painful day for so many New Yorkers," the mayor said. He added that "Black lives matter . . . is a phrase that had to be said. Centuries of racism have brought us to this day."
De Blasio also expressed his support for Police Commissioner William Bratton and called for the protests to be non-violent. In an earlier emailed statement, he had said, "We all agree that demonstrations and free speech are valuable contributions to debate, and that violence and disorder are not only wrong – but hurt the critically important goals we are trying to achieve together." 
Members of the Garner family have also asked that protesters not resort to violence.
For the most part, it seemed that protesters were listening. Hundreds took to the streets Wednesday night. There was a "die-in" at Grand Central Terminal during rush hour and a takeover of part of the West Side Highway. A group of a few hundred tried to disrupt the Rockefeller Center tree lighting, but police barricades kept them away. 
Garner died after he was arrested on July 17 for allegedly selling loose, untaxed cigarettes on the sidewalk in front of a strip of stores on Bay Street, in the Tompkinsville section of the island's north shore, near the ferry terminal.
The case exploded into public view the next morning, when New Yorkers awoke to a shocking cell phone video of the arrest, shot by a bystander and posted by the Daily News the night before.
The video shows Garner, a neighborhood fixture who had been arrested dozens of times for low-level offenses, telling a group of officers to stop harassing him. Pantaleo, in plainclothes, wraps his arm around Garner's neck and takes him down from behind as several uniformed cops swarm around him.
Garner, 6-foot-4 and over 300 pounds, suffered numerous ailments, including asthma. He called out numerous times as he lay on the ground with his arms handcuffed behind his back: "I can't breathe!"
He got no immediate assistance from the officers. The phrase has since become a rallying cry for protesters, and a broader statement for many about the relationship between African Americans and police.
The case touched off another nationwide debate about race and criminal justice, and posed a tense challenge for Mayor Bill de Blasio less than a year after he took office on a promise to improve police-community relations.
De Blasio appeared with Police Commissioner Bill Bratton at his side a day after Garner's death to promise a full investigation. Bratton said he reviewed the video, and the cops involved were re-assigned to desk duty.
"This would appear to have been a chokehold," Bratton said – a dangerous tactic that has been banned by the NYPD for two decades.  
As with Michael Brown's death in the St. Louis suburb of Ferguson, the Garner case sparked protests, accusations of racist policing and calls for federal prosecutors to intervene. But unlike the Missouri protests, the demonstrations in New York remained mostly peaceful. The case also prompted Bratton to order officers at the nation's largest police department to undergo retraining on use of force.
As protesters took to the streets, the Rev. Al Sharpton took to the airwaves from his podium in Harlem, accompanied by Garner's widow and mother.  The mayor personally apologized to Garner's family and delayed a planned vacation to Italy for several days.
Hundreds of people attended Garner's funeral in Brooklyn. Four EMTs who responded to the scene but appeared to react casually to Garner's distress were suspended without pay.
On July 31, de Blasio convened a City Hall roundtable to discuss police-community relations, with Bratton on one side and Sharpton on the other. The next day, a Friday afternoon, the city Medical Examiner released the results of Garner's autopsy.
The official cause of death: homicide, caused in part by a chokehold.
Police unions denounced the conclusion as political. But reform advocates blamed the "broken windows" strategy, which relies on the enforcement of low-level offenses – like selling loose cigarettes — to prevent more serious crime.
The strategy has been a lynchpin of the NYPD's success at reducing crime since Bratton introduced it in his first tenure as police commissioner in 1993. But advocates say it has been unfairly applied to minority communities, leading to mass incarceration of black men in particular.
While details on the grand jurors were not disclosed, Staten Island is the most politically conservative of the city's five boroughs and home to many police and firefighters. The panel began hearing evidence in late September, including the video, autopsy results and testimony by Pantaleo.
"This was a terribly disappointing outcome and is not reflective of the events that led to Eric Garner's death. What makes this even more infuriating is the frequent lack of accountability, which is why I urge the U.S. Department of Justice to launch its own investigation," said City Council Speaker Melissa Mark-Viverito in a statement. She added that "The use of excessive and lethal police force against people of color is a persistent problem nationwide" and called for demonstrators to be peaceful.
Pantaleo had been stripped of his gun and badge and placed on desk duty while the case was under investigation. He is likely to remain on modified duty while the NYPD conducts an internal investigation that could result in administrative charges.
The Patrolmen's Benevolent Association, a union which has been supportive of Pantaleo, added in their own statement that "There are no winners here today. There was a loss of life that both a family and a police officer will always have to live with." It added that Pantaleo used a take down technique he had learned in the academy.
In anticipation of the announcement on the grand jury decision, police officials met with community leaders on Staten Island to head off a repeat of the response in Ferguson, where a grand jury decided not to indict the white officer who shot the black teen. Demonstrations there turned violent, resulting in more than 100 arrests and destruction of 12 commercial buildings by fire.
The last officer to be indicted in the death of a civilian was Richard Haste, charged in the February 2012 killing of Ramarley Graham in the Bronx. Graham was shot in a tiny bathroom in the three-family home where he lived with his grandmother. He was chased there by Haste who believed he was selling drugs.
Haste said he fired his weapon because he thought he was going to be shot. But no weapons were found in the apartment.
The officer was indicted on manslaughter charges in the summer of 2012, but the charges were dismissed by a judge who said prosecutors improperly instructed the grand jurors. A second grand jury decided not to re-indict the officer.
On Aug. 9, an unarmed black teenager named Michael Brown was shot to death by a white police officer on a quiet street in Ferguson, Missouri. The ensuing riots and nationwide protest have pushed the country to a tipping point in police-community relations, with the Garner case simmering in the background.
Today's grand jury decision on Staten Island comes just nine days after a St. Louis grand jury voted not to indict the police officer who shot Brown to death.
With reports from WNYC's Jim O'Grady, Kathleen Horan Brigid Bergin, Stephen Nessen, Rob Lewis and the Associated Press.