SchoolBook
Tougher Regents Squeeze Students Struggling to Graduate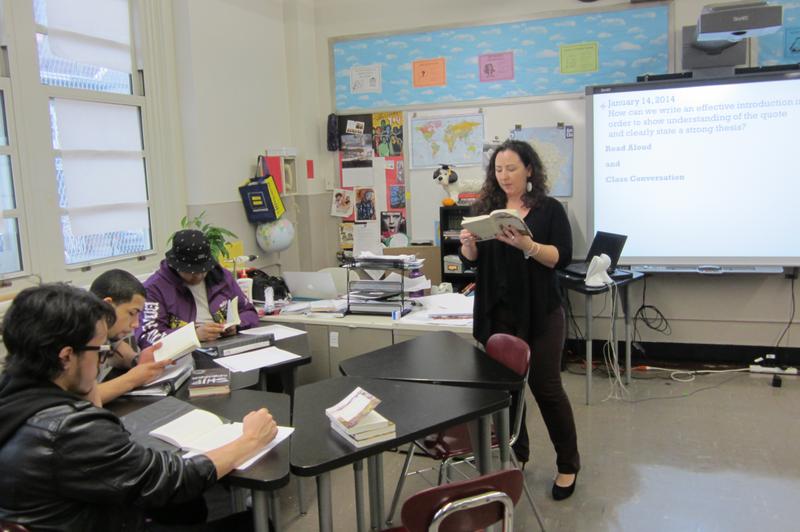 Pull aside any student at West Brooklyn Community High School, and there's a good chance he or she has flunked at least one Regents exam.
"I took the English and I didn't pass it," said George Xique, an 18 year-old with dimples and thick black hair. Xique previously attended New Utrecht High School where he said he also failed the Algebra Regents, though he thinks he may have passed the Living Environment test.
New York State has among the toughest graduation requirements in the country because students need to past five different Regents subject tests. That's a challenge for high school students everywhere. But West Brooklyn is a transfer school, open only to students who have tried at least one year of high school someplace else. Most had spotty attendance, which hurt them on the state exams.
Even those who work hard at West Brooklyn and see their grades improve can still fail the tests by just a couple of points, said the school's co-director, Gloria Rosario.
"It does put a squeeze because it feels so punitive," she said.
George Xique is hoping to graduate this year if he passes his Regents (Beth Fertig/WNYC)
Part of the problem has to do with the state's changing standards. A few years ago, students could pass the Regents with a 55. But they now need to score a 65 on all five exams. For some students, that's a breeze. But for those who have big gaps in their education, it's a tremendous hurdle because they missed so much material or didn't master basic skills.
Bauer said these weaknesses aren't unique to the students at West Brooklyn. She's taught in three other city high schools, where she met plenty of other kids who needed help with the basics. "It's not unusual that this is going on in a lot of places," she said.
In fact, despite rising graduation rates, only a quarter of city students exit high school with the skills they need to be considered ready for college - as defined by the state. That means scoring at least 75 on the English Regents and 80 in math.
But transfer schools like West Brooklyn do have high concentrations of students with troubled academic backgrounds and complicated lives. The school's other co-director, Steve Marcus, said the pupils often exaggerate how many times they've failed a test because they have so little confidence. Plus, many students are parents or need to work part-time.
Seventeen year-old Nicole Escalante was hoping to take the English Regents this month after failing it last year. But she's been missing a lot of school because of her pregnancy. "I don't want to take something I know I'm not going to understand and I know I'm going to fail," she said, explaining why she decided to take the exam in June after her baby is born.
Bauer with student Nicole Escalante, who will take the Regents in June instead of January (Beth Fertig/WNYC)
To help its students catch up, West Brooklyn spends a lot of time going over basics such as learning how to construct well-written paragraphs. Counselors also focus heavily on student attendance. The school is considered successful in getting its students to graduate, based on the city's own data. Many of its students eventually pass the Regents tests -- after taking them again and again.
Some education groups are urging the state to reduce the number of tests required to graduate, or by offering alternatives to these high-stakes exams. A committee was appointed to study with the state calls "multiple pathways to graduation."  But so far, no decisions have been made. Meanwhile, the Regents exams will gradually begin changing this year, for ninth graders, to conform with the state's Common Core standards.

This report is part of American Graduate, a public media initiative addressing the drop-out crisis, supported by the Corporation of Public Broadcasting. Our ongoing "Educating on the Edge" series is here.