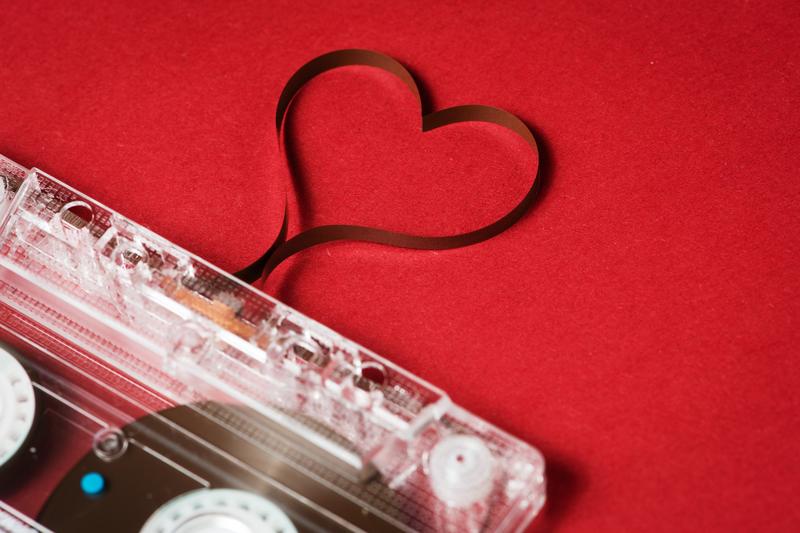 Last year, Soundcheck asked readers and listeners to make a case for a single track as the "Most Romantic Song Ever." The nominations poured in -- from old standbys like Al Green's "Let's Stay Together" to newer classics like Bright Eyes' "First Day Of My Life," and so much more. You can listen to a big old Spotify playlist of those picks, and read Soundcheck host John Schaefer's own list of the 12 Most Romantic Songs Ever... Maybe, too.
Well, now we've got more: Just in time for the coming Valentine's Day (on a Saturday this year), Soundcheck has put together a big endless stream of romantic music -- culled from both last year's lists, and a ton of great newer entries as well. It's got a bit of everything: rock and pop, soul and R&B, jazz and a little bit of country too.
So kick back, light a cozy fire with someone you love, and take a listen to the stream above -- which shuffles up all the songs listed below. Is there a romantic song you love? Let us know below in the comments or on Twitter at @Soundcheck!
---
Track List:
| | |
| --- | --- |
| Al Green | Let's Stay Together |
| Allan Harris | Hold You |
| Anita Baker | Love You To The Letter |
| Arcade Fire | Crown Of Love |
| Ariel Pink | Baby |
| Barry White | Can't Get Enough Of Your Love, Babe |
| Belle & Sebastian | My Wandering Days Are Over |
| Ben Folds | The Luckiest |
| Ben Harper | Forever |
| Betty Everett | The Shooop Shoop Songs (It's In His Kiss) |
| Betty Roche | Can't Help Lovin' That Man |
| Beyonce | XO |
| Big Star | I'm In Love With A Girl |
| Billie Holliday | Embraceable You |
| Bob Dylan | Fourth Time Around |
| Bon Iver | For Emma |
| Bright Eyes | First Day Of My Life |
| Casablanca | As Time Goes By |
| Cat Stevens | How Can I Tell You |
| Chet Baker | My Funny Valentine |
| Chet Faker | Melt |
| CHVRCHES | We Sink |
| Coldplay | The Scientist |
| Crosby Stills Nash & Young | Our House |
| Curtis Mayfield | So In Love |
| David Bowie | Heroes |
| Death Cab For Cutie | I Will Follow You Into The Dark |
| Diana Krall | Maybe You'll Be There |
| Dolly Parton | My Eyes Can Only See You |
| Donny Hathaway | A Song For You |
| Electric Youth | Runaway |
| Ella Fitzgerald | They Can't Take That Away From Me |
| Elliot Smith | Say Yes |
| Elton John | Amoreena |
| Elvis Presley | Can't Help Falling In Love |
| Fiona Apple | Anything We Want |
| Frank Ocean | Thinkin Bout You |
| Frankie Goes To Hollywood | The Power Of Love |
| Franks Sinatra | You Go To My Head |
| Gram Parsons & Emmylou Harris | A Song For You |
| Heatwave | Always And Forever |
| INXS | Never Tear Us Apart |
| Janis Joplin | Get It While You Can |
| Jessie Ware | You & I (Forever) |
| Jesus Christ Superstar | I Don't Know How To Love Him |
| Jimmy Scott | When Did You Leave Heaven |
| John Denver | Annie's Song |
| Johnny Cash & June Carter Cash | As Long As the Grass Shall Grow |
| Johnny Mathis | Chances Are |
| Jon Brion | Strings That Tie To You |
| Joni Mitchell | A Case Of You |
| Jose Gonzalez | Heartbeats |
| Josh Ritter | Make Me Down |
| Julie Feeney | Julia |
| Kenny Rogers | Through The Years |
| Kylie Minogue | Can't Get You Out of My Head |
| Laura Veirs | Magnetzied |
| Leonard Cohen | I'm Your Man |
| Lou Reed | Perfect Day |
| Low | The Plan |
| Lucinda Williams | Something About What Happens |
| Lucius | Don't Just Sit There |
| Luluc | Small Window |
| Martha Tractenberg | I Chose You |
| Marvin Gaye | Distant Lover |
| Matthew Sweet | I've Been Waiting |
| Mazzy Star | Fade Into You |
| Modern English | I Melt With You |
| Nat King Cole | L-O-V-E |
| Neil Young | Harvest Moon |
| Nick Drake | From The Morning |
| Nina Simone | I Put A Spell On You |
| Norah Jones | Come Away With Me |
| Old 97's | Question |
| Otis Redding | I've Been Loving You Too Long |
| Patrick Watson | Words In The Fire |
| Prince | The Beautiful Ones |
| R.E.M. | Nightswimming |
| Radiohead | True Love Waits |
| Ramones | I Wanna Be Your Boyfriend |
| Rhye | The Fall |
| Rick Springfield | Love Is Alright Tonight |
| Rihanna | We Found Love |
| Robert Earl Keen | Gringo Honeymoon |
| Rufus Wainwright | Imaginary Love |
| Ryan Adams | Oh My Sweet Carolina |
| Sade | Cherish The Day |
| Sam Cooke | You Send Me |
| Sam Phillips | Don't Do Anything |
| Sergio Mendes | Going Out Of My Head |
| Sharon Van Etten | We Are Fine |
| Simon & Garfunkel | For Emily, Whenever I May Find Her |
| Simple Minds | Don't You (Forget About Me) |
| Small Sins | Morning Face |
| Staple Singers | Love Is Plentiful |
| Stevie Ray Vaughan | Lenny |
| Stevie Wonder | I Believe (When I Fall In Love It Will Be Forever) |
| Sufjan Stevens | Rake |
| Talking Heads | This Must Be The Place (Naive Melody) |
| The Antlers | Two |
| The Association | Cherish |
| The Beach Boys | Don't Worry Baby |
| The Cure | Pictures Of You |
| The Everly Brothers | Let It Be Me |
| The Flamingos | I Only Have Eyes For You |
| The Four Tops | I Believe in You And Me |
| The Kinks | Waterloo Sunset |
| The Magnetic Fields | I Have The Moon |
| The National | Apartment Story |
| The Righteous Brothers | Unchained Melody |
| The Rolling Stones | You Got The Silver |
| The Ronettes | Be My Baby |
| The Supremes | Baby Don't Go |
| The Temptations | Just My Imagination (Running Away With Me) |
| The Troggs | With A Girl Like You |
| The Walkmen | Canadian Girl |
| The Zombies | The Way I Feel Inside |
| Tom Waits | Day After Tomorrow |
| Tweedy | Low Key |
| Van Morrison | Sweet Thing |
| Waxahatchee | Be Good |
| Whitney Houston | I Will Always Love You |
| Wilco | I'm Always In Love |
| Yo La Tengo | The Whole Of The Law |