The Takeaway
Police-Community Relations Pushed to the Brink in Baltimore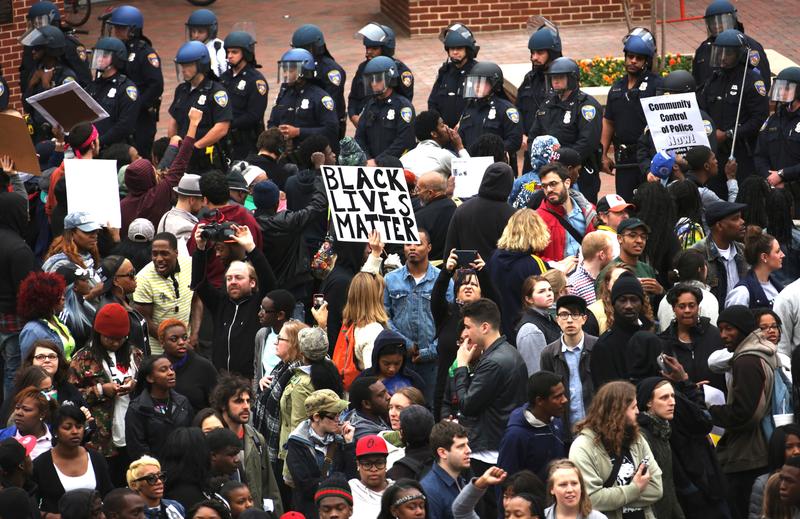 As anger boils over the death of Freddie Gray, thousands of protesters took to the streets of Baltimore over the weekend to demand answers from the police department. 
Freddie Gray, a 25-year-old black man, mysteriously died earlier this month after suffering a spinal cord injury when he was taken into police custody. In parts of the city, protests turned violent, with storefront windows smashed in and bottles and rocks thrown. Police in riot gear made a dozen arrests. 
Relations between the Baltimore police and city residents have long been strained. For decades, the Baltimore police operated under a "zero-tolerance" policy—a strategy that led to a massive uptick in arrests.
Back in 1980, the NAACP called for a federal investigation into police brutality. In 2010, the city settled for $870,000 and vowed to end zero-tolerance policing after a suit by the NAACP and the American Civil Liberties Union. Since then, only one police officer has prosecuted for killing a civilian, according to the ACLU and our partner The New York Times.
For more on the increasingly tense relationship between law enforcement and citizens, we turn to Peter Moskos, a former Baltimore police officer. Moskos is now assistant professor at John Jay College of Criminal Justice.
Also weighing in is  Lester Spence, a professor of political science and Africana studies at Johns Hopkins University. He's the author of "Stare in the Darkness: The Limits of Hip-Hop and Black Politics." 
UPDATE 4/27/15 8:27 PM Eastern: Maryland Governor Larry Hogan has signed an executive order declaring a state of emergency in Baltimore and has activated the National Guard to address the growing violence and unrest in the city. Find out more here from our partner The New York Times.