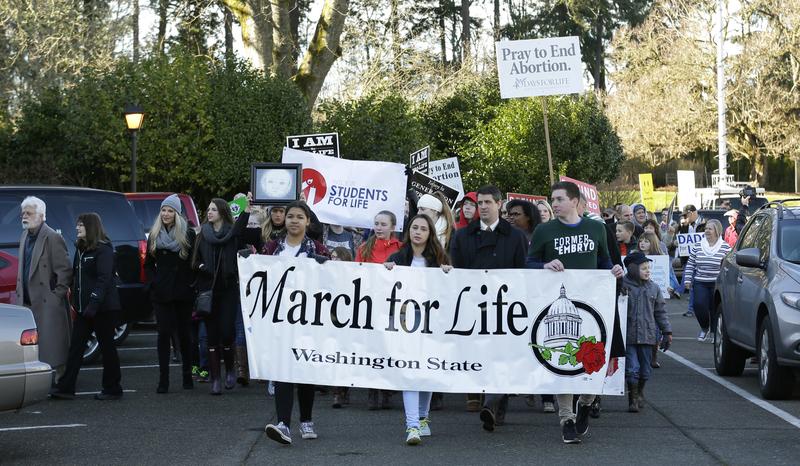 Summary
One of President Trump's first actions this week was to sign an executive order known as the Mexico City Policy. The order essentially cuts American aid money to international NGOs that discuss abortion as a family planning option. That's why opponents call it the "global gag rule." 
But this order, while celebrated by the so-called "pro-life" movement, isn't a particularly Trumpian development. It was first instituted in 1984, and has since been repealed by each new democrat administration and revived by each new republican one. Bob talks with Jennifer Donnally, a scholar of the anti-abortion movement, about how the Mexico City Policy has become a symbol of the decades-long battle over women's reproductive rights in America.
Song:
String Quartet No. 2 (Company) : II. by Kronos Quartet
Transcript
BOB GARFIELD: As we heard earlier, one of the president's first actions this week was to sign an executive order known as the Mexico City Policy. The order essentially cut American aid money to international operations that discuss abortion as a family planning option. That's why opponents call it the "global gag rule." Reactions were predictable.
[CLIPS]:
DAWN LAGUENS: It's the targeting of the most vulnerable women in the whole world with a policy that is going to mean women will die because of this action.
WOMAN: It's an issue very important to the pro-life community in helping to stop taxpayer dollars be - to be involved in the abortion industry abroad.
[END CLIP]
BOB GARFIELD: But this is not a particularly Trumpian development. In the 40-plus years' war over reproductive rights, foreign aid has long been a battlefield in which, at various times, both sides have experienced victory and defeat. And the Mexico City Policy, it ain't new.
JENNIFER DONNALLY: It's been kicking around, actually, as long as I've been alive, since 1984.
BOB GARFIELD: Jennifer Donnally is a historian who researches the anti-abortion movement.
JENNIFER DONNALLY: It's an executive action, so it's an easy promise politicians on either side of the debate can make. So, Democratic presidential hopefuls in their campaigns will say, on day one or the first week in office, I will reinstate funding for organizations that talk about abortion in their counseling. Republican candidates can also make that promise and then cut it in the first week of office.
BOB GARFIELD: The first executive order came from Reagan. When the Democrats came to power, Clinton toggled it the other way. And then George W. Bush toggled it back and Obama the other way and now Trump, a kind of ongoing proxy war wherein the proxies are women abroad.
JENNIFER DONNALLY: So, here's the interesting thing about the Mexico City Policy. Of course, it has a drastic impact on women's rights abroad, but the more complicated story is that the policy itself came out of divisions within the anti-abortion movement that go back to the 1970s. A lot of people tend to think of the anti-abortion movement as this homogenous movement closely associated with the Christian right today, but if you go back to the 1970s, the anti-abortion movement itself is pretty diverse and dynamic, atheists, agnostics, evangelicals, fundamentalist Christians, Mormons, Muslims, Orthodox Jews, various denominations of Protestant faiths and Roman Catholics, all trying to get along to push an anti-abortion agenda. They don't always get along. There's a radical edge that believed a zygote, a fertilized egg that's been split, is a person from that moment and they held a hard line that the law should protect them and that abortion was murder, with no exceptions. Not everybody actually agrees with that. You know, they're not so sure if they want birth control to be limited that much.
BOB GARFIELD: So why did funding become so symbolic?
JENNIFER DONNALLY: Because no matter what approach they had to what's the best way of limiting abortion, everybody could agree, let's get rid of funding absolutely. If the anti-abortion movement's fracturing on other issues, it can always unite by going after funding.
And then, on top of that, the rhetoric around this strengthened the alliances with, especially in the 1970s, Republican politicians. Funding campaigns drew on a rhetoric that painted the government as bad, right, that the government's funding abortion and it might be coercing women into those abortions, we need to stop the government. And then they also have this humanitarian bent, that they're standing up for the least desirable fetuses, 'cause funding typically would go to women on Medicaid, you know, the marginalized communities. Republican politicians know that going after abortion legislatively can cause divisions in the movement that are not necessarily the best for those Republican politicians when it comes to election time, but if you go after funding, they'll all pull together.
BOB GARFIELD: Now, you mentioned Republican politicians. We probably have the notion that this is and has always been a major obsession of the GOP and a rallying point, but not necessarily so. It was after Roe v. Wade, right, that Jesse Helms, the late senator from North Carolina, introduced the Helms Amendment that really opened up abortion to national debate and clarified the division between parties. Tell me about the Helms Amendment.
JENNIFER DONNALLY: One of the first things he does to make his mark is to propose a rider on a budget, at the last minute so it flies under the radar, that the United States will not fund any abortions through its foreign aid. This is 1974. When it goes into enforcement, the United States government has not spent any money funding the procedure of abortions. As they gain victories, they're looking more and more for keeping the funding battles, so they can keep together.
So if they gain a victory with the Hyde Amendment in 1976, which takes out abortion funding domestically in the United States, they'd be in a battle to the states down to the county levels. And even to some extent today the funding battles are still going and they still unite the movement and keep Republicans who are willing to do that battle with them on funding, keeps that as a close alliance.
BOB GARFIELD: Since you're a historian, I guess I should ask you about the domestic pressure President Reagan was under at the time, having named Sandra Day O'Connor to the Supreme Court, a woman who supported women's right to reproductive self-determination.
JENNIFER DONNALLY: Yes, and Reagan got a tremendous amount of flak from the anti-abortion movement and the Christian right, to the point that they actually held a huge rally against Reagan when the Sandra Day O'Connor appointment came through. The anti-abortion movement, as well, in 1980 the expectation is that they would get major federal legislation through that would curb abortion access, and the anti-abortion movement itself fractured around that legislation. And, therefore, by '84 nothing had really been passed at the federal level, so there was a lot of dissatisfaction, both at Ronald Reagan himself and then within the movement on the eve of the Mexico City Policy.
BOB GARFIELD: Was the Mexico City rule, when it first appeared in 1984, just an attempt to assuage that cohort?
JENNIFER DONNALLY: If you want to be cynical, that would be a major component of it, but I don't want to discount the fact that there were people in the Reagan administration who were drafting that who genuinely held an anti-abortion position and were trying to move to protect fetal life.
But if you look at the politics in the actual election, definitely the Mexico City Policy appeases members of the Christian right and major organizations come out celebrating it. So the National Right to Life Committee, which is one of the nation's largest anti-abortion organizations, says it's very pleased and it's proving once again that Ronald Reagan is the pro-life president.
BOB GARFIELD: And now, 33 years later, comes Donald Trump whose political history, such that it was, was as a supporter for reproductive rights. He's now fancied himself a so-called "pro-lifer." Is there more significance to this particular toggle of the Mexico City order than in previous changes of party in the White House?
JENNIFER DONNALLY: I will say the one difference in this toggle back and forth is the fact that you had the Women's March on Washington last weekend, millions taking to the street for various reasons but certainly as one of the platforms of that march they supported reproductive rights. I do think that for the first time the strong presence of the pro-choice protest make this toggle look slightly different because the largest anti-abortion protest each year usually happens the same week the policy's announced, and that's the National Right to Life March, which has been going on since 1974.
BOB GARFIELD: I don't want to suggest that - in any way, that these are trivial matters at play here. Obviously, they're not. But the toggle has become so predictable, so perfunctory. Does it have the meaning it had back in 1984 or is it just sort of a trope of domestic politics, the kind of thing that gets ridiculed on Veep?
JENNIFER DONNALLY: And the theme of that is, if you go abroad and look at it from their point of view, this is a policy that's really impacting women's lives abroad and impacting these organizations. Every four to eight years, they're having to completely reorganize as a result of this executive action. So if I have a feeling to potentially roll my eyes, that's what comes into mind and potentially stops it.
BOB GARFIELD: Jennifer, thank you very much.
JENNIFER DONNALLY: Thank you.
BOB GARFIELD: Jennifer Donnally is a historian who researches the anti-abortion movement.
[MUSIC UP & UNDER]
BROOKE GLADSTONE: Coming up, the fast life and glorious death of the phrase "fake news."
BOB GARFIELD: This is On the Media.