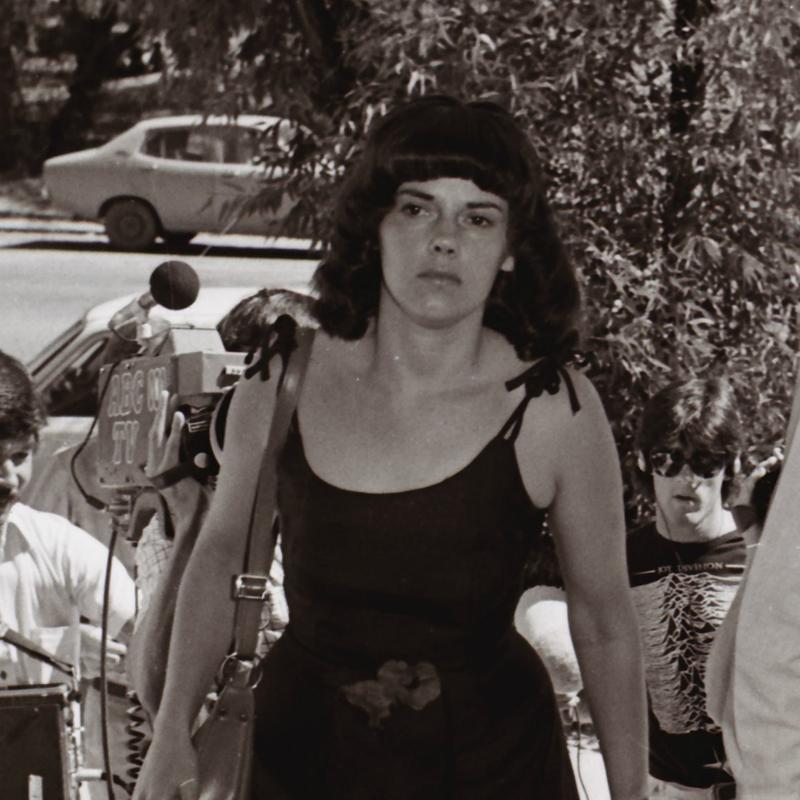 Summary
In 1982, Lindy Chamberlain was falsely convicted for the murder of her infant daughter who was taken by a dingo while the family was on a camping trip. Back in November, Bob spoke to Jennifer Forde, who directed and produced a Retro Report film on the Chamberlain trial and the media circus that surrounded it. 
Song: "You" by Gold Panda
Transcript
BOB: In this segment we'll unpack the stories of two very different women whose lives were appropriated by the media: the first a tragedy that became a funny media meme, the other a life condensed to a phrase that came to stand-in for racism and anti-poverty rhetoric.
Our coverage begins with a story revisited last year in the New York Times online documentary series Retro Report: the strange, tragic case of Lindy Chamberlain. In 1982, Chamberlain was convicted in an Australian court of murdering her nine-week-old infant daughter, Azaria, who had vanished on a family camping trip in the outback. Chamberlain claimed the baby had been snatched from the tent by an indigenous wild dog called a dingo. The episode scandalized a nation, but also came to enthrall the world ...and to this day persists in the popular imagination, thanks to one unexpected exclamation:
TAPE: The dingo's got my baby!
That's Meryl Streep as Chamberlain from the 1988 film, 'A Cry in the Dark.' The latest Retro Report examines Chamberlain's trial, conviction, and eventual exoneration, stretched over 30 years, and the media circus that surrounded it. Jennifer Forde directed and produced the Retro Report, when we spoke to her last year she told us that doubts about Chamberlain's story began with a sort of dingo jingoism, a romantic Aussie notion of the native animal's sunny disposition.
FORDE: Everybody in Australia at that time believed it to be a wild dog, but basically timid. So whilst initially everybody local believed her story, when outsiders started to come in, police and journalists, people started to suspect the parents and indeed Lindy for having murdered her baby.
BOB: This was a case, as it turned out, of jaw-dropping incompetence by police and forensics experts. And by the media which became a sort of whole nation full of Nancy Graces, looking for reasons to convict Lindy Chamberlain in the press. And she kind of helped, in a way. Because her demeanor was so strange, was it not?
FORDE: I think that's one of the things that was confusing to people. That she was dealing with her anguish. She didn't break down in public. She was able to speak very rationally about it. She did this one interview in particular which really turned people.
TAPE (Interviewer): Were you were surprised Azaria's clothing was found hardly torn?
TAPE (Chamberlin): No, not really. Not having watching wild dingo's feed on cattle and things like that. They pull back the skin as they go. And they'll just peel it like an orange.
FORDE: While that's true, I think people just found it very surprising that she would be able to answer so clinically. But really she's just answering the question.
BOB: It was as if she had sat on the witness stand confessing as far as the public was concerned.
FORDE: Right. And then during the trial it must have been very difficult to be there on the stand listening to these ridiculous scenarios. She was sort of short-tempered with the prosecution, which didn't come across well to the jury.
BOB: Concerning the accusation at the time of the trial that she was just too unemotional. She told you in the film that she was between a rock and a hard place. `
TAPE: (Chamberlin) If I smiled I was belittling my daughter's death. If I cried, I was acting. The point is, until you go through something, you have no idea how you yourself will react.
FORDE: Ultimately she is on trial for her personality. Immediately after it had happened when the press came in - I think Lindy wanted to share her experience with people and make other people aware of the dangers. Instantly there was a backlash and people couldn't understand why she was wasn't openly breaking down in front of the cameras. Her lawyers apparently suggested to her before she went to trial that she didn't show emotion. She said to us she felt like that was bad advice. And indeed there are several accounts of how she did break down in court. But they just went unreported.
BOB: The prosecution shows up with no body. Very little physical evidence. And no murder weapon. And she was convicted and sent to prison.
FORDE: Well, Lindy had always maintained that her baby had been wearing a little jacket over the jumpsuit that was initially found in the search immediately after her baby's disappearance. But they never found this jacket. And very quickly people decided that she had invented the jacket. No dingo saliva or hairs were found on the jumpsuit. So, she had said because she was wearing the jacket the evidence of the dingo would be on the jacket. And when no one found the jacket, people said, well look, 'you've just made-up the jacket.'
BOB: Then what happened?
FORDE: Three and a half years after she'd been incarcerated, some searchers were out looking for the body of a climber who had fallen to his death. They found the jacket and less than a week later, Lindy was let out of prison.
BOB: Her nightmare did not end there. In fact, it's only very recently that a coroner report attributed Azaria's death to a dingo attack. Bizarrely, one of the reasons that she has not been able to escape the narrative that was built around her was that one line we heard uttered by Meryl Streep. When it came out of Lindy Chamberlain's own mouth it sounded like this:
TAPE [Lindy]: "There wasn't time to go tell people I just yelled out -- 'has anyone got a torch? ' 'A dingo got my baby.'
BOB: For whatever reason, the line actually made Lindy -- a woman who had lost her child -- an object ridicule in a way we've seldom seen before. Here's a little montage:
Montage of: "The dingo ate my baby."
BOB: 'The dingo took my baby' mutated into 'a dingo ate my baby' is to this day a global punchline. Why did that happen do you suppose, and what effect has it had on the travails of Lindy Chamberlain?
FORDE: That was one of the big questions we had coming into this story. Maybe that the word 'dingo' was a funny word to the American ears. Sounded like some sort of strange mythical creature. There was another suggestion that perhaps the ridicule was more about Meryl Streep. That at the time, she was taking quite a lot of parts and she was doing funny accents, that may have been that Meryl was the figure of fun more than Lindy. But nevertheless it's just amazing that it captured the public imagination. Even though it was so far removed from the story, I think it's such an intriguing thing and I'm not sure that we've really answered that question.
BOB: When you did the film, did you ask her about this line and how it's come to transcend even the bizarre details of the prosecution itself?
FORDE: A little bit. She didn't have a huge amount to say about that, because I think that it's a very American thing. You had an American film about an Australian story, and Americans at that point were meant to get it and Australians were meant to get it, and then they just kind of veer off in totally different directions. Lindy is still struggling on with trying to get justice. Australians aren't quite buying it. And then in America, this line is really what people took away from it. Lots of people today, I think, don't really know that it is a true story.
BOB: She was characterized as a kind of femme fatale. As a kind of religious cultist, she and her husband were Seventh Day Adventists, a fairly exotic religion in Australia. And this narrative, some of it persists in Australia to this day. People still think she did it.
FORDE: What the prosecution managed to do was concoct a gripping story and Lindy's public demeanor lent itself very well to the key villain and the defense had a hard time countering that. I think the fact that she was a woman is really key. I don't think it would have played out in quite the same way if her husband had been the one who had been accused. When I was doing my research I spoke to a Reuters journalist who covered this case and subsequently went on to cover the Amanda Knox trial in Italy. And he said that there were great similarities. That there was a really fine line between being good-looking and being too good-looking. They were sort of sexy women and people just didn't trust them. They were almost too attractive for the case.
BOB: Jennifer, thank you so much.
FORDE: You're welcome.
BOB: Jennifer Forde is producer for Retro Report. She directed and produced the documentary about Lindy Chamberlin which you can find on NYTimes.com