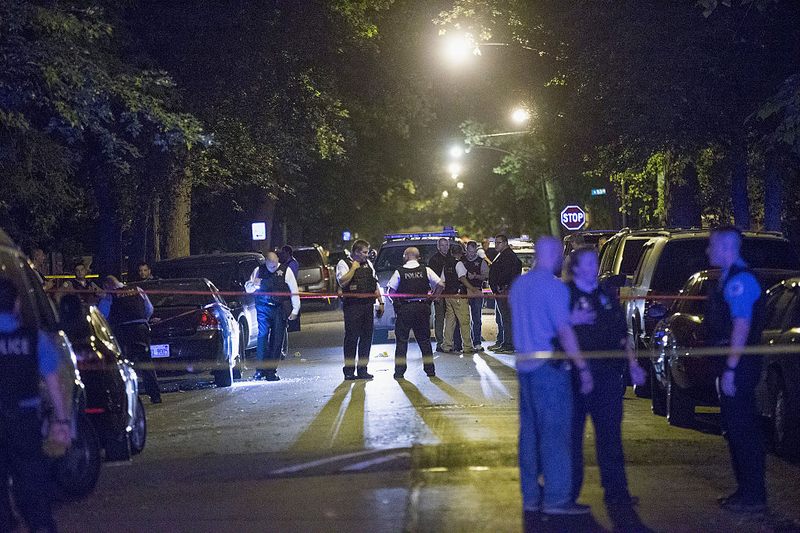 Summary
Most of the gun violence debate centers on mass shootings and the restrictions - or lack thereof - that could prevent them. But frequently overlooked are those most likely to die in gun homicides: black men. Michael McBride, a Berkeley, California pastor, has been championing a program called "Ceasefire" as a way to save lives without changing any laws. The initiative, profiled in a piece by ProPublica and the New Republic this fall, relies on partnerships between community groups and law enforcement to intervene in the lives of those most at risk of committing violence. 
Song:
"Prelude of Light" by John Zorn
Transcript
BOB: So far, the bulk of the momentum (such as it is) around gun control has come after high profile mass shootings, like Sandy Hook. We heard it from the President in his address this week:
OBAMA: Every time I think about those kids it gets me mad. And by the way, it happens on the streets of Chicago every day. (Applause.)
BOB: He's used that line about Chicago before. But though it was only one line in a lengthy address, it is black men who make up the largest share of shooting homicides every year. In 2012, for example, 90 people died in shootings like Aurora and Sandy Hook. That year, according to ProPublica, nearly 6,000 black men were killed.
BROOKE: That's why community leaders like Reverend Michael McBride have trekked to the White House, urging support for existing gang-intervention programs, programs with solid track records and without political baggage. But time after time McBride finds that they are unable to get traction, or investment, to build on their success.
McBride is a pastor based in Berkeley, California, who champions one program in particular, called "Ceasefire," we learned about it in a ProPublica/New Republic piece this fall. It relies on partnerships among community groups and law enforcement, and it works because they only need to intervene in the lives of a very few, to save the lives of many.
McBRIDE: Less than half of one percent of a given community is responsible for over 60% of gun violence. And we find that when you intervene with these young men, over time, they actually choose to stop shooting without any extra force or pressure because many of them want to live, they just have not had anyone whether it is community members, or law enforcement, or others, really give them a constructive way to make those kinds of decisions.
BROOKE: Now, the program has basically two elements - one is a really tough, no tolerance policy, lots of warrants if someone has a gun, long sentences for chronic offenders, aggressive enforcement of probation restrictions, and even calling in the feds.
MCBRIDE: We call it a carrot and stick approach, right? We want the stick to definitely be a deterrent to those who are caught in these cycles of violence; the carrot would be offering jobs, mentors, offering services, offering them even relocation, as we call them into conversations, to say we love you, we don't want to see you die or end up in jail, but this gun violence must stop.
BROOKE: So tell me how well it's worked.
MCBRIDE: In cities like Oakland, Stockton, California, Richmond, California, Baton Rouge, Louisiana, Camden, New Jersey, High Point, North Carolina, Boston, parts of Baltimore - we can average between 15 to 20, some places as high as 30 or 40% reductions of gun related homicides within 18 months. Now, to put that in context, if a police department or a city has a 4-5% reduction in homicides, it is considered a great year of success. The Department of Justice lists us as one of its highest rated interventions, so I believe it should be advocated for, right alongside every background check intervention, every assault weapons ban.
BROOKE: In his speech this week the president singled out the gun lobby as the primary hurdle to reforms that could tackle gun violence. But Ceasefire is an approach that doesn't require passing new gun laws, it doesn't involve a battle with the NRA, and yet it has struggled to gain any meaningful political traction. Why isn't this approach being embraced by politicians?
MCBRIDE: The challenge we have, I believe, is are the lives of black young men who are commonly referred to as thugs, criminals, predators, are their lives really worth saving through investments that go beyond police and jails. Have we made that argument yet in the national consciousness? And I would say no. The president is very much responding to political reality that we see playing out every day in cities across the country. Mayors, police chiefs, city councilmembers, governors, it's a hard sell to say that we're going to move several million dollars away from one type of law enforcement or incarceral strategy to something that would actually expect these young men to make life saving decisions.
BROOKE: Harvard researcher Thomas Abt told ProPublica that Ceasefire, "has no natural constituency. To vastly oversimplify, progressives want more prevention and conservatives want more enforcement. Focused deterrents challenges the orthodoxy on both sides. It makes everybody uncomfortable." Do you agree with that?
MCBRIDE: His analysis is correct but just even the use of no natural constituency in everyone, definitely privileges the middle class affluent white constituency over and against those who live in these communities every day and that is again part and parcel of the problem.
BROOKE: Because as you've suggested, the policy wonks on this issue are often white middle class individuals and so the strategy are directed kind of towards the suburbs.
MCBRIDE: Absolutely but we have to continue to figure out how do we widen the circle of concerns to the constituencies are not invisible to those who are actually making the kind of political decisions at the local, state, and federal level.
BROOKE: I'm guessing you experienced some of that invisibility when you went to the white house to a specific meeting about gun violence after Newtown. Could you tell me about that meeting/
MCBRIDE: We actually brought 70 multiracial, multifaith leaders from across the country to even help lift up testimonies and conversations about this, and we had to help them nuance the way they understood mental health, because mental health in their conversations were taking the Newtown shooter as a profile. There was never a conversation that the young brother in the neighborhood, the young sister in the neighborhood, is suffering from a mental health challenge of trauma, post traumatic stress disorder, etc. So the frames themselves continue to leave out the directly most impacted individuals on a regular basis so it's not even just about the programmatic interventions that we were asking for, but it's also just a blind posit that relates to how our own communities are rendered invisible in these conversations in the inner city when we talk about even the things we are feeling could work as a universal intervention.
BROOKE: Well do you have any hope that the measures the president announced this week - more background checks, more enforcement, more gun safety technology - will make a real dent in the majority of gun deaths in this country?
MCBRIDE: I believe in the background check interventions, I believe in the technology, i believe that's gonna happen over time. Part of our sense of urgency is that we know we can save lives today. We don't want to wait years and electoral cycles before we're able to actually have the political will to to get stuff done, we want to do it now. We need to do it now. I think most people just don't know and how would they know without there being a more visible, aggressive, public campaign to show that we do have solutions that work.
BROOKE: So, you believe the more people know about it, the more support they'll give. But what if people just don't care because these communities are as far away from them as you know, Iraq.
MCBRIDE: Right. Well, I think we have to continue to make the argument to folks that they're paying for it. Every homicide in a city costs 2 million dollars per homicide to the taxpayer, according to the Center for Disease Control, according to the Rand corporation. So we're paying for the carnage that is happening in our communities. So we may have to make the economic argument. We have found that that's compelling for many conservative, republican individuals, but we found that many of them are very much compelled by a redemptive narrative connected to their faith and moral values. So, we put stories and successes in front of people, people really do open up their hearts and their minds to figure out how we can make these investments in these strategic partnerships happen. It's gonna be a continued effort to do something that many of us, like I said, wake up every day, we don't have the luxury to lose hope or to tap out.
BROOKE: Michael, thank you very much.\
MCBRIDE: Thank you so much.
BROOKE: Michael McBride is a pastor in Berkeley California and founder of the Way Christian Center. He advocates for the Ceasefire prevention model in cities around the country.
OBAMA: He wasn't in the wrong place at the wrong time. He hadn't made a bad decision. He was exactly where any other kid would be. Your kid. My kids. And then gunmen started firing. And Zayvion -- who was in high school, hadn't even gotten started in life -- dove on top of three girls to shield them from the bullets.
BOB: That's it for this week's show. On The Media is produced by Kimmie Regler, Meara Sharma, Alana Casanova-Burgess, Jesse Brenneman and Mythili Rao. We had more help from Alex Friedland. And our show was edited by…Brooke. Our technical director is Jennifer Munson. Our engineer this week was Cayce Means.
BROOKE: Katya Rogers is our executive producer. Jim Schachter is WNYC's Vice President for news. Bassist/composer Ben Allison wrote our theme. On the Media is a production of WNYC Studios. I'm Brooke Gladstone.
BOB: And I'm Bob Garfield.