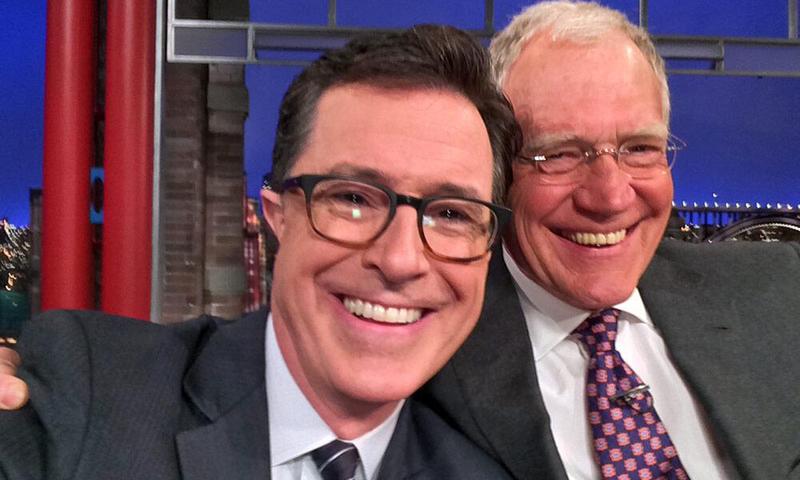 Stephen Colbert has been uncharacteristically mum about taking over for David Letterman on CBS's Late Night. He broke that silence last night, giving his first interview to Dave himself. The right wing pseudo-pundit was nowhere to be seen — and frankly, for a fan of The Colbert Report, it was a little jarring to see The Real Stephen take the stage (he wore a new pair of glasses just to make sure no one was confused). But last night, he and Dave tried to put all audiences (cable and network) at ease with a mostly classy (and yes, funny) conversation:
Both hosts played the interview with self-effacing grace. When Stephen said he would build upon the model Dave perfected over the years, the veteran insisted, "no, you don't want to do that." Stephen admitted he was thrilled to get the gig, and Dave said he was thrilled, too: "They could have just as easily hired another boob like me," he quipped. "Every boob is like a snowflake, Dave," Stephen responded. "We're all unique in our own way." 
This isn't the first time Stephen has been poised to work at Late Night. In 1986, he was hired as an intern, but ended up turning down the gig because it didn't pay. And in 1997, he and his writing partner submitted a packet, including a Top 10 list that has aged pretty well. (#9: Mama Said Nog You Out--3 fingers of egg nog--1 finger of ether." See the full list below.)
There's no doubt that Pundit Stephen's retirement will leave a void in television satire. But avid viewers of The Report have noticed him drop the self-righteous gut-thinker at some point almost every night. We've seen the real Stephen during an interview with Werner Herzog, a duet with Dolly Parton, or — on one heart-rending night last year — when he eulogized his late mother with tears in his eyes. Late Night's Stephen Colbert may not be allowed to push as many buttons, but he'll be just as witty and possess an emotional honesty that you seldom see on late night television.
Last night's appearance suggested we'd be seeing more of that Stephen next year. And late night will be richer for it.