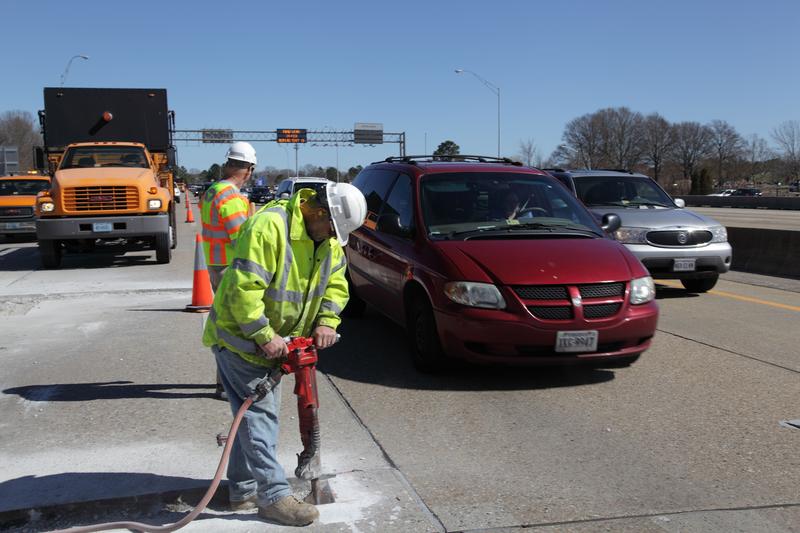 Despite "crumbling" road conditions across the country, state departments of transportation continue to spend significantly more money on road expansions compared to maintenance, exacerbating the problem by bloating future maintenance bills once the new roads eventually need repair, according to a report released by two advocacy organizations, Taxpayers for Common Sense and Smart Growth America.
The report estimates that states would need to spend $45 billion to bring roads in poor condition into a state of good repair while maintaining their existing road systems. However, based on data reported to the Federal Highway Administration from 2009 to 2011, states collectively spent $20 billion annually to build new and expand existing roads but only $16.5 billion repairing the rest of the road network. The report examined only roads and only the capital budgets — construction funding — of each state's total transportation budget.
"What we looked at was the portion of their total spending that was spent on roads as opposed to bridges or culverts. So we were just looking at pavement," said Roger Millar, the report's author at Smart Growth America. "We were looking at whether the expenditures were for new construction, categories like right-of-way, reconstruction, major widenings, and we were comparing that to road repair and preservation projects.
Build more or maintenance first?
From 2009 to 2011 the District of Columbia spent 100 percent of its capital budget on road maintenance, more than $100 million annually. Out of an annual capital budget of $381 million, Maryland spent 68 percent on road expansion ($257 million) and 32 percent on maintenance. Virginia's annual capital spending of $595 million also saw 68 percent go to road expansion or reconstruction ($402 million).
Capital budgets do not tell the full story. Virginia, a maintenance-first state, has an entire transportation budget of $4.6 billion for fiscal year 2014, including $1.8 billion for road maintenance (including city and county street payments) and $1.4 billion for construction.
"It's our mindset and our culture and it's always been a priority for us, to maintain what we have," said Tamara Rollison, a spokeswoman at the Virginia Department of Transportation. "We have an immense roadway network and a lot of money already invested into our infrastructure, and we want to keep that in the best possible shape."
Last year Virginia's legislature approved a comprehensive transportation funding overhaul, replacing the state gas tax with a higher sales tax, to increase revenues in order to end the transfer of construction money to replenish the exhausted maintenance budget.
When considering existing roads comprise 99 percent of all roads in the country (new roads are just one percent), Smart Growth America's Millar said state DOTs may need to reprioritize their spending toward maintenance, even if there are no ribbon cutting ceremonies for repair jobs.
"As roads deteriorate, it costs more money to bring them back to a state of good repair," Millar said. "If the states would invest money now in road overlays and similar capital work it would save them the cost of major projects after the pavement gets to a place where all you can do is reconstruct it."
Taxes not going far enough
The report also points to Americans' changing driving habits as another reason to re-evaluate spending priorities.
"The number of miles people drive every year has stayed the same. But when you look at 2009 to 2011, across the entire country we spent $60 billion on adding capacity and congestion didn't get fixed. People are driving as much then as they are now, so what did the $60 billion do?" Millar said. "When you look at the repair problem, motorists spend, according to the American Society of Civil Engineers, about $67 billion a year on car repairs caused by roads in poor condition."
The road building advocate AAA MidAtlantic greeted the report with criticism that states have deferred maintenance as motorists' vehicles have taken a beating.
"The reason that we are experiencing so many potholes throughout the Washington metropolitan area — sure, it's because we've had a wicked winter — but it is also because a lot of the roads are in a very poor state of maintenance," said AAA MidAtlantic spokesman Lon Anderson, usually a vocal proponent of road expansions. Anderson faulted states and the federal government for failing to increase their gas taxes.
"A really interesting question here is should we slow down the pace of all new projects, roads and mass transit, to allow for maintenance of what we already have?" Anderson added. "Politicians like building new things. That's sexy. They can do ribbon cuttings and hold the projects out as wonderful achievements and the reason they should be re-elected."
Both Virginia and Maryland finally decided to increase revenues for transportation in 2013.
Follow @martindicaro