In Staten Island, Reactions to Garner Decision Are Divided By Race and Neighborhood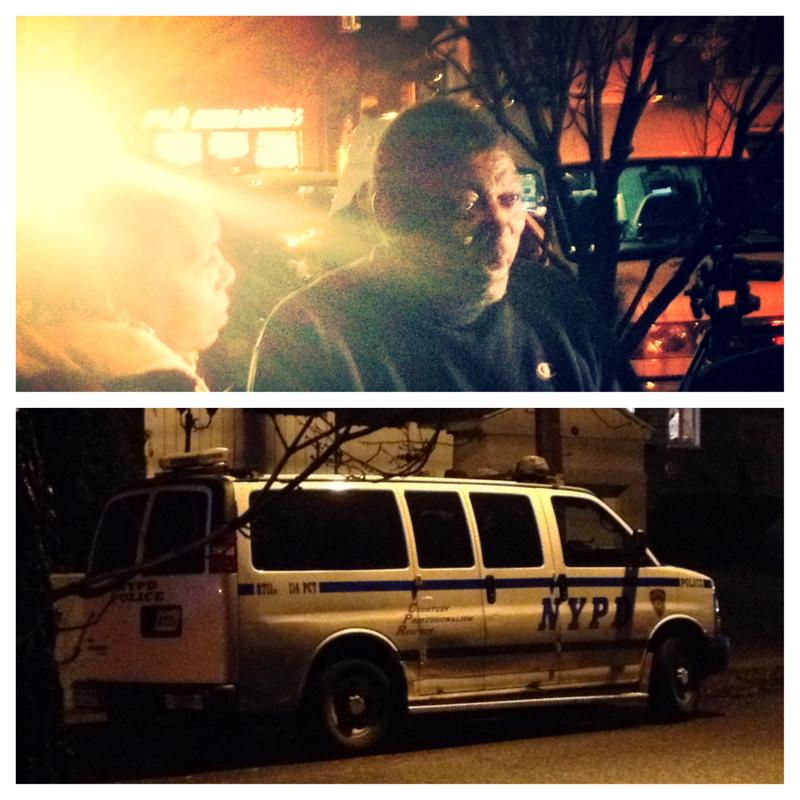 On the North Shore: howls of frustration. On the South Shore: measured comments about Officer Pantaleo's intent in taking down Eric Garner with a fatal choke-hold.
That was the snapshot of reactions in Staten Island soon after the news broke Wednesday that there would be no indictment in the death of Eric Garner.
Immediately, protestors gathered on a patch of sidewalk in front of a beauty products shop not far from the ferry — the spot where Garner repeatedly gasped, "I can't breathe," as arresting officers took him down on a hot day in July. The protestors chanted Garner's final words, and riffed on a cry by demonstrators in Ferguson, Missouri, where another unarmed black man died after tangling with a cop: "Hands up! Don't Choke!"
Wails of Grief and Calls for Calm
The demonstration lasted into the night, and remained orderly as groups of protesters came and went, rallied and rested.
An intense scene unfolded just before dark when Garner's step-father, Ben Carr, arrived. A car pulled up next to him and a man on the passenger side cantilevered his body out of the window and released a torrent of grief. "It's wrong!," the man wailed at Carr and a minister by his side. "Where are we headed for? What's the future for me? For my son!"
Both Carr and the minister urged the man to "keep the peace." Then Carr embraced him. "We're all hurting," Carr said. The man hung his head and slid back into the car, which drove away. Carr then walked to the spot where Garner died and took a moment to grieve in silence. A reporter asked whether he had a message for people upset by the grand jury's refusal to deliver a criminal indictment against Daniel Pantaleo for using a choke-hold, a move that is not illegal but is banned by the NYPD.
"No violence," Carr said. "No violence."
Nearby, A World Away
Eight miles away, Pantaleo's tree-lined neighborhood was subdued. The only sign that he lived there was the police van parked outside his red brick house, and other police vans positioned every couple of hundred feet along the block.
The scene put some residents on edge. A man walking his dog rushed inside to avoid being asked about his neighbor and the grand jury's decision.
Another resident, who was white, wouldn't give his name but said he was a 32-year-old bus mechanic with the city. He said protesters have made too much of the video of Eric Garner's arrest because they didn't see what had happened right before it. "I feel that with all this race stuff going on now that if it was the guy white and he was a white cop that they wouldn't have blown this up as much as they did," the man said. "I don't know, I'm not racist but I don't much see what everyone else sees."
At Andrew's Diner on Hylan Boulevard, retired firefighter Vincent Romeo said the issue was complicated. "I've been on jury duty many times and when it comes to a decision like this so I believe intent is very important," he said. "If this police officer did not intend to hurt him then I don't think an indictment should be brought down."
Legal experts point out that the grand jury could have considered charges that do not rely on intent to harm, such as involuntary manslaughter or criminally negligent homicide. Grand jury proceedings normally remain secret.
Another diner, Ritchie Fox, said the NYPD hassles white residents, too. "The cops on Staten Island are equal opportunity guys: they pull us all over, they harass all of us, I never get a break from them," he said.
Further down the boulevard at Big Al's Pizza, Tony the counter-man said people shouldn't forget that police officers have a tough job. "Find out how many cops got killed this year and put that in the news," he said. "You know, I'm not defending them, I know they could probably handle it differently but if they would just do what they're told, it wouldn't have happened. That's the way I feel."