SchoolBook
One Year Later, a Middle School Revisits Sandy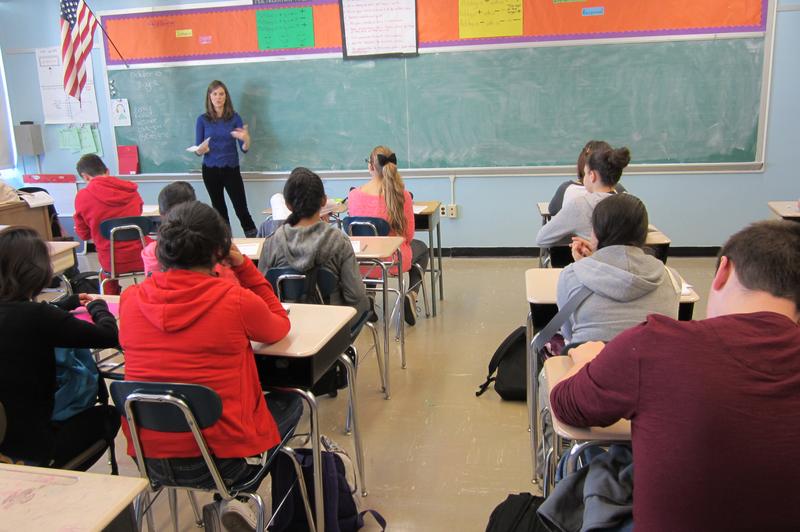 The stories about Sandy that one class of eighth graders at Intermediate School 2, in the New Dorp neighborhood of Staten Island, easily could fill an entire 50-minute period. Some of the students fled homes that flooded; one watched the stream behind his house rise over sandbags and another recalled a man dragging his dog out from under rubble.
The memories spilled out during a series of workshops this month as the school marked the one-year anniversary of the storm. Facilitator Jamie Howard of the Child Mind Institute said the students' stories were a starting point for them to feel a sense of control over an event that dramatically affected their lives.
"Ever since Hurricane Sandy I hate water," one student admitted. "Ocean water. I can't stand it."
Everyone at the school was touched by the storm even if their homes weren't hit. The school's basement was flooded, forcing I.S. 2 to relocate into New Dorp High School for one month. Guidance counselor Elizabeth Duberstein said she still sees lingering signs of the storm's impact.
"They are not focusing in class, they are not doing their homework," she said of the most affected students. "I know of a few cases where some students are not in their houses and they're just very unfocused when they're in class because they're always thinking about other things that are going on - understandably so."
Principal Adrienne Stallone said she knows some students are anxious about storms and even the recent tornado warning. After one of the Sandy workshops, Stallone said one student was very upset.
"She came downstairs, she was hysterical crying because she remembers that day clear as can be," Stallone said. To hear more from the middle schoolers and their view on Sandy one year later, listen to the full report. Just click play above. 
How has your life changed since Sandy? Thousands of people in New York and New Jersey found their daily routines changed after Sandy. One year after the storm, let us know what you do differently because that newsstand on the corner is no longer there, your neighbor has moved or your favorite restaurant is closed. Tell us about a specific time of day that Sandy has changed forever.