Grimm Vows to Fight Federal Charges 'Tooth and Nail'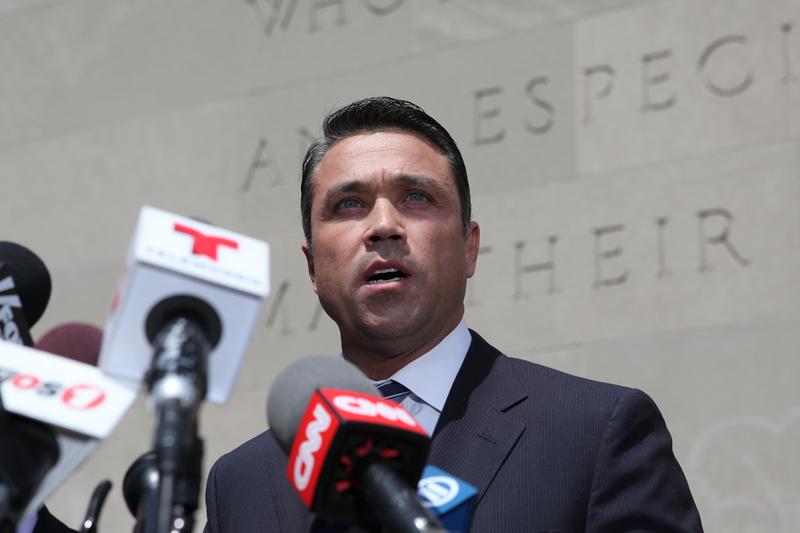 U.S. Rep Michael Grimm was arrested Monday and faces a 20-count federal indictment that includes charges of mail fraud, wire fraud and tax fraud.
The Staten Island Republican allegedly engaged in a scheme to underreport wages for workers at a restaurant he operated, including some who were in the country illegally. He is also accused of concealing more than $1 million in sales and wages between 2007 and 2010.
Speaking to reporters outside of Brooklyn Federal court, Grimm called the allegations a "political witch hunt."
"We're going to fight tooth and nail until I'm fully exonerated," he said. "I will not abandon my post or the wonderful people who entrusted me to represent them. I have their backs, and I know they have mine."
Grimm, a former marine and former FBI agent, opened a health food restaurant called Healthalicious on the Upper East Side after leaving the FBI in 2006.
Federal officials said that when he was deposed by an attorney representing former employees in a lawsuit, Grimm lied under oath about his allegedly fraudulent business practices.
"Rep. Grimm billed himself as a patriot and an American hero," George Venizelos, head of the FBI's New York office, said. "But Rep. Grimm was anything but an upstanding citizen. He cheated, evaded and then lied."
Staten Islanders were divided in their reactions to the indictment of their congressman.
Robert Ollis, 67, lives three blocks from Grimm's office. He waited outside of Brooklyn Federal Court for a chance to shake Grimm's hand and wish him luck. Ollis said Grimm visited him after his 24-year old son, Staff Sgt. Michael Ollis, died in Afghanistan last summer.
"He's the only politician that came to my house and held my hand and my wife's hands and daughters hands, and helped us," he said.
Staten Island native Malcolm Farley said Grimm was elected to represent the people and has let them down.
"It makes the people who voted for him look bad," Farley said. "They're like, 'oh we voted for him?' Then people are going to be like, 'what does that say about us?'"
For two years, investigators had been examining Grimm's funding in the 2010 race and his involvement in the Manhattan restaurant. A House Ethics Committee announced in November that Grimm was under investigation for possible campaign finance violations.
"From the beginning, the government has pursued a politically-driven vendetta against Congressman Grimm and not an independent search for the truth," Grimm's attorney, William McGinley, said in a statement Friday. "Congressman Grimm asserts his innocence of any wrongdoing."
The federal indictment unsealed Monday does not include charges related to Grimm's campaign finances, although U.S. Attorney Loretta Lynch said the probe continues.
During the 2010 race, Grimm acknowledged receiving $250,000 to $300,000 in contributions from followers of an Israeli rabbi, Yoshiyahu Yosef Pinto. Some members of Pinto's congregation subsequently said they made tens of thousands of dollars in illegal contributions, including gifts passed through straw donors.
Grimm has denied knowledge of any improprieties. The Israeli businessman who had served as Grimm's liaison to Pinto's followers, Ofer Biton, pleaded guilty in August to an immigration fraud charge.
Three days after that guilty plea, the FBI filed a sealed criminal complaint accusing a Houston woman named Diana Durand, who had been romantically involved with Grimm, of using straw donors to make illegal campaign contributions. On Friday, Durand was indicted in Brooklyn on those charges. She also was charged with making false statements to the FBI when she said she didn't reimburse straw donors for their contributions to Grimm's campaign.