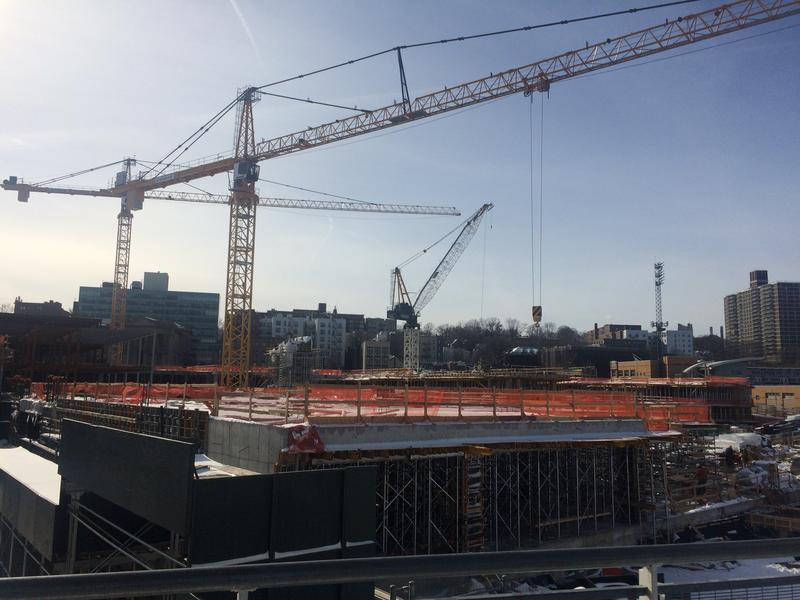 At WNYC we're documenting changing neighborhoods across New York City, one by one. We're spending some time for the next few months in the neighborhoods along Bay Street, on the North Shore of Staten Island.
The city is rezoning the Bay Street Corridor (that includes St. George, Tompkinsville and Stapleton) to revitalize local business and build affordable housing. In St. George, there are also developers hoping to draw in more tourists to Staten Island by building New York City's first outlet mall, a giant observation wheel, and several hotels. 
Producer Sophia Paliza-Carre is spending time in the neighborhood and working out of the Stapleton Public Library. She's talking to the people in the community to hear their take on what it all means for the neighborhood. 
You can find WNYC's introduction to the neighborhood here: City Turns Its Eye to 'Forgotten Borough' Staten Island
Let us know what you think! To meet or contact us, via email or @spalizac. You can also join the conversation by tweeting with #affordnyc.
---
March 24, 2017 - Keeping NYC Affordable for Seniors
Living in the city is hard for residents of all ages, and as life expectancy keep going up, so do the numbers of New Yorkers who might have the hardest time affording the city. As the New York Times puts it in an excellent story profiling New Yorkers over 85, "Do you know what you want to do when you get old?"
New York City is expected to see an increase in its senior population in the next few decades, city-wide. In Staten Island, the senior citizen population is expected to see the biggest percent increase — 65 percent — and seniors' organizations say there is an acute shortage of affordable senior housing in the borough.
One way to provide for their housing stability into old age, might be through taking advantages of programs already out there. One of these is called SCRIE, the Senior Citizen Rent Increase Exemption, which can freeze seniors rents. But at the moment, only 30% of North Shore seniors who are eligible, are taking advantage of this program.
To hear more about how seniors might continue affording New York City, listen to this story by WNYC's Sarah Barrett.
---
March 22, 2017 – How do you want to spend $1 million?
Yesterday afternoon, and every afternoon for the rest of the week canvassers from Community Voices Heard are knocking on doors across the North Shore. Community Voices Heard (CVH), a grassroots organization for low-income New Yorkers, is trying to get the word out that Participatory Budgeting is coming to Staten Island for the first time ever, this week. 
Participatory budgeting is called by CVH the "people's budget," because residents can vote to decide how to spend $1 million dollars of discretionary funding from the New York City Council, on projects proposed by the community. Projects on the North Shore proposed include better lighting for playground areas, new basketball courts, and laptops and technology upgrades for schools.
Aaron Jones, of Community Voices Heard, says it's "Council Member [Debi] Rose has made PB a true 5-borough process. We're at 31 council districts, hopefully one day we'll be in every single one across NYC." 
As CVH was canvassing yesterday at the Richmond Terrace Houses, resident and producer of local community TV shows Jah Dreddz, said there was much to be done in the area. He wants to see more lighting in outdoor spaces, mold issues addressed, and the buzzer system fixed. He says private development on the North Shore waterfront doesn't seem to be for Richmond Terrace residents at all. "There are old buildings over there. They could have turned them into something and addressed the homeless situation."
The voting starts this Saturday and goes from March 26 – April 3rd. More information on the 8 community projects that are up for voting can be found here: council.nyc.gov/pb
---
March 13th, 2017 - 50/50 SkatePark 
If you've ever gotten off the Staten Island Rail at the Stapleton stop, you've probably seen 50/50 Skate Park. Or, more accurately, you've done a double-take at the mannequin BMX-rider in mid-jump off their roof.
Ed Pollio is the co-owner with his wife Angela. He's been renting his 8,000 sq. foot warehouse on Front Street since July of 2012. Ed grew up in Rosebank and now lives in Stapleton.
When you first walk in to the park, it's hard to miss the giant wooden Staten Island Ferry Boat on the back wall. It lights up. "There's a lot of hometown pride here, it's an iconic image."
His skate park is on Front Street, in Stapleton. That means that it's part of the Special Stapleton Waterfront District. He's about a block away from new luxury housing development Urby. Rezoned in 2006, the once manufacturing area is now mixed-use, meaning developers can build for both residential and commercial purposes.
After the most recent rezoning of Bay Street was announced, Ed says he has seen significant rent increases for his warehouse, which threatens whether the park will be able to stay where it is. Ed says he's gotten some offers to rent in New Jersey, but doesn't want to leave Staten Island. He says the 50/50 Skate Park is one of the few places on the island youth can go to safely play. After the close of the beloved Cromwell Center, which was damaged beyond repair during Sandy, Ed wants to make sure the city and others continue to build spaces and parks for kids to go. All the ramps at the park are portable and were made by Ed who is also a carpenter.
"The more you build, the more kids are going to get away from video games and get active."
---
March 5th, 2017 - WNYC Panel: "Keeping the South Bronx Affordable"
It can generally be tough to get people out of the house on a bitterly cold weekend.
But not so this past Sunday, when the Bronx Documentary Center (BDC) held their 4th Annual Gentrification Conference. Workshops were tailored towards teaching Bronx community residents concrete skills: with titles like "Homeownership and Collective Power," "Who Makes the Plans?" and "Reimagining Community Land Trusts." We collaborated with the BDC to host a panel moderated by WNYC's Sarah Gonzalez, which capped off the conference.
WNYC spent the last 6 months reporting in the neighborhood of Mott Haven. Over the course of those months, we've met many people working on strengthening and preserving the neighborhoods of the South Bronx. So we brought four of the people we've met along the way and invited them to talk with each other about what they are doing in their communities.
First, Diana Hernandez and Jacob McIntosh spoke about the intersection between jobs and housing. Hernandez is an assistant professor at Columbia who studies sociology and health, but she is also a small-scale real estate developer in the neighborhood in the South Bronx where she grew up. McIntosh works for Per Scholas, an IT workforce training nonprofit that was founded 20 years ago in Hunt's Point.
Then, Mychal Johnson and Juanita Lara spoke to the cross-overs between environmental issues and the arts. Johnson is a co-founder of South Bronx Unite and works to use community land trusts to stop real estate speculation. Lara works for ID Studio, and is an instructor in the community-building theatre program, at a local high school.
The audience got a few words in too, and they told us what they want to see happen in the next year. Just one example from an audience member:
"Keep working with the community to make sure people know their rights and take action."
And of the city they asked:
"Talk to the community and listen to what they are saying they need."
---
March 2nd, 2017 - Staten Island Arts
On a very windy evening, WNYC's Jessica Gould and I met with folks in an art studio in Snug Harbor, to discuss affordability on the island.
They were assembled for us by Staten Island Arts. These community residents have been meeting with Staten Island Arts for months, and have contributed valuable feedback to their Future Culture project - which strives to culturally inform planning on the North Shore.
But first the group spent some time providing feedback for the city's Create NYC Cultural Plan.
Then they graciously decided to give us some feedback as we start to produce a series of stories on the Bay Street Corridor.
We asked "What does affordability mean to you?" We heard: 
"all my income doesn't just go to my basic needs, so I can save for the future too"
"It still really comes down to housing"
"Not having to struggle as much" 
"I am 30 and I cannot afford to buy property in my hometown."
"Being able to make decisions by reasons not limited to financial limitations" 
"Not needing to choose between making art or having children, housing, healthcare, and sending them to college"
In general we heard about the juggle that Staten Islanders face - overwhelmingly people came to the island (or stay on it) because it's affordable. 
But then they might have to make decisions about what's the most important thing to them - kids, job, art? Staten Island has some of the longest commutes in the entire country, and without an extensive rail system, time is very valuable. School options and access to healthcare also came up as issues that parents worry about being limited on the island.
Overall - we're going to be taking a closer look at many of these issues, and welcome any feedback. Thank you so much to Staten Island Arts and the community members we spoke with!
---
February 27, 2017 - The Stapleton Public Library
Last year, librarians from the New York Public Library branch right on the corner of Tappen Park in Stapleton, recorded the memories of long-time residents from the neighborhood for their project "Stapleton Speaks."
It's envisioned as a "neighborhood oral history project that works to both preserve and document Stapleton history through the stories of people who have experienced it."
For the new few months, I'm using the library as a homebase, from which to work and roam the neighborhood to get a sense of what change may be coming in the future. But this series does a great job of highlighting the memories of the past. 
Pop your headphones in and take a listen to the series: Stapleton Speaks 
I particularly recommend the memory circles on "Neighborhood Change" and "Urban Renewal." They're so inclusive - even a dog is included in some of the the conversations! 
This library has history! Opened in 1907, it was renovated recently and just re-opened in 2013. Here's the original building: