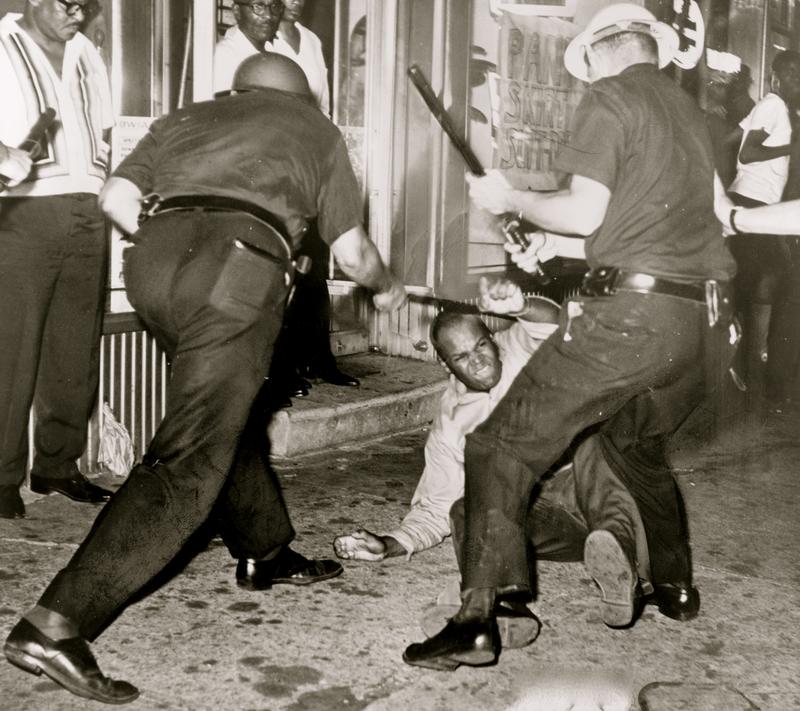 Summary
This episode is from the WNYC archives. It may contain language which is no longer politically or socially appropriate.
Mayor Robert F. Wagner speaks of cutting his trip to Geneva short in order to return to New York and address the riots in Harlem, the six day riot was brought on by the shooting death of a Harlem teenager, James Powell by a New York City police officer, Lieutenant Thomas Gilligan.

Wagner reiterates the importance and need for law and order. He ensures the people of Harlem and other African American neighborhoods that he is aware of their needs - including housing, education, and discrimination.

Wagner also addresses himself to non-New Yorkers. He mentions the large number of hotel reservations that have been canceled out of fear for safety. Wagner assures visitors that in the past three months no tourist to New York has encountered bodily harm.

Wagner promises that all allegations of police brutality will be reviewed by Deputy Mayor Cavanagh. He is also made responsible for reviewing the the review board process. Wagner also notes a plan to increase the number of minority officers on the police force.
Audio courtesy of the NYC Municipal Archives WNYC Collection
WNYC archives id: 70867
Municipal archives id: RT138
Transcript
This is a machine-generated transcript. Text is unformatted and may contain errors.
Blue dress on the Harlem situation by the Honorable Robert F. Wagner mayor of the city of New York and even my fellow New Yorkers last Thursday evening I took off from Kennedy airport expecting to be away about ten days mostly in Geneva Switzerland attending a world conference on automation and unemployment sponsored by the International Labor Office to make an address there on poverty and unemployment as related to discrimination and civil rights during my absence I was as I always am when out of the city in constant touch with city hall and specifically with acting mayor Paul screw vein on the basis of the reports I received from Mr Square vein I cut short my trip and came home arriving at Kennedy Airport exactly one hundred and six hours after I had left as most of you already know last night as soon as I had been thoroughly briefed in looting the views of the many groups and individuals from the Harlem community who had been in touch with my colleagues in the city government I myself made a tour an inspection of the affected districts of Holland I went carefully up and down Lenox Avenue and Seventh and eighth Avenues as far north as one hundred twenty fifth thirty fifth Street and as far south as one hundred and tenth Street and I was accompanied by Commissioner Michael Murphy It was here with me in the studio tonight I saw the boarded up windows I saw the crowds the tenor and gangs the residents clustered on this stoops looking fearfully out of their windows I saw some of the debris of battle although most of it I was told had been cleaned up by a sanitation department. I saw a long stretches of blocks in Harlem the residential streets which had been in no way involved in the incidents I was told that there were many such quiet streets in Harlem I am convinced that the overwhelming majority of those who live in the Harlem community neither participated in nor appreciated the violence and disorder it is their persons and their property along with all other persons and property that the police are under a legal mandate an obligation to protect with all the force that is necessary and justified the mandate to maintain law and order is absolute unconditional and unqualified It is the primary obligation of local government under a constitutional and statutory law and fact of all of the groups in America Negroes have the most to gain from Law and Order the Supreme Court decision of one nine hundred fifty four is Law and Order where civil rights where would civil rights be without that decision without that law and order the civil rights bill just passed in Congress and signed by President Johnson is law and order the New York City law outlawing discrimination in housing passed under my administration. Is Law and Order without Lauren order Negro and civil rights progress would be set back half a century law and order are the negroes best friend make no mistake about that. The opposite of law and order is mob rule and that is the way of the Ku Klux Klan and the Knight Riders and the lynch mobs let me also state in very plain language that illegal acts including defiance of or attacks upon the police whose mission it is to enforce law and order will not be condoned or tolerated by me at any time outrages against persons or property or police by individuals or groups of hood limbs rowdies trouble makers bent on destruction theft or incitement to riot drawn as they have been from all parts of the city will be brought to a halt and the guilty will be punished to the full extent of the law now I want to address some remarks directly to the people of Harlem Bedford Stuyvesant South Jamaica East Harlem and all of the other areas of our city mocked by congestion unemployment slum housing and other adverse social conditions last night when I was in Harlem as I have been on so many other occasions and looked into the faces of the people I saw the fellow citizens whom I knew whose cause and trysts I have always sought to advance and who have in their turn repose some confidence in me I saw some other others too the tough young ones without a stake in the past or much hope in the future irresponsible and ready for violence because their spirits are rebellious and full of resentment and hate I saw some of these young tough ones wearing crash helmets and carrying walkie talkies they have been and the loose gun powder of our day. I can understand the degradation and the tragic waste of human lives in all of these deprived areas of a city I know too of the prejudices and failings of some of our white citizens some conscious some unconscious I am well aware too of the dangerous road of thought which leads to the perilous concept of evitable conflict between black and white I say to you my fellow citizens in all the affected areas of our city that I think I am aware of most of your needs and problems in regard to housing and jobs and discrimination and the education of your children in regard to the training and retraining of the unskilled and God to the second the handicapped and the way would too we must go all out to remedy injustice to reduce inequality and Torrie move all conditions and practices which are a source of resentment and recrimination among these fellow citizens of ours we are no richer than our poorest citizens and no stronger than the weakest among us having said all this I must now address myself to the rest of us citizens we all want safety on the streets and we shall have it to the maximum extent that it is possible to the full extent that police and other security measures can assure it it must be borne in mind that increased crime including violent crime is today not only a nationwide but a worldwide characteristic deep troubles in our entire world society underlie this phenomenon. All of us must work together to do what we can to resolve these problems as far as they affect New York City and the United States this will take sacrifice it will take the overcoming of prejudice and the recognition of the equality of others it will take a strength and attitude of respect for the principles of justice and equality along with strict enforcement of the law and maximum security measures to improve the conditions of safety on the streets and now I want to address myself to people outside of a city we have had some troubles in New York City in recent days and there has been sensationalized reports of crime in our city it is a fact that some people hearing that these reports of riots have cancelled many hotel reservations and plans to visit New York and yet it is also a fact that to this date there is a perfect record as far as the commissioner of police knows no single visitor to watch city including the one hundred fifty five hundred fifty thousand Shriners who are here today have been physically attacked or brutalized in any way within the last three months four and one half million visitors have come here and not one case of major physical assault against a visit has been recorded our city depends upon its visit does for a part of our income and for jobs and for the general level of economic activity and I say to all of us citizens that we must repay the reputed. By all of the measures that necessary. I've been speaking of basic factors and have not yet addressed myself to the Spock which ignited the complications which have still breaking out in various parts of our city it was of course the case of a fifteen year old you James Powell who was shot and killed by police Lieutenant Thomas Gilligan this most regrettable event triggered the tragic violence it raised questions about the responsibility and behavior of individual members of the police force it also brought into focus the conduct of the police as a whole and the general question of the relationship between the police and the public and the civilian authority let me start off by stating two firm convictions I have number one complete confidence in police commissioner Michael Murphy and to the ultimate authority and responsibility. For the police force rests in civilian hands the mayor himself the police have their rules and regulations discipline training and orders which collectively are the best of any police force in the world yet in times of stress and danger some policemen to sometimes act as the individuals they are some of them sometimes do things which do not correspond precisely to training or doctrine instead their actions under stress can reflect the prejudices which they always had and have retained despite the best training and indoctrination where there is evidence of such actions disciplinary action must be taken there is within the police department a civilian review board composed of deputy commissioners of the department. There has now been instituted by my authority and arrangement whereby a careful review will be made in my office by Deputy Mayor Edward Cavanagh of every case in which charges involving alleged police brutality. Brought before the before the police. And he will personally report to me on these cases deputy mayor Cavanagh has also been assigned to review the procedures of the police review board and to report on these procedures to me to see of changes should be made I am now prepared to make a further addition to the mission entrusted to Deputy Mayor Kavanagh I am here by directing him to receive and to refer to the police review board all substantial complaints of alleged police brutality which I made to my office even through Box one hundred I pledge to you that all such cases of complaints will be acted upon promptly this entire arrangement however may be temporary because the city council is now studying the operation of civilian review boards in other cities I'm Monday with my authority acting mayor square Vane announced a number of measures to be taken both by the police department and the city government to improve relations with the minority communities he proposed for instance to station more Negro policemen in Harlem and to institute on the part of the city government program to recruit and provide free training for more qualified young men and women belonging to the minority groups for the police force and to help prepare them for the entrance examinations. With regard to the specific case of Lieutenant Gilligan the fact is that District Attorney Hogan is now presenting the case to the grand jury that jury will decide whether reasonable grounds can be established for a criminal prosecution Lieutenant Gilligan is now on sick leave and therefore not on duty we must await the decision and action of the grand jury according to proper legal procedure now I want to emphasize that in taking any of the steps we are taking we are not bowing OSS or rendering to freshen we will not be brow beaten by prophets of despair by peddlers of hate by those who thrive on continued frustration we will take resolute action unless this city is to be turned into a garrison occupied by military forces in sufficient numbers to man every block and project and tenement house this will not be well not come to that the situation must be met with the raw wide range of a sought steps such as those we have determined upon after intensive prolonging and prayerful consideration my office has been in constant touch with the White House throughout these past days this morning President Johnson called me and spoke to me at some length he assured me and authorized me to state that the measures he had directed were designed solely to assess support and supplement what we are already doing in the way of meeting the threats to law and order. President Johnson had instructed Mr J. Edgar Hoover to make contact with both police commissioner Murphy and myself he has been in touch with both of us and has supplied commission a Murphy with certain information which is of greatest interest and use to us and I wish at this point to express my appreciation and the appreciation of all right minded citizens of New York to President Johnson and to Mr J. Edgar Hoover and to the federal government for both the actions that have been taken and the understanding attitudes that they have shown Now let me summarize as best I can the actions I have taken in the orders I have given since by return number one I have proclaimed and directed that all security measures which can then must be taken to ensure peace and order in the affected areas and throughout the city shall be taken promptly and affectively to I have directed that the perpetrators of violence against the persons of proposition property of the Ennis and all of the police shall be promptly apprehended and handed over to the courts of justice as provided by law three I have directed that the security forces of Commissioner Murphy go full speed ahead with the recruitment and pre-training of minority members for the police services for I have instructed commissioner Murphy to ensure that police actions against persons beyond the requirements of duty and performance shall be God against and occurring punished. Five I shall exercise my prerogative to review and consider cases of alleged police brutality on the basis of the procedure and view and review machinery presently established within the police department and have assigned Deputy Mayor Edward Kavanagh to this function I have broadened his function to include the receipt reference and review of all substantial police brutality complaints that come to my office I referred to new cases it would be totally impractical and impossible to take any up any cases which have been disposed of six I have been assured by commission number three that he will double his efforts to establish closer layers on with the minority communities and will meet with leadership elements of these communities in their communities seven I myself will continue to spend much time in the minority communities talking with people and meeting with representative groups with regard to their problems I will continue to encourage the heads of my departments who deal with the problems of the peoples of their areas to do likewise I have specifically asked Paul screw vein as poverty operations coordinator and head of the poverty operations board to so dispose himself eighth Finally I have directed Mr Straw vein and the poverty operations board and Providence poverty Council to step up these programs which will involve and engage the unemployed young people of our city in constructive counseling training and work. Some of these programs of course depend upon federal funds which have not yet been made available our idle young people must be given work and purpose there is no alternative substitute for this and nine I have strongly affirmed and pledged my cooperation and the proper and the cooperation of Police Commissioner Mary fame with President Johnson and Mr Hoover and the F.B.I. in all matters concerned with law on justice and rights in New York City these my fellow citizens o