The Takeaway
Examining The State of the Union Address Through an Artist's Eyes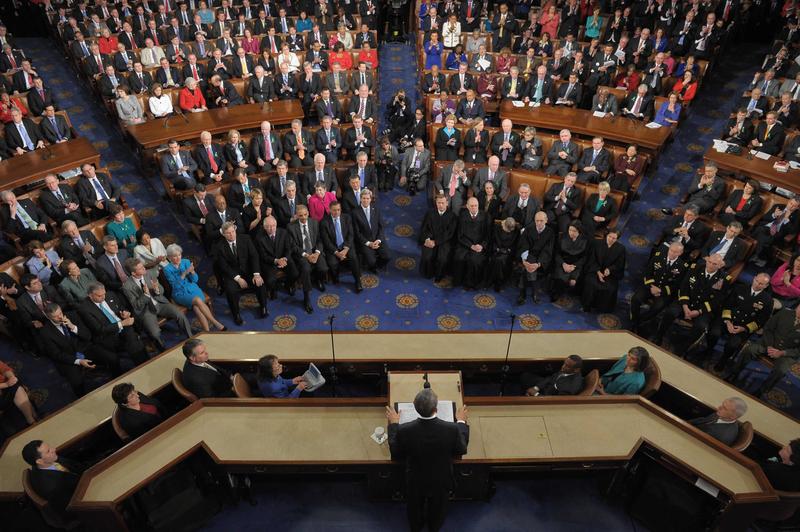 Artist, composer and performer R. Luke DuBois developed his signature style through data mining. When the Smithsonian commissioned him to create portraits of Google co-founders Larry Page and Sergey Brin, he used Google technology to create the interactive final product. For his piece "A More Perfect Union," he culled the most-used words from online dating profiles to create word maps for every city across the country.
DuBois's 2008 piece, "Hindsight is Always 20/20," uses a similar technique, applied to every president's State of the Union Address. DuBois isolates the most frequently mentioned words from State of the Union Addresses that span from George Washington, whose most used word was "gentlemen," to George W. Bush, who frequently used the word "terror." President Richard Nixon's most frequent word is perhaps the most ironic: "Truly."
"The way I designed the piece is all the words are unique—it's the 66 words that each president uses in their State of the Union more than any other president," says DuBois. "So George Washington's number one word is 'Gentelmen,' and George Bush is 'Terror.' That means those are the words they use the most, but they also use them more than anyone else."
As President Barack Obama prepares for his 2014 State of the Union Address, DuBois examines word patterns in State of the Union Addresses over time, and describes how a president's rhetoric reflects their era.
Listen to a mash-up of State of the Union Addresses and the favorite words of presidents below. What do you think President Obama should mention during his address? Weigh in here.