N.Y. Attorney General Warns of Scams Targeting Immigrants Post-Election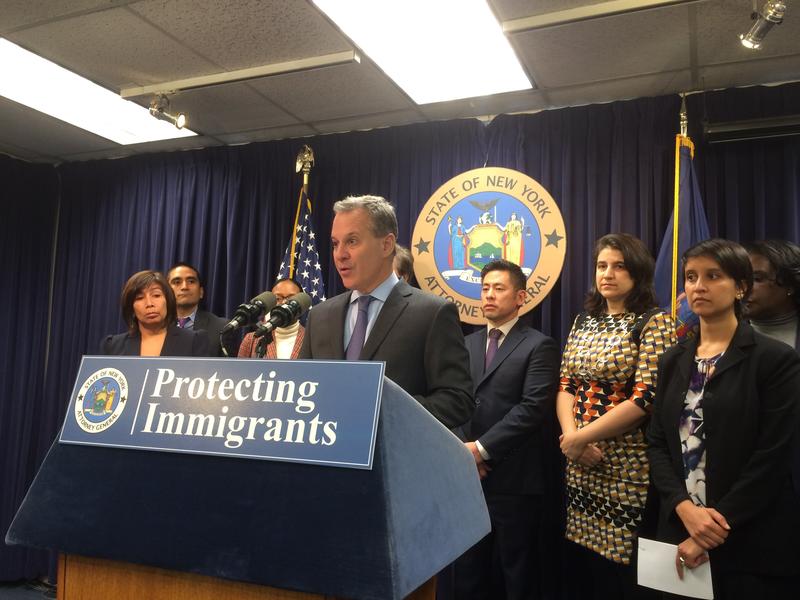 New York's attorney general and several immigrant advocacy groups are warning immigrants to be on alert for potential scammers who promise to help them with legal services — or even are posing as government agencies.
"Right now the targets are immigrants," said Attorney General Eric Schneiderman. "We're uniting to protect them."
Schneiderman held a press conference Tuesday describing how his office and various community groups have gotten complaints about scams targeting immigrants, sometimes by people within the same immigrant communities who know the language and culture. He said these complaints aren't new, but they appear to be on the rise since the presidential election. He speculated that fraudsters are preying upon immigrants who are fearful of Donald Trump's pledge to crackdown on illegal immigration.
"Often these scammers threaten immigrants with deportation unless they make an immediate cash payment or turn over sensitive personal information," Schneiderman said, describing some tactics.
For example, he said his Buffalo office was contacted by an immigrant who received a phone call from an official-looking 800 number, by someone saying he had improperly filled out his papers and demanding money. Schneiderman said this phone number turned out to be the actual number of a U.S. government immigration office, "so by using technological tricks, they are able to add an additional legitimacy to these scams."
Schneiderman also noted that the Northern Manhattan Coalition for Immigrant Rights reported a 250 percent increase in the number of daily walk-ins, since the election, and a slightly bigger increase in daily phone calls. Many are about potential fraud.
"Fortunately, these people have reported it to us, knowing that they were scams," said the group's executive director, Angela Fernandez. "But we are very concerned that there are other people that are hoping that this is an avenue for their help."
Schneiderman says immigrants should only work with licensed lawyers and should never make payments over the phone or email. A state hotline has been set up at 1-800-566-7636.
The city is also working to spread the word about legitimate help for immigrants. The Department of Consumer Affairs provides translation assistance in many languages and the Mayor's Office for Immigrant Affairs has been training police how to spot immigrant fraud and file complaints.
Victims of fraud are entitled to restitution, and the city and state can go after perpetrators. Schneiderman said he doesn't have any statistics yet. But in October, the Attorney General's office arrested a Bronx man for impersonating an attorney, and ordered him to 30 days in jail.