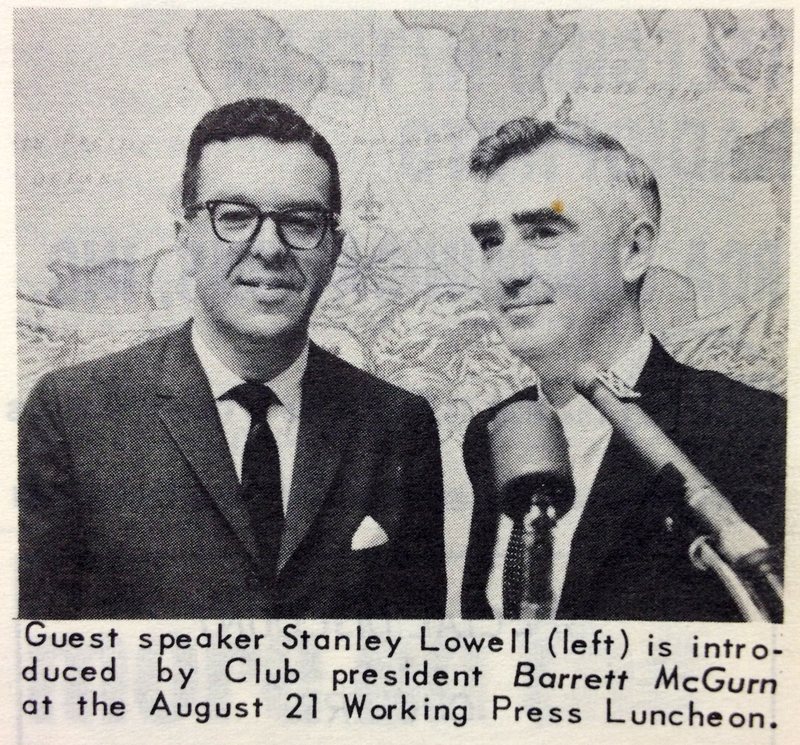 Summary
This episode is from the WNYC archives. It may contain language which is no longer politically or socially appropriate.
Stanley H. Lowell, chairman of New York City's Commission on Human Rights. He discusses the major hurtles facing New York's fight against discrimination, primarily discriminatory hiring and unequal educational opportunities. He states the Unions must not be limited by race, but must be open to all in order to ensure equality - this he specifically relates to the construction trade


He also mentions Mayor Wagner's support of the upcoming March on Washington.
Audio courtesy of the NYC Municipal Archives WNYC Collection
WNYC archives id: 70437
Municipal archives id: T231
Transcript
This is a machine-generated transcript. Text is unformatted and may contain errors.
Ladies and gentlemen. It's a pleasure for me to be here the Overseas Press Club because I get to get this all the time never you get an avril Harriman or if I can imagine myself in the same breath with that great American when it comes to the Overseas Press Club the government points out as I point out now that until you took over this building we weren't allowed in here. And I stammered threats of please that. I do now have this what was formerly the national Republican Club. I may regret however that you got me on this particular day as several of you in the room no hope back there has been trailing me around the only wretched freshness I get follows me from place to place. This is a bad day for me not because of the pressures that exist in the civil rights and human rights. Efforts here in the city of New York but taking on a very personal level as I just happened to be I had a series of X. rays this morning. Looking for whether I've got gall bladder. The doctor of course doesn't know me as well him other people and the real problem I've got is that I've got too much to do and it comes out in the middle of my stomach and he thinks maybe I am go over with that I got my fingers crossed. I did was telling both of these gentlemen on each side of me however and I always like to have a slice of this what we're going to get bricks thrown at you not by the press which has been very nice to us at the commission and nice to me in particular. Both radio T.V. and press so I'm very nice but when you get bricks thrown at you in a particular capacity it's much more helpful to have the brick it you in the face if people know that when you're bleeding you're not getting paid for it and I I was asked the question so I'll tell you too of course something that some of you know but from the surprise expressed up here that the members of the Commission on Human Rights the chairman and the fourteen members are all volunteers we don't get paid not even the proverbial dollar we don't even get expenses. And they sometimes can add up to I think that those of us who are members of the commission feel. Deeply and strongly about the problem that is Americans today and that's been America's for some time in the past and therefore are willing to give ourselves but as I think I've said before I think this voluntary effort no longer is really sufficient and speaking for myself this point is chairman of the commission the rest of the commission has not voted on this. And the mayor indicated yesterday we are in the process and throes of thinking about a reorganization of the commission a method that would put the people who are doing this kind of work on twenty four hour corps in the city. I am I'm just ordinary lawyer and I have to make a living and it's almost impossible to do under the present circumstances I used to estimate that I spent thirty percent of my time when things were not in crisis stage on commission business and it's now jumped up to eighty five when itis impossible to do this and I think most of the commissioners are in somewhat similar position though they don't spend as much time as I do was chairman so that in the next few days. We are actually coming out with a report which is going to recommend or present various alternatives various alternative methods of functioning for this type of agency and we will send this on to the mayor who will use write. You a message yesterday indicated that he was prepared to make whatever changes were appropriate for the functioning of the agency. And I told the Barracora in that some of the others I what I would like to do is run down some of the problems as I see them I'm talking to people who I consider to be professionals. I don't talk down to anybody ever and I certainly won't talk to you. And I will therefore try and run through this and at the highlights and hope that I can leave as much time as I possibly can for the kind of questions that I usually get from people in the press and I will be glad to answer any and every question that I'm able to handle. When I say able to not that I want to talk anything but when I say ABLE TO means if I have the capacity to answer it first of all I think very strongly that. America today is going through what I consider to be a social revolution I think that it is much to do a revolution in America as we have had as we've watched in Africa in the post world war two years of the analogy which can be made except for the fact that we have been for fortunate in America that forced is not the whole mark of this revolution there malady as to what happened in Kenya and what happened in some of the other African states which finally achieve freedom from colonialism and I think that the American Negro in particular is in the same identical way is in effect saying that he's throwing off the shackles of the past and even though we're not a colonial power he is seeking only one thing from our society he is seeking what every American citizen wants and gets the quality of opportunity. I think what the American Negro wants today is to be treated just like another American and if he wants this and he fights for it in the way that he is doing and it's not I was a kind hearted way his fight alone but that of all of us Negro and white I think that he's going to achieve it for the same change for the same winds for the same pressures that have freed the African continent and that in the same sense of raid many of the colonial. Countries in in Africa or in other parts of the world. And speaking as somebody who's been deeply involved in civil rights or civil liberties for some twenty odd years some of them very odd. I would say that. If you look back and think to yourself. Or ask every human being really to do this try and look at yourself in America look at America in America and think of what we think of a society this is supposed to be the most progressive society society in the world this is the society of the Bill of Rights this is a society of the Declaration of Independence that we say that our democracy is the purest that exists we say and I remember back in college and my government cautious this is the best experiment in government that mankind that man fallible man has ever created and here we are looking in this mirror. Here as he which I gave a couple of times before is remember that all picture Dorian Gray where the father spent twenty years by selling your soul to the devil or something and all of his sins didn't show up and he looked at himself in the mirror of those twenty years between thirty and fifty I guess it was and he was still young still thirty years old no creases in his face there on vibrant Well if we look in that mirror as Americans I think that we have to say to ourselves that suddenly like Dorian Gray the. The protections that have something ourselves of the devil have disappeared his case to disappear and we've got scars and lodges and. Discriminations and prejudices which is what I'm talking about on our face and all over our body that make us into an all gold man and I say that the reason why the American Negro is going to succeed in its battle for equality and equality of opportunity and their battle for equality and equality of opportunity is because in my judgment. They are in effect doing the job that we have to do for ourselves they're doing the job and that's the reason have so much support from the white community in America. They are doing the job that we must do in order to have ourselves live up to the image that we have of ourselves. Well. Let me try and shift this from that context down to New York I have always said that I believe that the problem of discrimination in American society and in New York City in particular is like the Great Pyramid. Down at the bottom of this period the vast larger area or the most important area the foundation of other discrimination is job discrimination economics dollars. If the negro can achieve job equality job opportunities job advancement then he will be able that much more readily to solve his problem as we move up that pyramid. And above that on the pyramid above job opportunity and I'll come back to these in particular I put housing discrimination here in New York we've got still best areas Jim Crow housing vast pockets where people live and it would appear are required to live socially not legally because of their color and. I say that they are part of the responsibility for the housing discrimination is due to the inability of the Negro to have the dollars in his hand to buy his way out of that Jim Crow area and we see this at the commission we have a law in New York the fair housing practices law says that it's illegal to discriminate in private housing as well as in government housing. We know of many apartments in the city of New York which pay over one hundred twenty five one hundred fifty dollars in areas when the city which over the last five years since this law came into effect have really changed their complection we are in a position to be able to put on a map the number of negroes who moved in to what were previously all white areas you'd see real progress in New York Nevertheless we know of apartments in those areas and I'm not talking to the areas where no negroes we have been able to break through. Where the negro we can't find a Negro family to go in there are enough negroes in the middle income or lower middle income to passerby who want to move. Who have the money to go there. So that's why I say this permit it goes up like a pyramid then above housing discrimination following like day follows night his school discrimination. Which is another way of saying that we've got areas in the city which have as of water that has told us with over eighty five percent of all over ninety percent of one ethnic group. And this of course follows like. Just automatically because of the housing pattern that exists and then above that at the tip top of this little permit that I've described I would say is public facilities public accommodations and here I think New York has an excellent record because I mean we don't have that in other public facilities other than the school situation which I was just some detail. That we don't have instances of discrimination but basically the public facilities in the city of New York are open to all that regard to racial color and the Negro community in New York has no need to be concerned about this I will say Kyra that if we hear that this is why I. Go I know that the city of New York officially I came from the. Mayor's issuance of the proclamation on jobs and freedom. At city hall at level thirty twelve o'clock by the city of New York officially supporting the March on Washington. And I have a claim the day officially March on March for Jobs and Freedom Day and. I'm going now some members of my commission I understand the mayor indicated that he is going to try to come down on that if not more on that August twenty eighth day. The even though we are going and they're going to be thousands of thousands of New Yorkers going I think that I can say that the federal bill will have almost no effect. In the city of New York we don't need this federal legislation and public accommodations are open to all in New York City I don't think that this is a problem which exists for a community like New York City and. The need is for what it will have the effect it will have on the south and perhaps some other areas in the north but not for York City Well let me go back to the bottom of this permit that I described before. I said at the bottom of it was dollars The bottom is it was economics bottom it was job opportunity and I feel very strongly that that the Negro community once in a Chivas this capacity to buy its way to some extent like all others you're going to have a lot more self help in outlawing some of the and eliminate some of the other discrimination. In New York City in particular right now. What we are wrestling with the commission and that's on the front pages of your newspapers today in these last several weeks is the problem of alleged discrimination in the construction trades. To my mind you've got a couple of sociological background factors involved here I think that we can all agree that. About thirty or forty years ago in our American society the unions as a group as an action group as a power group representing labor the employee organized and this group like it's big like sociologist which I'm not. Achieved by. It's action at the polls by citizens incidentally of almost a quarter nature what's going on today by strikes by picketing this group achieved less a position under the Wagner Labor Relations Act which I guess was one hundred thirty five an hour or so ago already act a few years before legislation around that time roughly thirty to forty years they achieved a position in our community where the society through its recognized legal entities passed legislation to protect the school. And collective bargaining was protecting the union in effect was given status public protection. Here we are in a situation today in an American society where in effect what the Negro community is asking as another group coming up is seeking its own position its own place in the sun and what we have happening all over the United States in the construction trades in the most flagrant is a conflict between these two organized groups one protected stablished set in its position and the other vibrant new opening up for the reasons I described before demanding it's position. And I think that what has happened today in New York and throughout the country is that these two groups are in conflict and they're fighting each other and when they need grow community says we want in on jobs in the construction trades the people who've been in before say oh wait you can't we don't want you stepping on our toes all the father son methods of bringing people into the various construction trade unions sponsorship requirements all these were methods by which these unions which used to the people in these trade used to suffer tremendously. Succeeded in limiting the membership of the union creating a union shop Ridgeley the closure outlawed now only the union shop but very effectively protecting their position a union with like we had testimony yesterday with a with thirty three hundred members no negroes and a man testified before the commission perfectly honestly I believe you will lead them saying we were discriminating you can sneak drugs which is protecting ourselves I missed all he said to me I was on the streets for four months I was affected from two houses Corsican time I rent and what he's saying is that they've succeeded in creating they go creating their craft protecting their position you just need more than thirty three hundred plumbers of the kind that he's got in his union in New York C