The Takeaway
Defeat at Standing Rock: An Ominous Sign for Modern Protest Movements?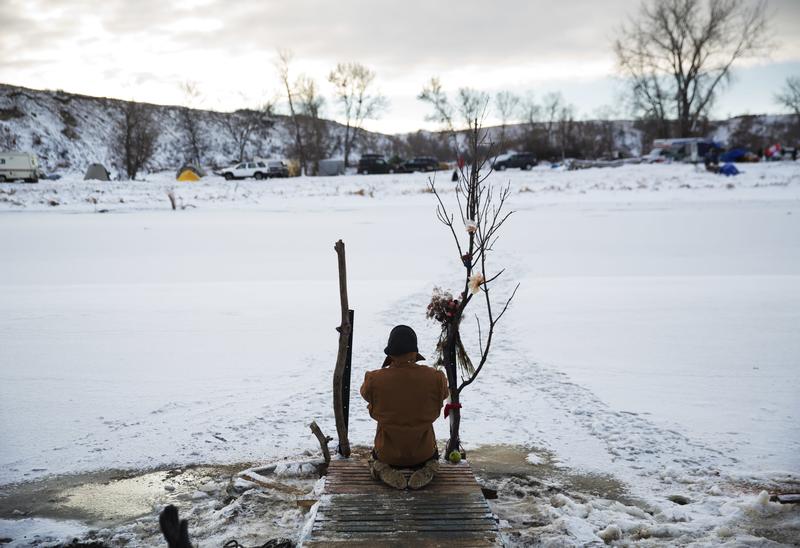 Click on the 'Listen' button above to hear this interview. 
The 2:00 PM evacuation deadline for the remaining protesters on federal land in Cannon Ball, North Dakota, came and went with little action yesterday — a slow fizzle to what could very well mark the unceremonious end to the months-long saga of the Dakota Access Pipeline protests.
At its height in early December, thousands of protesters from across the country gathered on the federally owned land, creating a makeshift society that successfully postponed and, for a time, stopped the construction of a pipeline through the reservation of the Standing Rock Sioux Tribe.
The Obama Administration denied the permits needed for the completion of the final stretch of the 1,172 mile pipeline, but that victory was short-lived and reversed by executive action in the first days of Donald Trump's presidency.
In late January, the Standing Rock Sioux Tribe asked protesters to leave the camp due to flooding concerns over the impending spring thaw. An estimated hundred or so protesters remained in the camp as of yesterday to stand their ground, as the government looks to clean the site up, and Dakota Access begins construction.
Jay Caspian Kang, a correspondent for Vice News Tonight and a writer-at-large for the New York Times Magazine, has visited the camp twice, at its height in early December and this past week. Kang argues that though there is a desire on the left for a broad-based protest movement, the failures of Standing Rock demonstrate that there's not yet sustained energy and clear goals.