After Stampede at Penn Station, Amtrak Police Point to Security Flaws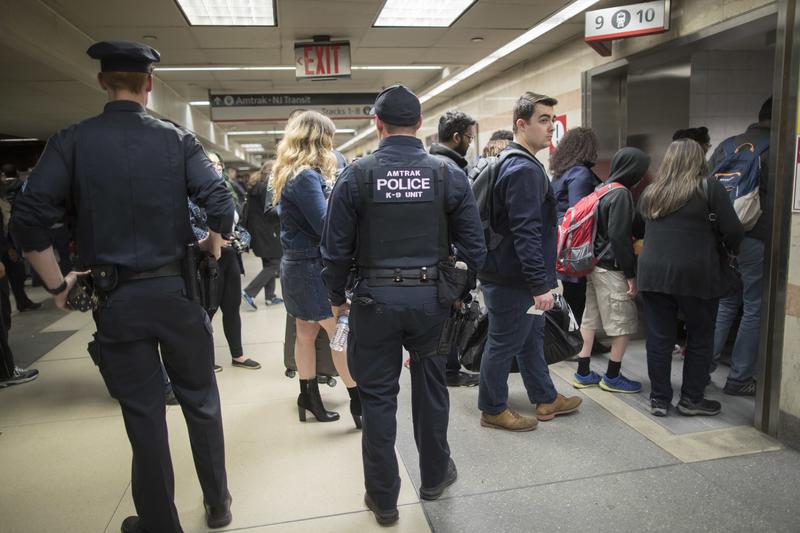 Editors Note: This story has been updated to reflect a statement issued by Amtrak on Friday, April 21, 2017, after the story first aired. 
Last Friday, a chaotic stampede of passengers stormed through Penn Station in the mistaken belief that shots were fired. While Amtrak police did fire a stun gun to subdue a man, the incident highlighted Amtrak's difficulties in securing Penn Station.
On any given day, the police union says, there are five Amtrak officers per shift to patrol all of Penn Station — the busiest commuter hub in the country, with 650,000 commuters a day. That's more than LaGuardia, JFK and Newark airports combined.
"Due to budgetary cuts, both at Amtrak and Congress, this is the staffing we've been allowed," said David Pearlson, president of the Amtrak Police Labor Committee, who represents 500 officers nationwide. "[It] leaves us in a tough position to make sure all the passengers in Penn Station receive adequate protection. We struggle with that, with five people."
While there are also National Guard and NYPD officers present at Penn Station, all agencies defer to Amtrak to take the lead in an emergency situation.
The MTA has police in charge of the subways at Penn, and the Long Island Railroad have their own police responsible for LIRR tracks and waiting areas. But that still leaves many waiting areas and concourses on three levels of the subterranean transit hub. 
If there was a major event, like a terrorist attack, Pearlson said his officers would have a difficult time coordinating the activities of multiple agencies, which would include MTA Police, NYPD, the fire department, state troopers, the National Guard and the Office of Emergency Management. The difficulties, he said, would start with communication. 
Last summer, Sen. Chuck Schumer discovered Amtrak Police didn't have access to emergency responder radio frequencies — a frightening echo of 9/11, when first-responders had difficulty communicating with each other. Schumer got the FCC to grant Amtrak Police access — but Amtrak never followed through in providing officers with the type of radios that could use this radio network. Pearlson said in an emergency, they still rely on cell phones or landlines.
"Direct radio communication can be challenging sometimes," said Pearlson.
Since this story first aired, Amtrak responded with a statement saying that the MTA police department and Amtrak police department "do have radio inter-operability. [Amtrak police department] supervisors carry a special radio that has inter-operability with MTAPD, NYPD, NJT and others." The statement also reiterated that Penn Station Command Post has "inter-agency radios that can be used during emergencies."
Philip Anderson, a professor at Northeastern University whose research helped shape the Department of Homeland Security, said he's surprised about the state of Amtrak police radios.
"If you have to revert to a landline to engage other law enforcement agencies in the face of a disruptive event in Penn Station, you got a problem," he said. "Landline may or may not work depending on the nature of the disruptive event."
An Amtrak spokesman declined to comment on the use of landlines or cellphones during a potential emergency situation.
Another weakness, Pearlson pointed out, is security cameras.  About seven years ago, Amtrak police were told there would be a modern system installed that could feed live video to an emergency dispatcher, but that hasn't happened.
"There are cameras in place and they are recorded and monitored, but the Amtrak police don't have primary access to them," he said.
Amtrak Police actually split resources with Amtrak's Emergency Management and Corporate Security department, which was created in 2012 after a damning report from the Department of Homeland Security found Amtrak had critical vulnerabilities at four unnamed facilities.
While this agency is in charge of coordinating training and terrorism drills, Pearlson said officers at Penn Station haven't participated in a full scale joint terrorism drill with other city agencies in 10 years. However, Amtrak says in a statement released Friday, "There have been multiple, joint training exercises that have taken place with our partner railroad agencies, law enforcement and first responders including some already scheduled for this year. There is an upcoming tunnel exercise scheduled for May 10, 2017 which will include participation from NJT, LIRR and the North Hudson Regional Fire Team."
In a statement to WNYC when first asked for a response, Amtrak said its police work closely with all law enforcement partners. "In addition, the APD [Amtrak Police Department], NYPD and the TSA helped create Operation RAILSAFE, an effort which combines strategic, orchestrated surge deployments with training and exercises for state and local agencies and brings situational awareness for protecting surface transportation rail facilities and stations."
Pearlson said Operation RAILSAFE doesn't cover the kind of coordinated response they should have had at Penn Station last Friday.
After the incident, Gov. Cuomo called for better training for first responders at Penn, similar to the training at JFK Airport after a similar shooting scare there last summer. His office said Amtrak Police, MTA, State Police and the National Guard met this week to discuss how to improve security at Penn Station going forward.