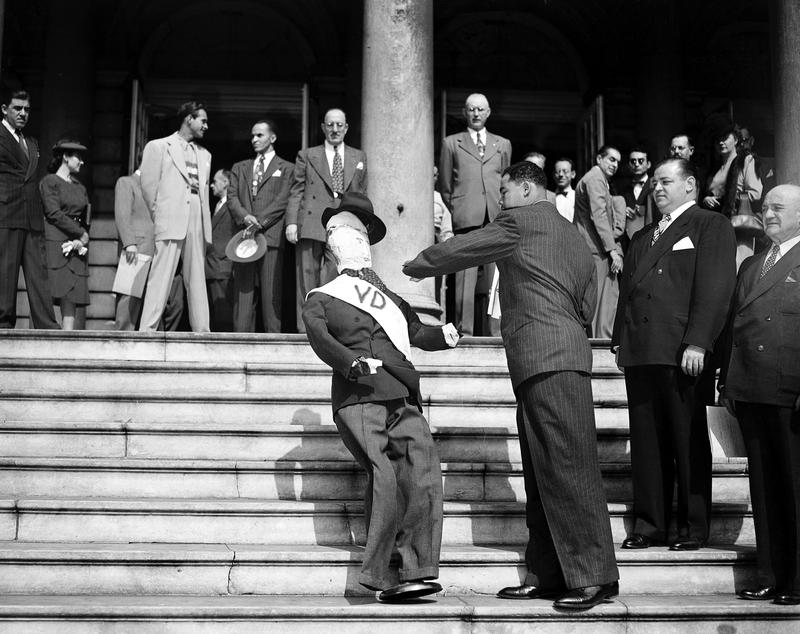 This episode is from the WNYC archives. It may contain language which is no longer politically or socially appropriate.
Proclamation by Deputy Mayor Corcoran. Rally with the boxer Joe Louis- heavy weight champion of the US. "Mr. Clean Living". Short clip. He obviously does some punches but you can't see them. VD on the rise . Outro announcer is good.



[From nytimes.com:]
ANTI-VD CAMPAIGN PROCLAIMED HERE; Corcoran Cites an 'Alarming' Rise Since War--Calls for Full Support of Drive Methods Are Reorganized Standardized Tests in View


October 8, 1946, Tuesday

Page 21, 701 words

In a ceremony yesterday on the steps of City Hall, the coming four weeks were set aside for a concerted fight against venereal disease. Deputy Mayor Thomas L.J. Corcoran, speaking for Mayor O'Dwyer, proclaimed the period "Stamp Out VD Month."
Audio courtesy of the NYC Municipal Archives WNYC Collection
WNYC archives id: 8282
Municipal archives id: LT219