Soundcheck
Speedy Ortiz: Empowering Lyrics, Barreling Energy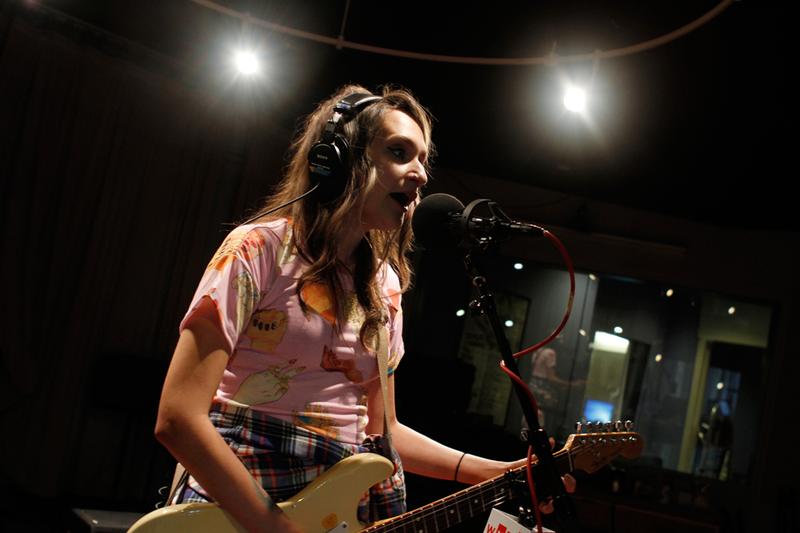 In an already phenomenal year for songwriters, Speedy Ortiz's Sadie Dupuis sits in good company as one of rock's most compelling young voices and lyricists. With the Massachusetts' band's latest album, the excellent and explosive Foil Deer, Dupuis showcases that sharp and skillful wordplay with songs that feel like a tug of war between diaristic accounts and cryptic misdirection.  
The deeper you dig, the more she reveals personal scars and pain that cuts deep. "I was the best at being second place, but now I'm just the runner-up at being the second one you think of every day before you go back to one," she cleverly unwinds in "The Graduates," a song that tackles an undefined relationship. Practically every song on Foil Deer is united by similar recurring threads: anxiety, rejection and fuming over friendships turned sour. Still, there's a sense that Dupuis exacts her revenge simply by moving forward and taking control over her life. That's especially true in "Raising The Skate," a blistering kiss-off which finds her unwilling to keep letting toxic people underestimate her. With its satisfying refrain ("I'm not bossy, I'm the boss... caller of the shots"), the song asserts itself as a feminist call to arms.
But what makes Foil Deer truly crackle is the way Dupuis' words interlock with the band's barreling energy and turn-on-a-dime arrangements. While Speedy Ortiz's wiry guitar lines and knotty melodies are taut enough to get stuck in your ear, Dupuis and her bandmates (guitarist Devin McKnight, bassist Darl Ferm, drummer Mike Falcone) are masterful at building tension that can erupt into noise at any moment. It's a winning combination that's allowed Speedy Ortiz to quickly assert itself as a powerhouse.
Set List:
"The Graduates"

"My Dead Girl"