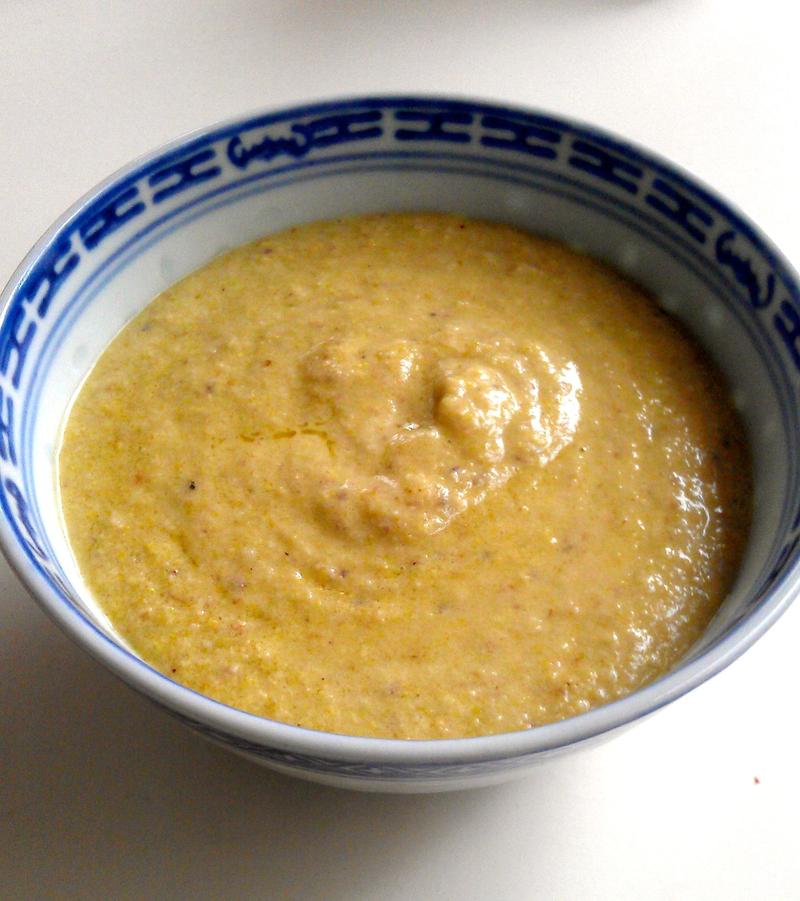 After scouring the country for the heartiest meals served in a bowl, The Takeaway has finally selected a winner of our Soup or Bowl half time recipe contest.
There were so many submissions, and we are grateful for your participation. Our judge Dan Pashman, founder and host of The Sporkful Podcast, selected a recipe for roasted pistachio soup from our listener Jay in Troy, Utah.
Below you'll find Jay's winning recipe.
Contest Winner: Roasted Pistachio Soup
Ingredients
2 large granny smith apples, peeled, cored, and rough diced
1 small white onion, rough diced
1 cup toasted, shelled, unsalted pistachios
3 cups heavy cream
1 cup milk
Salt
Black pepper
3 tablespoons unsalted butter
Lemon juice
Preparation
Sweat apples and onions down in the butter (do not allow to brown). Then add pistachios and cream and bring to a simmer, and cover with saran wrap and let steep for about 30 minutes off the heat. After steeping, puree the mixture in a blender on the highest setting and run the mixture through fine cheesecloth or preferably a chinois (a fine metal mesh sieve we use in the kitchen). Then adjust the thickness by adding the milk if needed and seasoning to taste with the salt and pepper and lemon juice to brighten. I like to serve this with a little chèvre goat cheese and a splash of olive oil.
Finalists:
Sweet Potato and Eggplant Curry
Recipe by Joanna from Pulaski, TN
Ingredients:
1 can coconut milk - not shaken
1 cup (2" dice) diced onion
3 cups (2" dice) eggplant - Japanese preferred, but Italian is OK
2 cloves of garlic, finely diced
2 cups (2" dice) sweet potato
1 can of chicken stock
2 tablespoons brown sugar
2 tablespoons fish sauce
1 tablespoon green curry paste
1 tablespoon chili garlic sauce (more to taste)
2-3 cups cooked rice (brown or jasmine)
2 tablespoons minced basil - Thai preferred, but regular is OK
Preparation:
Open the coconut milk can with a rotary can opener, without shaking the can.
Scoop out 2 tablespoons of the hardened fat from the coconut milk.
Melt it in a large skillet and saute the onion until translucent.
Stir in the diced eggplant, cook until it darkens and becomes tender.
Then add the garlic, stirring for one minute.
Add all the remaining ingredients except the basil and the rice, and stir well.
Cover and cook until the sweet potato is tender, about 10 mins.
Mix in cooked rice, and then just before serving, stir in some of the fresh basil.
Soup Joumou (Pumpkin Soup)
Recipe by Elle from New York, NY
Ingredients:
2 cloves garlic
2 scallions, sliced, plus more for garnish
1/4 cup roughly chopped parsley
1/2 teaspoon dried thyme
1 medium shallot, sliced
1 scotch bonnet chile, stemmed and seeded
Juice of 1 lime, plus wedges for serving
Kosher salt and freshly ground black pepper, to taste
1 pound beef chuck, cut into 1/2" pieces
2 tablespoons olive oil
8 cups beef stock
2 carrots, cut into 1 1/2" pieces
2 stalks celery, cut into 1 1/2" pieces
1 small leek, trimmed, halved lengthwise and cut into 1 1/2" pieces; rinsed
1 small yellow onion, cut into 1 1/2" pieces
1 large Yukon gold potato, peeled and cut into 1 1/2" pieces
1 medium turnip, peeled and cut into 1 1/2" pieces
1/2 small green cabbage, cored and cut into 1 1/2" pieces
1/2 small kabocha squash, cut into 1" pieces
(Note: Butternut squash (even frozen) can be used if kabocha (found in many Asian neighborhoods) is not available. A hearty vegetable base can be used instead of the beef stock for a vegetarian variety. In some traditions, a pasta -- spaghetti or penne -- can be added toward the end for a heavier soup.)
Preparation:
Puree garlic, scallions, parsley, thyme, shallots, chile, juice, salt and pepper, and ½ cup water in a blender until smooth; mix with beef in a bowl, cover with plastic wrap, and refrigerate at least 4 hours or overnight.
Remove beef from marinade and dry with paper towels; set aside. 
Heat oil in a 8-qt. saucepan over medium-high heat. Add beef; cook, turning as needed, until browned, about 8 minutes. 
Add stock and and bring to a boil; reduce heat to medium, and cook, stirring occasionally, until beef is tender, about 1½ hours. 
Add carrots, celery, leeks, onion, potatoes, turnips, and cabbage; cook, slightly covered and stirring occasionally, until vegetables are tender, about 20 minutes.
Meanwhile, bring squash and 2 cups water to a boil in a 2-qt. saucepan over high heat; reduce heat to medium-low and cook, covered, until squash is tender, about 10 minutes. 
Drain, reserving ½ cup cooking liquid and transfer squash and liquid to a blender; puree until smooth and set aside. 
When vegetables are tender, uncover, and stir in reserved squash puree; cook, stirring occasionally, until soup is slightly thick, 5–10 minutes more; season with salt and pepper and serve with scallions and lime wedges.
Mary's Fantastic Chili
Recipe by Mary from Hopkins, MN
Ingredients:
1 pound ground beef
1 pound ground pork (chili grind)
1/2 pound bacon
1 chopped onion
3 cloves garlic, minced
1 Anaheim chili pepper
1 - 15 oz. can chili beans - not kidney beans
1 - 15 oz. can fire roasted chopped tomatoes
1 pint tomato sauce
3 Roma tomatoes, chopped
1/2 bag frozen baby corn kernels (a blend of white and yellow)
1 tablespoon Ghirardelli Bittersweet Chocolate- 60% cocoa, grated
3 tablespoons chili powder
1 tablespoon hot chili powder
2 tablespoons dried oregano
1/2 - 1 tablespoon liquid smoke
1/2 can beer
Salt and pepper to taste
Preparation:
Brown together first 5 ingredients.
Add garlic and Anaheim Chili and cook 3 minutes, stirring.
Add the rest of the ingredients and stir to combine. Taste and adjust seasoning. 
Let simmer 1 1/2 to 3 hours. Leave the lid off for the first 1/2 hour to 45 minutes, then cover and simmer on low.
Serve with toppings: sour cream, grated cheese, soda crackers.
Honorable Mentions:
While we could only choose three finalists, the recipes below still left a mark on our taste buds. Here are our choices for honorable mention in this year's Soup or Bowl contest.
Hot Dogs, Baked Beans, and Buttered Noodle
Recipe by Jim from Malvern, PA
Ingredients:
Hot dogs
1 can of canned baked beans 
1 package of egg noodles
1/4 stick of butter
(Get enough to fill a 2-quart bowl.)
Preparation:
Heat up the beans in a small pot.
Drop the noodles in boiling water and cook according to the package recipe. 
While that's happening, nuke a couple of hot dogs and drop them into the bean pot. 
Drain the cooked noodles, drop into the bowl and mix with butter. 
Plop the beans and dogs on top. And eat.
TITAN-ic Beef Stew (as in the Tennessee TITANS)
Recipe by Ira from Memphis, TN
Ingredients:
2 teaspoons olive oil
12 garlic cloves, crushed
2 pounds boneless chuck roast, trimmed and cut into 2-inch cubes
A few pieces of pastrami chopped.
1 1/2 teaspoons salt
1/2 teaspoon freshly ground black pepper
1/2 teaspoon chili powder
1/2 teaspoon paprika
1 cup red wine - merlot or cabernet sauvignon
1 1/2 cups chopped carrot
1 1/2 cups chopped onion
A handful of pearl or cipollini onions
1/2 - 1 cup dark beer
1 tablespoon tomato paste
1 teaspoon chopped fresh rosemary
1 teaspoon chopped fresh thyme
1 - 14.5 oz. can tomato puree or sauce
1 bay leaf
1 package egg noodles
(If you like it spicy, add 1-2 teaspoons of hot sauce or crushed red pepper before turning on slow cooker.)
Preparation:
Take cubed chuck and sprinkle each with salt and pepper.
Heat oil in a pan, and brown the meat, when the meat is almost brown, add chopped pastrami. 
Once brown, strain meat, and deglaze pan with a couple of tablespoons of the red wine. While pan is deglazing, add tomato paste, when the paste is dissolved remove from heat.
Layer the carrots and meat alternatively in slow cooker. Add fresh herbs and spices, and the crushed garlic. Slowly add the beer, wine and tomato puree/sauce. Make sure meat is mostly covered, if not add more beer.
Turn slow cooker on high for one hour, then down to low for 6-8 hours.
Let it cook overnight and then refrigerate. Then reheat before serving for best results.
Serve over cooked egg noodles.
Smoked Salmon Chowder
Recipe by Taffy from Seattle, WA
Ingredients:
3 tablespoons olive oil
1/3 cup chopped onion
1/2 cup chopped celery
1/4 cup diced green pepper
2 cups diced carrots
2 minced cloves garlic
1 cup chicken broth
2-3 cup diced potatoes
2 teaspoons salt
1 teaspoon pepper
3 tablespoons flour
1/4 cup hot water
1/2 cup heavy whipping cream
2 cups smoked salmon chunks (bones removed)
Preparation:
In large stockpot, saute onion, celery, green pepper, carrots, and garlic in olive oil.
Add broth, potatoes, salt and pepper. Bring to boil. Lower heat to med-low. Simmer 20-30 min or until potatoes are cooked through.
Whisk together the flour and hot water until creamy, then add to to pot.
Add whipping cream and smoked salmon to pot. Bring to boil, remove from heat.
Serve with any bread except sourdough. Serves 6-8.
Galician Garbanzo Soup
Brenda from West Hills, CA
Ingredients:
3 - 15-oz. cans of chickpeas
4 1/2 cups water
2 tablespoon olive oil, plus more for drizzling
1/2 heaping cup chopped onion
1 garlic clove, minced and divided
1 potato, diced (about 1 1/2 cups)
2 medium carrots, diced
2 stalks small bok choy, chopped and diced
1 1/2 teaspoons kosher salt
1 bay leaf
1 teaspoon dry mustard
2 teaspoon ground cumin
1/4 teaspoon saffron
2 teaspoon dried basil
1/4 teaspoon freshly-cracked black pepper
1/8 teaspoon cayenne
1/2 cup peas - fresh or frozen
3 tablespoons red wine vinegar
1 medium-size tomato - peeled, seeded and minced
Preparation:
Drain and rinse the canned chickpeas. Blend 2/3 with 2 cup water.
Heat olive oil. Stir in onion, garlic, potato, carrots, bok choy and salt and cook over medium heat for 10 minutes.
Add chickpeas, remaining water, seasonings and ingredients, except wine vinegar, tomato, and peas.
Cover, boil, then lower to simmer for 30 minutes, stirring when needed.
Lastly, add peas, vinegar, and tomato for an additional 5 minutes of simmering.
Turn Up the Heat Spicy Chocolate Cobbler
Recipe by Libby from Portland, OR
Ingredients:
1 cup all-purpose flour
2 teaspoons baking powder
1/4 teaspoon salt
7 Tablespoons cocoa powder, divided
1 teaspoon cinnamon
1/4 teaspoon cayenne pepper (less or more depending on your taste)
1 1/4 cups sugar, divided
1/2 cup milk
1/3 cup melted butter
1 1/2 teaspoons vanilla extract
1/2 cup light brown sugar, packed
1 1/2 cups hot tap water
Preparation:
Get your oven going at 350 degrees.
Stir together the flour, baking powder, salt, 3 tablespoons of the cocoa, cinnamon, cayenne pepper and 3/4 cup of the white sugar. Hold on to the rest of the cocoa powder and sugar, we will get to that shortly.
Stir together the milk, melted butter, and vanilla, then add it to the flour mixture. Stir it all together until somewhat smooth.
Pour the mixture into an ungreased 8-inch baking dish.
In another small bowl, mix the remaining white sugar (it should be 1/2 cup), the brown sugar, and remaining 4 tablespoons of cocoa. Then sprinkle that over the top of the batter.
Pour the hot tap water over the whole thing, but don't stir it.
Bake for about 40 minutes.