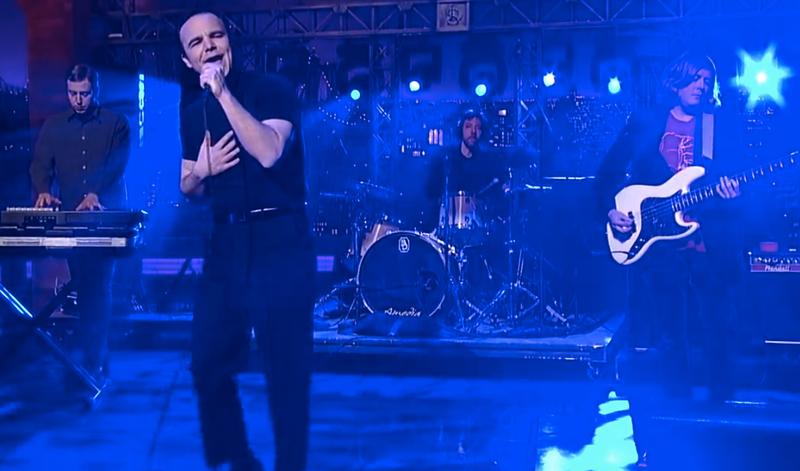 On Wednesday night, David Letterman will host his last episode of The Late Show, after an impressive and often bonkers 33 years in late night television. Letterman's influence in comedy is undeniable and far-reaching, but his show also earned a reputation for its attention to music. With that in mind, now's as good a time as any to revisit Soundcheck's favorite musical moments from his Late Show run.
---
Back in March 2014, Baltimore synth pop band Future Islands played its new single, "Seasons (Waiting On You)" on the Late Show with David Letterman. For most bands, a Letterman spot is a routine part of the promotion cycle. But thanks to the melodramatic singing and jaw-droppingly great, GIF-ready dance moves of Future Islands' kinetic frontman Samuel T. Herring, everyone -- including Letterman -- was blown away.
The next day, the clip went completely viral. 
For fans, it felt like a well-deserved triumph for a hard-working band finally getting noticed in a big way. But it also felt like a resurgent moment of edge and relevance for Letterman and his show, especially in this overstuffed and highly competitive environment where most (younger) eyes are trained elsewhere on the dial (er, Hulu). And while Future Islands is just the most recent act to ricochet to a new level after playing the talk-show circuit, let's be honest: this joyfully meme-able video is the most I've heard anyone in my circles drop reference to Letterman in some time.
Which makes it particularly ironic that just as the Late Show's most talked-about moment in years seemed to infuse new life in the show, Letterman announced his impending retirement. On Thursday, during an especially earnest moment of the show's taping, Letterman said he will be stepping down in 2015 -- 22 years after his Late Show premiere in 1993, and 33 years after he first became host of Late Night on NBC.  
While not wholly unexpected, the announcement has many of us at Soundcheck a tad wistful for his acerbic and oddball "anti-talk-show host"-style comedy, all those bizarro characters, and especially our favorite musical acts that graced the Ed Sullivan Theater stage. So, without further ado, from the home office in Sioux City, Iowa, here's tonight's Top Ten list of our favorite musical moments from Letterman's Late Show run.
---
Green Day, "Basket Case" (June 29, 1994)
Long long ago (the mid '90s, let's say) I grew up in a "Dave" household, where I was allowed to stay up late with my parents so we could watch Letterman's absurdist and acidic antics before bed. And sometimes there was a musical guest so enticing to my sullen, early teen self that I'd stay up a little later: There was Weezer doing "Say It Ain't So," Bjork doing "Hyperballad," and R.E.M. doing "What's The Frequency Kenneth?" with Dan Rather?!? And then there was Green Day's snotty rendition of "Basket Case," the trio's pop punk anthem about boredom and anxiety. At that age, you spend so much time marking the line in the sand between stuff your parents liked and stuff you like. So here were "my bands," playing on big time TV, and I probably saw them for the first time sitting on the couch next to my folks. (Michael Katzif)
---
Wilco, "Outtasite (Outta Mind)" (April 23, 1997)
Freshman year, high school. All I remember about seeing this performance was: 1) Oh dear, I've had too much evening coffee; and 2) I have no idea how these guys look this goofy and sound this good. (Dan O'Donnell)
---
Joe Strummer & The Mescaleros, "Johnny Appleseed" (Oct. 3, 2001)
Freshman year, college. I came to The Clash backwards, via Joe Strummer. Go ahead and judge; I turned out okay. Anyhow, I always thought this was a fantastic, magnetic performance. Possible I drank something besides coffee that evening. (Dan O'Donnell)
---
Warren Zevon, "Roland The Headless Thompson Gunner" (Oct. 30, 2002)
That Warren Zevon appearance -- so incredibly moving, and Dave clearly was broken up by the fact that his friend was dying. It was a beautiful send off that had me in tears by the end of the show. (Irene Trudel)
---
Elvis Costello, "(What's So Funny 'Bout) Peace, Love, and Understanding" (March 12, 2003)
When Letterman took some time off to recover from shingles in 2003, Elvis Costello was one of many to jump into the host chair. His monologue included a song about his longtime ambition to host the show set to the tune of his song "Alison," and his musical guest, of course, was himself. After a lengthy and rather self-congratulatory introduction, Costello jumped on stage and played his famous cover of the Nick Lowe song "(What's So Funny 'Bout) Peace, Love, and Understanding." (Katie Bishop)
---
Beastie Boys, "Ch-Check It Out" (June 14, 2004)
Might not be the best performance the Letterman studio has ever seen, but it certainly is one of the most memorable. Because: the Letterman studio didn't even see the first part of it. In a nod to Letterman's penchant, in his early years especially, of doing goofy stuff outside the building, the Beastie Boys began this live version of "Ch-Check It Out" on the street and down the block outside. (John Schaefer)
---
TV On The Radio, "Wolf Like Me" (Sept. 12, 2006)
I moved to Brooklyn in 2001, but returned briefly to Minneapolis in 2006 to work for Al Franken's radio show. (Note to Schaefer: I turn hosts into U.S. Senators.) I probably started thinking seriously about moving back to Brooklyn when TVOTR tore it up on Letterman. Even Dave himself asks the band, "How are things in Brooklyn?" Several months later, while scouting apartments for that move, I passed Kyp Malone on Bedford Avenue. It was a sign. (Joel Meyer) 
---
An Horse, "Camp Out" (March 12, 2009)
I really liked this Australian duo's debut album, but it was still a surprise to tune in to Letterman and see them on his show, because they were (and still are) largely unknown here in the States. It was their TV debut, and they pulled it off with complete aplomb. (This was a family friendly version of their song "Camp Out" -- the line "I wanna f--- around" becomes "I wanna screw around.") An Horse, being Australian, does everything in reverse of the way we do things in the Northern Hemisphere, so think of them as the reverse White Stripes: the elfin female musician is the lead singer and guitarist, and the guy is consigned to drumming and doing backing vocals. Anyway, this is where the late night TV shows are at their best: exposing worthy but under-exposed bands to a vastly bigger audience. (John Schaefer)
---
Renee Fleming's Operatic Top Ten List, (Sept. 25 2013)
Soprano Renee Fleming stopped by to lend her voice to Letterman's "Top 10 Opera Lyrics." "Did you know you sound like that?" Letterman asked Fleming. "That's unbelievable! Look into some jobs." Memorable lyrics included "Pope Francis says he's okay-o with people who are gay-o" (set to Puccini's "O mio babbino caro") and "What's this berserk thing Miley Cyrus calls twerking?" (set to the tune of "Vesti la giubba" from Leoncavallo's "Pagliacci.") (Katie Bishop) 
---
Future Islands, "Seasons (Waiting On You)" (March 3, 2014)
This video went viral a month ago. I just saw it for the first time this week and I haven't been able to stop thinking about it since. To quote Pitchfork writer Jeremy D. Larson's sparkling, funny analysis of singer/dancer/khaki pants model Samuel T. Herring: "He had that kind of uninhibited spirit the internet loves to protect and preserve." The dude just owns it. Be sure to watch all the way to the end, including Letterman's usual weird round of congratulations. (Joel Meyer)