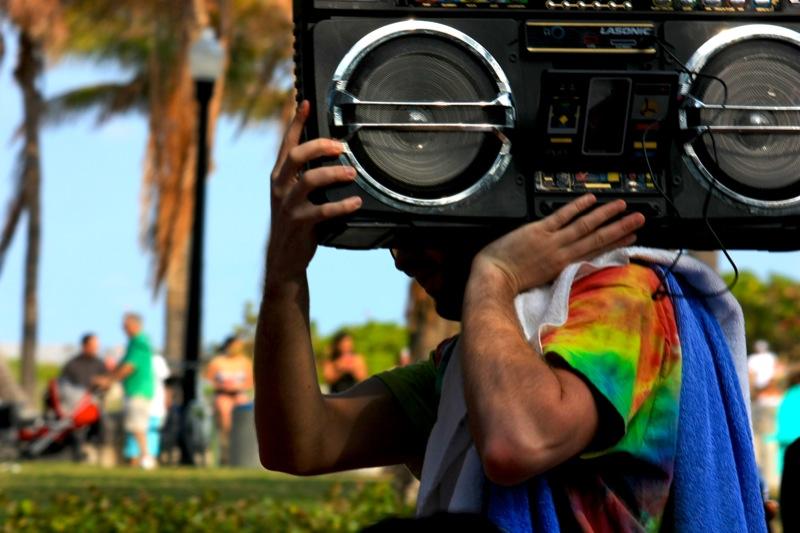 Despite the rumors that the weather is going to be ridiculously awful this summer (who started those rumors anyway?), we here at Soundcheck are pretty sure that it's going to be the best summer ever. Our team has compiled 14 ideas to jumpstart your summer '14 to-do list -- concerts to attend, movies to watch, books to read and albums to hear. Make this summer one that you'll remember and look back on fondly -- particularly when you're dealing with this BS again in a few months. 
--
1) Don't pay to see music.
New York is overflowing with free concerts in the summertime -- particularly of the outdoor variety. You're not a real New Yorker unless you fully take advantage of summer concert series like Summerstage, Celebrate Brooklyn and the Northside Festival. Feel slightly less gross about spending your hard-earned cash on overpriced iced coffees and lobster rolls by taking in free shows from big-time acts like Beck, Conor Oberst, CHVRCHES, Janelle Monae, The National, Sharon Jones and the Dap Kings, Blood Orange, and Kings of Leon. (Check out Oh My Rockness's excellent free NYC concert compilation here.)
2) Pay a lot of money to see music.
Not everything in life can be free, people, especially when it comes to the major summer music festivals. Locally, there's Governor's Ball, and big weekend destination festivals all over. But if you're going to drop some big money on one, host John Schaefer recommends going all in with the Pitchfork Music Festival, which takes place July 18 - 20 in Chicago. 
"It seems many of the big summer festivals are simply swapping artists, but this lineup pops out at me," says Schaefer. "Giorgio Moroder is performing! Plus Neutral Milk Hotel -- who are playing elsewhere, but c'mon, this is the definitive indie rock band and therefore the definitive Pitchfork band." Other bands on the lineup include Grimes, Deafheaven and the elusive Englishman known as The Haxan Cloak. Three-day passes are sold out, but daily tickets are still available.
3) Conquer an epic beach read: a 944-page biography of The Beatles.
Mark Lewisohn's massive recently released tome Tune In: The Beatles: All These Years is nearly a thousand pages long, and it's only the first volume of a planned trilogy. It stops after "Love Me Do!" But if you've ever loved the Beatles -- or played in a band as a teenager or bet all your career chips on music -- this is a must-read. Our advice: Skip the chiropractor. Buy the eReader version.
4) Celebrate the World Cup, and go Brazilian.
You don't have to wear a tiny swimsuit in order to show solidarity with the Brazilians in this World Cup year. Take a samba class, watch capoeira in the park, or do as John Schaefer does and delight in the fluid musical dance that is called futbol. If you're in New York City, head over to Nublu every Wednesday night for Brasil Party! and get a heavy dose of forro to help you sweat your way to the other side of hump-day.
5) Get thee to an air conditioned movie theater!
There are plenty of films hitting theaters this summer that at least have potential for music fans. The ones that we think look the most promising: Get On Up, the James Brown biopic starring up and comer Chadwick Boseman as JB himself; Frank, the Michael Fassbender-directed film about an art rocker who wears a papier-mache head 24/7 (also starring Maggie Gyllenhaal as a theraminist); and We Are the Best!, a Swedish film about a punk band made up of determined young women. You can also expect good scores from Godzilla (by Alexandre Desplat) and Woody Allen's 1920s-era Magic in the Moonlight.
6) Combine two things that are very dangerous when mixed: Drinking and guitar shopping.
Like many businesses along Cortelyou Road in Ditmas Park, Brooklyn, Bar Chord is a twofer. Sure, it's a bar that serves up good craft beers and spirits. But it's also the home of Underdog Guitars, which specializes in vintage instruments. An etiquette question: Do you still tip a buck on a Kent Mid-60s MIJ hollowbody?
7) Get your dance on with the one and only Robyn.
Robyn's 2010 album Body Talk is still fueling many a dance party, but her upcoming five song "mini-album" (her words, not ours) with Norwegian electronic duo Röyksopp promises to freshen up the mix. She's already released two songs from the record, called Do It Again -- the title track and another one called "SayIt." Even if you didn't score tickets to Robyn and Röyksopp's Pier 97 concert on August 20, it's okay. You can always dance on your own.
8) Throw a 100th birthday bash -- cake and party hats optional.
Take an hour to celebrate the 100th birthday of Dylan Thomas. (He was born in October, but why wait?) As Bob Dylan's namesake, idol to John Lennon, and New York literary icon, Thomas is required reading for any music fan, but listening to the poet opens up an entire new understanding. He's the original indie wordsmith, and you'll hear the musicality in his language, the originality of his observations, and, of course, his outrageous sense of humor. For reasons that should be fairly clear, we're partial to the 2012 compilation Poems On The Radio.
9) Read about people who are crazier (and richer) than you.
Do Not Sell At Any Price: The Wild, Obsessive Hunt For The World's Rarest 78rpm Records (out July 8) is a story about the somewhat crazy community of enthusiasts hunting for the original pop music record format. A recent auction for one such disc raked in more than $37,000. Read this book and you might understand why -- and you'll probably pay a little more attention to grandpa's records sitting in the attic.
10) Let John Schaefer recommend an obscure new album for you, that you'll probably really like. 
Here goes: it's Yann Tiersen's Infinity. The album title is actually the symbol for infinity (the 8 on its side). Tiersen is best known for the use of his moody, evocative songs in the film Amelie. Here, he creates huge, orchestral sweeps of sound -- electronics, toys, and everything in between -- with lyrics spoken and sung in Breton, Faroese, Icelandic, and English. He's coming through the U.S. on a summer tour.
11) Travel back in time 30 years, see Talking Heads in concert, and then ask questions.
30 years ago marks the release of the Jonathan Demme-directed concert film Stop Making Sense -- a chronicling of the band Talking Heads performing over a series of three pretty incredible days. To celebrate the anniversary, the film is being released digitally, and will be screened at BAM as part of RadioLoveFest (speaking of that, Soundcheck will be at RadioLoveFest too!). Watch David Byrne and the band at their creative peak -- and stick around for a Q&A with Demme, hosted by WNYC's very own Brian Lehrer.
12) Go laugh.
One of the best things New York City has over almost anywhere else in the country (well, maybe L.A. or Chicago, too), is live comedy. In addition to nightly stand-up sets at Carolines and Comedy Cellar and sketch at UCB Theatre, check out acts like the autotune-happy Gregory Brothers (playing at Mercury Lounge on May 28) and rapper Jean Grae, who's venturing deeper and deeper into the comedy world (appearing at Union Hall on May 23). Also continuing throughout the summer -- Wyatt Cenac's Monday night show at Littlefield and Hannibal Burress' Comedy Night at Knitting Factory. 
13) Stuff your face to the beat.
What's a food festival without music to rhythmically chew along to? This summer, there are not one but two NYC music and food festivals centered around delicious slow-roasted meats (sorry, vegetarians, maybe next year). In early June, stop by the Big Apple Barbecue Block Party, featuring pitmasters from around the country and the savory sounds of bluegrass and folk -- including singer-songwriter JD McPherson. In July, the Jamaican Jerk Festival takes over Roy Wilkins Park in Queens, and will feature Jamaican singer Etana and British reggae artist Maxi Priest. 
14) It's hot. Let's just stay in and watch something on Netflix.
You work hard, commuting is a pain, the trains are all messed up on the weekend, and it's so damn hot and sticky outside. Sometimes it's okay to just punt on the evening, turn up the AC, crack open that bottle of wine calling your name, and treat yourself to something streaming on Netflix. Looking for some good music options? Try The Punk Singer, an amazing look at Kathleen Hanna, the ferocious and inspirational frontwoman of Bikini Kill and Le Tigre. After that, maybe you'll be inspired to get off the couch and go start your own punk band.