Soundcheck
Mexrrissey: Mexico Loves Morrissey, Live At RadioLoveFest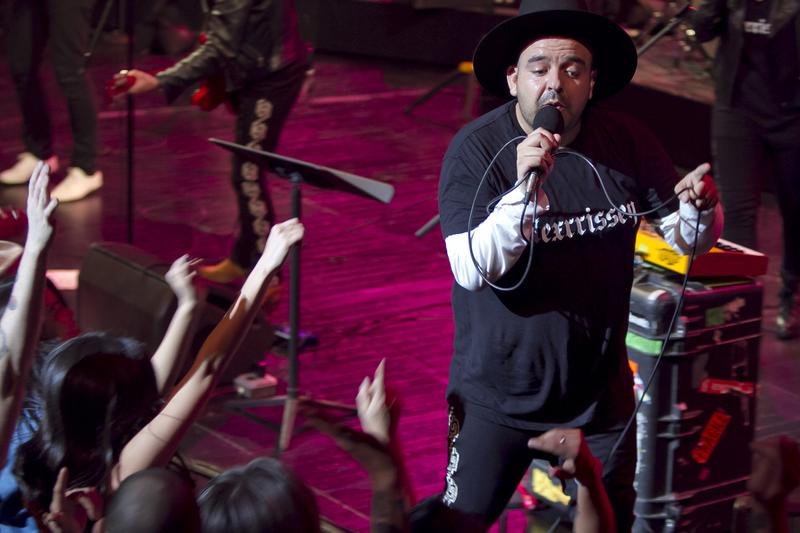 Morrissey's connection to Mexico, and especially Mexican Americans in California (where he lived for many years), is no accident. Or rather, it might have been an accident at first; but by now it has become something more intentional. One of pop music's most curious cultural affinities was the subject of Soundcheck's RadioLoveFest show "Mexrrissey: Mexico Loves Morrissey," at BAM on Sunday, May 10.
Spearheaded by electronic musician and leader of the Mexican Institute of Sound, Camilo Lara, and featuring Calexico's Sergio Mendoza, the seven-person band Mexrrissey transmutes Morrissey's melodrama into high-energy dance music, and literally translates the classic source material (The Smiths' "Girlfriend in a Coma") into something completely new ("Mi Novia esta en Coma"). 
Presented here, in full, is a night of Morrissey mania in full bloom: 12 songs and two full interviews with Lara and Mendoza, who make it clear that this is no camp act. Mexico really does love Morrissey. And as you can hear in this podcast, BAM loved Mexrrissey. 
---
---
Set List:
"El Primero Del Gang" ("The First of the Gang To Die," Morrissey)

"El Chico de L'Espina Clavada" ("The Boy With The Thorn In His Side," The Smiths)

"Mi Novia Esta En Coma" ("Girlfriend in a Coma,"

T

he Smiths)

"Entre Mas Me Ignoras" ("The More You Ignore Me, The Closer I Get," Morrissey)

"Cada Dia Es Domingo" ("Everyday Is Like Sunday," Morrissey)

"International Playgirl" ("The Last of the Famous International Playboys," Morrissey)

"Mexico" ("Mexico," Morrissey)

"Di Me" ("Ask," The Smiths)

"Panico" ("Panic," The Smiths)

"El Boca" ("The Mouth") ("Bigmouth Strikes Again," The Smiths)

"Estuvo Bien" ("It Was Good") ("Suedehead," Morrissey)

"El Hijo Soy" ("I Am The Son")  

("How Soon Is Now," The Smiths)
Band:
Camilo Lara – beats, voice, musical director

Adanowsky – guitars, bass, voice

Jay de la Cueva – guitars, bass, voice

Ceci Bastida – keyboards, voice

Ricardo Najera – drums

Jacob Valenzuela – trumpet

Sergio Mendoza – accordion, vihuela, vibraphone, voice