Soundcheck
The Soundcheck Guide To Bassist Charlie Haden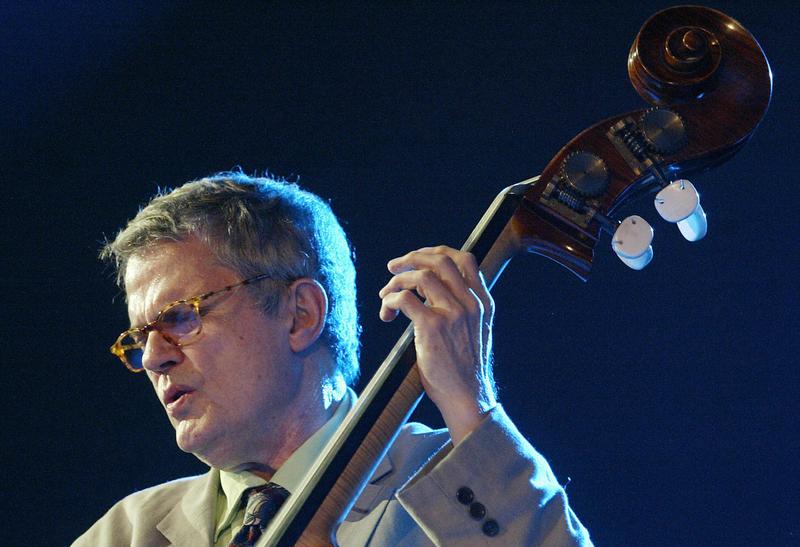 Last week, the jazz world lost Charlie Haden, one of the most renowned and influential bassists of all time, who died at the age of 76. Haden played with luminaries like Ornette Coleman, Pat Metheny, and Keith Jarrett -- with whom he recorded the fittingly titled album, Last Dance, which was released about a month ago. But he also sometimes stepped outside of the jazz realm, revisiting the country music of his childhood spent touring with his family's band.
In a conversation with Soundcheck host John Schaefer, Nate Chinen, the jazz and pop critic for the New York Times, reflects on Charlie Haden's diverse musical career and shares a couple of his must-hear recordings.
Ornette Coleman, "Lonely Woman" from The Shape Of Jazz To Come (1959)
Nate Chinen: "It's hard to overstate how important this moment was and what a seismic thing it was. It's a Stravinsky Rite Of Spring kind of moment; an inflection point in jazz culture..." Nate Chinen says of Charlie Haden's participation in The Shape Of Jazz To Come.
----
Keith Jarrett Trio, "Lisbon Stomp" from Life Between The Exit Signs (1967)
Nate Chinen: "Other than Ornette, [Keith Jarrett] was the most important bandleader that Haden worked with during that time." Chinen explains. "The trio is… fascinating to me because of the echoes of Bill Evans; Paul Motian had been a member of the Bill Evans trio. And there's a little bit of an Ornette echo; Haden is the connection there. The trio recording is a really interesting document of Bill Evans' melodic ardor and the Ornette Coleman exploratory vibe." 
-----
Charlie Haden and Liberation Music Orchestra, "Song For Che" from Liberation Music Orchestra (1969)
Nate Chinen: "He was definitely a left leaning progressive political thinker, and it came out of a very simple impulse, which was 'I'm concerned by the plight of the poor people, wherever they are.' The Liberation Music Orchestra was originally cobbled together during the Vietnam era, but its concerns were not just anti-war, they were really sort of global."
Haden was arrested after performing the song in 1971. "It was performed on a festival stage, and he dedicated that song to resistance movements in colonies that the Portugese were controlling. The way he always described it was that they cancelled the festival, he was thrown in jail, and if it hadn't been for Ornette trying to intervene with various embassies he might have been in jail longer than he was." says Chinen.
-----
Charlie Haden Family & Friends, "Shenandoah" from Rambling Boy (2008)
Nate Chinen: "He really thought about the legacy of his family. His kids grew up in Los Angeles, so they were not out of the tradition" Chinen says. "They all embarked together on this musicological genealogical excursion, trying to figure out how to find their way into the songs."
Haden finally sings on this record with his family- one of the only times he was recorded singing since he contracted polio at age 15. "There's a folk song called 'Shenandoah' which is also the town of his birth. His wife encouraged him to sing this song on the record and when I talked to him about it he was half-bashful about it." Though Haden may not have been sure about it, Chinen describes the track as "haunting."