Soundcheck
The Soundcheck Guide To The Allman Brothers Band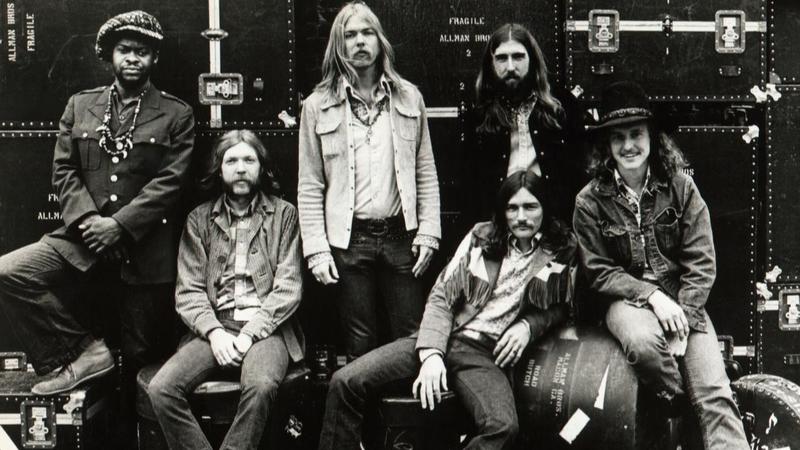 Tonight, The Allman Brothers Band begins its annual New York City residency at the Beacon Theatre. Over the next three weeks, the band will celebrate 45 years of making music together -- a longevity virtually unrivaled in pop music (except by A Certain Very Big British Band). Even more remarkable for the mind-boggling number of lineup changes, intentional or otherwise.
So, to mark the occasion, we present the Soundcheck Guide To The Allman Brothers -- a fly-by look at the legendary Southern rock group.
In a conversation with host John Schaefer, Alan Paul, the band's long time biographer, talks about the band's highs, obscure gems, and material that should probably remain in the cellar.
The Allman Brothers Band: A Very Brief Introduction
MUST-HEAR TRACKS:
"Dreams" from The Allman Brothers Band (1969)
Alan Paul: The emotional core of their debut album, "Dreams" highlights the band's love of modal jazz, specifically John Coltrane and Miles Davis, with a walking bassline right out of Miles' "All Blues." "I played the exact licks and fills on there that Jimmy Cobb played on 'All Blues,'" recalls Jaimoe. Unusually, Duane plays both solos here, playing straight then picking up a slide. The song's spare haunting lyrics also highlight Gregg Allman's profoundly fatalistic poetry, which was already well established at age 21: "I've a hunger for dreams I'll never see."
"Blue Sky" from Eat A Peach (1972)
A.P.: "Blue Sky" was written by [guitarist] Dickey Betts and was his first lead vocal with the group, on their third album, 1972's Eat A Peach. "I wrote 'Blue Sky,' for my then- wife Sandy Blue Sky, who was Native American," recalls Betts. "But once I got into the song I realized how nice it would be to keep the vernaculars — he and she — out and make it like you're thinking of the spirit, like I was giving thanks for a beautiful day. I think that made it broader and more relatable to anyone and everyone." "Blue Sky" one of the last songs Duane recorded with the Allman Brothers Band. The glorious guitar break, featuring individual solos and gorgeous harmony playing between Allman and Betts, is one of the greatest instrumental passages in rock history.
"In Memory Of Elizabeth Reed" from At Fillmore East (1971)
A.P.: The live Fillmore version of "In Memory of Elizabeth Reed" takes Dickey Betts' masterful instrumental a year after it was recorded in the studio on Idlewild South and stretches it every which way. I watched the minds of brilliant musicians be blown wide open through this song and have heard tell of correspondents when hitching rides through war torn African countryside. Nothing surprises me. Nothing else better captures the Allman Brothers' musical magic. 
DEEP CUTS:
"Please Call Home" from Idlewild South (1970)
Alan Paul: Recorded in New York's Atlantic studios with jazz producer Joel Dorn. It is one of the singer's great songs, merging blues feeling and singer-songwriter lyrical approaches into a heady brew. 
"Nobody Knows" from Shades Of Two Worlds (1991)
A.P.:"The band re-formed in 1989, and no one was really sure what to expect coming on the heels of [a previously underwhelming reunion in the early-'80s, see below]. They came out of the gates pretty strong with an album called Seven Turns. It introduced Warren Haynes, who at the time was a new young guitar player, and there was bass player Alan Woodie, and those guys really kicked it back to sounding like The Allman Brothers Band."/p>
"High Cost Of Low Living" from Hittin' The Note (2003)
A.P.: The Allman Brothers have only recorded one studio album since Dickey Betts' acrimonious 2000 departure. Hittin the Note is a strong collection featuring Warren Haynes and Derek Trucks. "High Cost of Low Living" is one of my favorites off this album.
LESS-THAN-HIGH POINT:
"Straight from the Heart" from Brothers Of The Road (1981)
A.P.: "Straight From The Heart," the first single off Brothers Of The Road, their final album of the band's only real bad era -- when they cut two really lame albums for Arista. This song may be the band's low point. "There were a lot of forces at work: the label, management, the people in the band and their own desire to have a hit," says Rook Goldflies, then the ABB bassist. "Looking back, that obviously wasn't the best thing to do. The band was kind of countercultural the whole time, and attempting to become cultural was a little death, but they got swept up in the prevailing moods."
ALAN PAUL'S FULL ALLMAN BROTHERS BAND PLAYLIST: