The Takeaway
Without Power and Money, Neglect Festers in Flint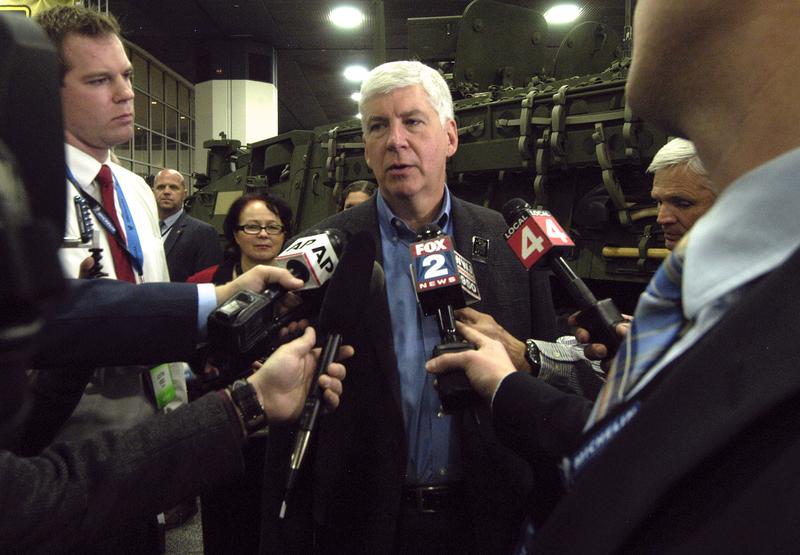 Click on the audio player above to hear the full interview.
Why was a city like Flint, Michigan forgotten by America?
On Tuesday night, Michigan Governor Rick Snyder apologized to the citizens of his state and to the residents of the city of Flint—people there have been dealing with the aftermath of lead-tainted water for over a year now, something that's led to brain damage in some children.
"I'm sorry most of all that I let you down. You deserve better. You deserve accountability. You deserve to know that the buck stops here with me," Governor Snyder said.
Snyder is asking the state legislature for $28 million to spend on diagnostic tests, health treatment for children and adolescents, replacement of old fixtures in Flint schools and daycare centers, and a study of the city's water pipes.
See Also: What's in Your Water? Flint Raises Concerns About Toxic Taps
Ron Fournier, the senior political columnist at the National Journal, interviewed Snyder in December and praised the leader of The Great Lakes State for his governing style.
"It's re­fresh­ing to see a politician as pas­sion­ate about gov­ern­ing as he is about winning," Fournier wrote.
But new revelations have surfaced that showed Snyder had ignored the Flint crisis for months.
Earlier this week, Fournier re-interviewed Governor Snyder, who called Flint his "Katrina" and said that losing the public's trust has been among the worst experiences of his life.
Fournier has also done some soul searching and argues that America should be asking itself more than a few questions about this disaster.
"Why does a community like Flint get neglected? Why is a community like Flint allowed to be poisoned by its city, its state and its federal government, and nobody seems to care when they get caught?" he asks. "Why is it that it took the national press so long to get engaged in the story? Why has the president of the United States still not talked about the culpability of his administration? Why did it take Snyder so long to say I'm sorry?"
As relief slowly flows into Flint, Fournier, a Detroit native, says that America should have been paying attention—and getting angry—long ago as Flint and other Rust Belt cities suffered under the weight of decades of job losses, failing schools, and terrible crime.
"Why is the city of Flint allowed to waste away? It's poor," Fournier says. "There's not a lot of power in Flint and there's not a lot of money in Flint, and we live in a society now where celebrity and money equal power. If you have power, you get attention and you get what you need. If you don't have power, you get left behind."
See Also: Flint Business Owners Cope as Mayor Deals with Water Crisis
In late December, Dan Wyant, the director of the Michigan Department of Environmental Quality, resigned from his position. Fournier says the agency knew there was too much lead in the water for months and actively minimized the situation—at times officials even took a "dismissive" and "arrogant" tone when meeting with Flint residents who were concerned.
"They were involved in protecting their butts," he says. "They weren't involved in solving the problem."
Additionally, Fournier argues that the Obama Administration has some culpability in this public health emergency. He says that the Environmental Protection Agency's Mid­w­est Chief Susan Hed­man—an Obama appointee—"buried" the results of a test that showed potential problems with Flint's water system as early as February of 2015. The EPA announced Thursday that Hedman will step down next month. 
"Whether [these lawmakers and officials] resign or not, frankly I don't care," he says. "I just want the lead pipes that have been decaying in that city for at least 30 years to be replaced. I want every kid who's going to have a life time of brain damage to have the services they need so they can live as decent of a life as they can with the lead that our governments put in their system."
Fournier hopes Flint will get a revival, but he also believes that, fundamentally, the crisis in Flint is an indictment of all us, and something that begs the question: Do Flint lives matter?
"They do now—they didn't a few months ago," he says. "With the history of that state and this country, as soon as we move away from people that are poor and don't have a voice, their lives matter less. And they've got to matter."
As people from around the nation watch this slow moving disaster unfold from the comfort of their living rooms, Fournier says that Americans must not forget this tragedy.
"Flint is a great community and a great town, and it's got a great history and hopefully a great future," he says. "If we can't unite behind our horror for a city and a state and a federal government poisoning a great American city, if we can't unite and find some good in this, then we won't be able to unite around anything."