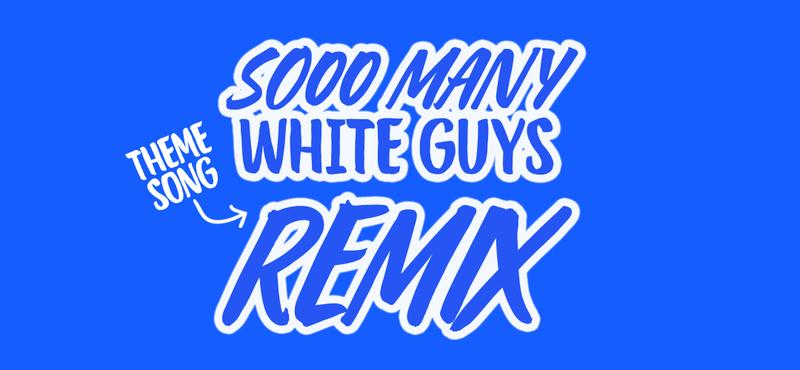 UPDATE: The voting period for this contest is over, but you can still listen to all the remixes and check out Sooo Many White Guys and 2 Dope Queens!  ---

We read your tweets. All of them. We were blown away by how many of you tweeted at us about how much you loved our theme song!

Well just to have a little fun, we reached out to some of WNYC Studios' best composers and asked them to take a crack at remixing our theme song. You can listen to them all below, and vote for your favorite! The fan-favorite will be used as our theme music for our token white guy episode. 
Devo Diva 
"Once I added in a bit of robo-vocals in the background, it sparked an idea for some DEVO-esque synth sounds on top of this Casio drum machine. I always find shredding guitar riffs hilarious (and always such a white guy move), so I thought to add those in to the mix as well."
Dara Hirsch, Engineer for Sooo Many White Guys, 2 Dope Queens & Note to Self
---
Sooo Many Metal Heads
"Everything sounds better with Lioncloth."
Rob Christiansen, WNYC Engineering
---
Stranger White Guys
"Inspired equally by Stranger Things and the chopped and screwed remixes that came out of Houston in the 90's. It's like if the 80's and 90's got busy and had an upside down baby."
Joe Plourde, Audio Engineer 2 Dope Queens & Note to Self
---
Sooo Many Wild Things
"I was inspired by the catchiness of Tone Loc's brilliant 1989 single 'Wild Thing' which, in turn, sampled 'Jamie's Cryin',' a fave track of mine by Van Halen. I think Phoebe would agree that 'Wild Thing' captures the spirit of the late 1980's as well as any U2 song!"
Dave Satkowski, Digital Audio Network Engineer WNYC
---
Covered in White Dudes
"My favorite part of the track was Phoebe's laugh, so I knew that needed to start and end the piece; wanted to remix it to the point where a potential music video would feature 300 white guys covered in bling playing video games." 
Jay Cowit, Technical Director for Freakonomics Radio & The Takeaway 
---
Ice Ice White Guys
"The statute of limitations may be over for making fun of Vanilla Ice for his cultural appropriation (and his appropriation) of 1990, but why not do it anyway? It was either him or Tom Jones."
Rob Christiansen, WNYC Engineering
---
Olympic D
"I wanted to bring a little Rio 2016 to the Sooo Many White Guys theme so I brought in a little Bossa Nova beat and some shimmering synthesizers to celebrate some Olympic gold." 
Rick Kwan, Mixing Engineer
---
**WINNER** Manic Majesty **WINNER**
"I was humming the theme song, and I thought the melodies from 'Manic Monday' could jibe well, and it was coming from a strong female voice.  When I got into the studio I was pleasantly surprised to find they were in the same key – which led me to believe that it was a combination of my music training, and some divine intervention from His Purple Majesty, who wrote 'Manic Monday.'"
Merritt Jacob, Broadcast Engineer, Freakonomics Radio
---
Stuffy White Guys
"In trying to picture what would be the total opposite to the SMWG vibe, I imagined a stuffy, cold, sort of Masterpiece Theater intro, only then to totally turn it totally around into something hard-hitting and fun...like the show!"
Dara Hirsch, Engineer for Sooo Many White Guys, 2 Dope Queens & Note to Self